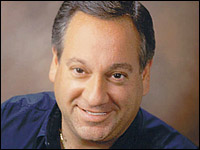 AT&T Mobility and Apple iPhone have been successful together, but every coin has two sides. The other side has been a wireless data logjam. Could that problem finally be getting under control?
AT&T has been working very hard to do just that, said Ralph de la Vega, AT&T mobility and consumer markets president and CEO, at last week's Fortune Brainstorm Tech Conference in Aspen, Colo. Improved connectivity should already be evident. If that is true, millions of AT&T smartphone customers should be very happy starting about now.
AT&T has twice as many smartphones as its next nearest competitor, De la Vega tells me, and it carries about 50 percent of the mobile data traffic in the U.S., according to its own estimates.
Could that be true? The nearest competitor is Verizon. Wireless carriers including Sprint, T-Mobile, Cellular South and others all split the other 50 percent. I searched for corroboration and found AT&T has 53 percent of the smartphone market, while Verizon has 35 percent.
Is that possible? If so, that is quite an accomplishment for AT&T. That means these data logjams must be a happy problem for AT&T to have — but they are still a problem. The company has been running as fast as it can to keep up with demand, and now it might be starting to work.
Staying Ahead of the Curve
So far this year, AT&T has invested billions of dollars to increase the capacity of its wireless data network, just to keep up with growing demand. It knows there are certain choke points — for example, parts of New York City and San Francisco, due to the massive numbers of smartphone users logging on simultaneously.
I met Ralph de la Vega about fifteen years ago when I was giving a speech in Naples, Fla. I have followed him ever since and realized a long time ago that he is honest. If he says something, then it must be true.
In fact, several months ago, he openly talked about the problems AT&T was having with capacity due to the iPhone's success. At last week's conference, he said New York has worked to double the capacity of the network in the last couple months. That's quite a turnaround.
Every coin has two sides, and this is the other side of the success coin — the high demand on the network that other networks do not yet face. De la Vega says AT&T sees a huge demand, and it has been working to increase capacity — and at this point, the work is mostly done.
Remember, however, this game is not over. It will last for many more years. Sometimes there will be bottlenecks, and sometimes there will be plenty of capacity. It is important that AT&T — and, in fact, every network — stays ahead of the curve as new smartphone customers keep pouring in.
Soaring Smartphone Sales
So where did the problem come from? Over the last several years, AT&T has been ahead of its competitors with smartphones and fast wireless data connections. I remember talking about this several years ago.
Sprint has also been pretty strong in wireless data services. Verizon and T-Mobile did not really focus on this opportunity until recently. They just did not have any really exciting handsets to attract users. However, over the last year or so, we have seen Verizon Wireless expand its wireless data footprint with Droid devices and other smartphones.
Across the industry, smartphone sales are continuing to explode. Smartphone sales have outpaced traditional cellphone sales during the last couple of years.
That means during the next 12 months, the number of smartphones in the hands of customers across the industry will surpass the 50 percent mark. That means there will be more smartphones than traditional phones in the marketplace.
That's big industry-reshaping news. Every carrier sees this trend and is cranking up its smartphone marketing. There is much opportunity, but there is also much challenge.
All handset makers are shifting their focus to smartphones also. Google breathed life back into Motorola's lungs and it is snapping back with the Droid on Verizon. RIM is said to be reinventing their BlackBerry, which is absolutely necessary to stay competitive. Microsoft could finally be hot with its upcoming Windows Phone 7 due out in a few months. Samsung, HTC and LG are also showing strong smartphone growth.
Nokia and Ericsson are both struggling trying to shift their brands from plain old handsets to smartphones. Can they do it? If not, we will see a leadership shift.
The brand is key here.
Nuts May Be Good
Yesterday, the brand meant cellphones. Today the brand means smartphones. Does the brand say to the customer "this is a great smartphone maker" or network? It has to, going forward, to remain competitive.
This is a major industry shift that is rapidly occurring, and not all companies are ready.
There are several reasons AT&T has the lead now in the smartphone war. It started focusing on smartphones years ago, before other carriers. Its advances in wireless data networks, its focus on selling many different smartphones, and of course the Apple iPhone are more reasons for its success.
AT&T focused on smartphones before it was cool. Before everyone else did. Many thought it was nuts. However, that is the direction the industry is now heading in, and it is paying off for AT&T. Nuts may be good.
Apps are exploding too. They are the little programs that customers download to their phones and use on the wireless data network. Apple's App Store has grown from a few hundred at launch a few short years ago to a few hundred thousand. That's incredibly rapid growth.
That's where the traffic jams come from. We see the younger Android Market growing just as rapidly and other smartphone makers are heavily promoting app development too.
That means countless smartphone customers are increasingly downloading apps and sucking at the wireless data network. Too much demand at one time causes bottlenecks. What's the old saying? It's the leaders that take the arrows. That is definitely the case here. Lessons can be learned here. I hope competitors are paying attention. This battle will be waged for years.
It sounds as though AT&T is getting ahead of this demand curve. That means customers will have better service. If Ralph de la Vega is accurate, the bottlenecks should be disappearing because of AT&T's network investment.
If that is the case, millions of users should be much happier logging in from now on. Let's hope he is right. Lets hope other competitors have learned important lessons to be prepared. And lets hope as this battle is waged for the next several years, the carriers can stay ahead of the demand curve.
---
Jeff Kagan
is an E-Commerce Times columnist and a wireless, telecom and technology analyst, author and consultant. Email him at
[email protected]
.