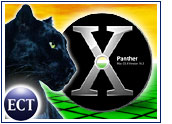 Since the unveiling of its Unix-based OS X operating system, Apple has been releasing "point upgrades" about once per year, charging $129 for each one — a pretty stiff fee for staying current. This in itself might not be so bad, except that in the process of speeding development through the pipeline to grab extra revenue, Apple seems to have lost the handle on quality control with its latest upgrade, 10.3, or Panther.
A quick read through Apple's own online forums shows that, for a large number of Panther users, Apple's Mail program is pretty much unusable; the new File Vault encryption system corrupts many users' files; and the new font management utility, Font Book, causes problems with other programs, including Apple's own Safari Web browser.
It should be kept in mind that for every user who complains, many more suffer in silence. In addition, the posts on Apple's forums represent only the "constructive" ones; those that don't meet Apple's high standard of circuitous caviling, rather than outright complaining, are unceremoniously deleted by the company's online "helpers." On other forums, such as the Macworld and MacNN message boards, where complaints about Panther are not censored, the barbs are more pointed.
Shades of Internet Explorer
It appears that Apple developers — and I'm speaking specifically of Safari coders — are now deciding what is "best" for end users by coding for Web designers, rather than giving users a choice. Thus, in Panther it is (for now, at least) no longer possible to specify a browser-wide minimum font size in Safari's preferences. The stated rationale is that there is a risk a given site may not look as its designer had intended. Never mind that many sites use fonts so small as to make them basically unreadable in some screen resolutions.
In another small but telling example of increasing arrogance on the part of Panther's developers, if one chooses not to use Apple's Mail as one's primary e-mail program, it is now necessary to open Mail and modify its preferences to deselect it. Previously, this option was located with other system-wide options.
This change means that you may choose not to use Mail, but you had better not delete it from your system or you will lose the option to not use it — or to specify a different choice of software down the road. How very yesterday's Microsoft.
Mining the Faithful
In cynically manipulating its customer base, Apple has a huge advantage over Microsoft. Much of Microsoft's revenue derives from corporate customers, who are loath to leap at every upgrade Microsoft proffers, particularly in the case of Windows, and who harbor a certain degree of skepticism regarding Microsoft products in general.
Apple's customer base, in contrast, consists primarily of individuals (though Apple may wish that were not the case). Many of those individuals are longtime Mac users who, over the years, have suffered the slings and arrows of the computing world and would defend all things Apple to the death.
These are the people who faithfully line up outside the doors of the Apple store the night new software is released. They attend every Macworld show, if not in person then via QuickTime recordings, to gaze upon Steve Jobs as he unveils yet another "fantastically great" bit of software or hardware. They are, in other words, the people Apple counts on to fork over $129 per year to keep their operating systems up to date. Microsoft should be so lucky.
Back to Basics
Of course, every major software release has its problems, which take time and effort on the part of both early adopters and the manufacturer to sort out. However, when problems arise in a major operating system, they most often involve the installation process, largely because of the difficulty of anticipating every user's system configuration in advance. On the other hand, issues involving the most-used elements of an application, in this case Mail, usually are sorted out long before a program is released.
Lest anyone think that Apple's most recent operating system problems are anything new, many Mac users will recall, some with a good deal of bitterness, Apple's last update to its previous OS X release, Jaguar. That update corrupted so many users' systems that it was pulled in less than a day and not reposted for more than a week. In a massive public relations fiasco at that time — just as now — Apple did not publicly acknowledge that a problem even existed.
Apple is on a roll, certainly. Its G5 has cracked the performance ranks of the top PCs, iTunes for Windows is by all accounts a smash, and Apple's future looks brighter than it has in a very long while. But while the company speeds forward, it must not lose its focus on quality control or user loyalty. If it does, OS X could turn out to be nothing more than just another pretty face.
---
Note:
The opinions expressed by columnists are their own and do not necessarily reflect the views of the E-Commerce Times, its management or parent company ECT News Network, Inc.
---