Apple is upping the interest rate ante by giving its customers the ability to expand their financial footing while at the same time keeping them within its ecosystem.
The company on Monday announced a high-yield savings account from Goldman Sachs that offers Apple Card users an APY of 4.15% for their Daily Cash rewards money automatically deposited into this new account. Goldman Sachs also provides the Apple Card.
The new banking plan comes on the heels of the Apple Pay Later debut that lets American users split online purchases into interest-free payments. Both services seem to be part of a larger strategy to bring more financial services under Apple's control.
This is yet another building block in Apple's long-term marketing strategy to extend favorable "rewards" programs to help keep Apple customers firmly ensconced in its ecosystem by adding financing and credit element capability to its bag of marketing tools, suggested Mark N. Vena, CEO and principal analyst at SmartTech Research.
"The program is not a surprise as Apple has been signaling it would be available in the coming months," he told The E-Commerce Times.
Promoting Financial Wellness
Apple's goal is to build tools that help users lead healthier financial lives, according to Jennifer Bailey, Apple's vice president of Apple Pay and Apple Wallet, in a statement announcing the bank account deal.
"Savings helps our users get even more value out of their favorite Apple Card benefit — Daily Cash — while providing them with an easy way to save money every day," she said. "Building Savings into Apple Card in Wallet enables them to spend, send, and save Daily Cash directly and seamlessly — all from one place."
That is a significant opportunity as the rate is more than 10 times the national average, Apple boasted. It based its claim on the FDIC's published National Rates and Rate Caps for savings deposit products, which it said was accurate on March 20, 2023.
"As far as interest rates go, the 4.15% rate is middle of the pack. Higher and lower rates are available elsewhere," Charles King, principal analyst at Pund-IT, told the E-Commerce Times.
Apple Savings Highlights
The account, which is tied to the user's Wallet app, comes with no fees, minimum deposits, or minimum balance requirements. Setting up the account and managing savings is available directly from Apple Card in Wallet.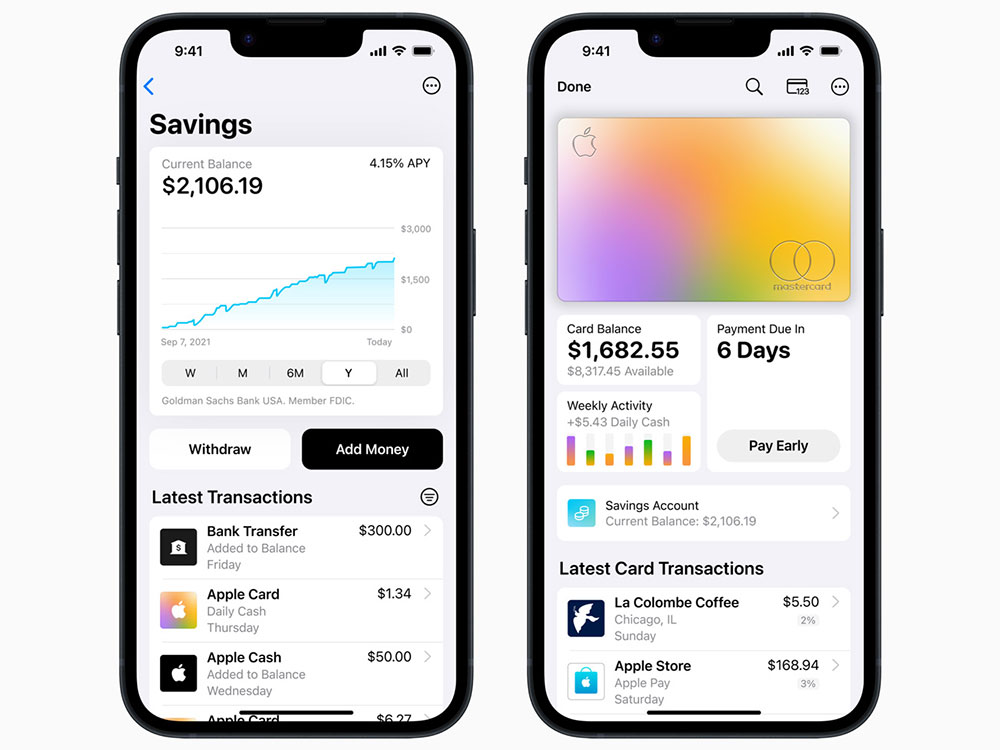 Apple Card users can automatically deposit their Daily Cash into a high-yield savings account from Goldman Sachs. (Image Credit: Apple)
---
For comparison, the savings account concept resembles the Goldman Sachs Marcus account, which offers a 3.9% yield with comparable flexibility.
All future Daily Cash that users earn will be automatically deposited into the account. Account holders can change that destination time.
They can deposit additional funds into their savings account through a linked bank account or from their Apple Cash balance. There is no limit on how much Daily Cash users can earn.
A savings dashboard in the Wallet lets users track their account balance and earned interest. The dashboard also provides access to withdrawing funds at any time by transferring them to a linked bank account or their Apple Cash card.
The savings account requires at least iOS 16.4 and comes with a few limitations. For instance, a cap of $250,000 exists, and money transfers to or from Apple Cash must be between $1 and $10,000. Also, there is a weekly limit of no more than $20,000 on transfers.
Little Disruption to Banking Industry
Apple's current financial marketing efforts seem to pose little worry for competitors, noted King. He does not see the Goldman Sachs/Apple deal having much of an impact on the banking industry as a whole.
"Overall, SVB's [Silicon Valley Bank's] failure was largely due to its executives' inability to manage risk properly. That said, the deal may give Goldman Sachs some breathing room after the embarrassing losses from its Marcus online consumer banking offering earlier this year," he offered.
King noted that the more significant deal impact would most likely be with avid Apple fans and may also appeal to some younger consumers who have little interest in or use for conventional banks.
"It is worth noting that the service only works with the latest version of Apple's iOS. If an iPhone upgrade is required, I expect many potential customers will ignore it and get on with their lives," he observed.
Goldman Sachs Losses
Apple's relationship with Goldman Sachs could be more in play, according to Vena. That banking partnership began with Apple's initial card launch a few years ago.
"It has been somewhat tenuous, presumably over the very tough terms that Apple demanded," he noted.
Goldman Sachs had posted over $1.2 billion in losses in the first nine months of last year, mainly driven by the loan loss provisions over the Apple Card, explained Vena. This new program could exacerbate those losses for Goldman Sachs as the savings account portion offers an attractive 4.15% yield.
Apple's ability to attract more users will likely strengthen because the program's savings account portion has an attractive interest rate, and it will probably give Apple additional ammunition to fund promotions and special offers, he added.
"[That] could be particularly compelling for Apple given a potential upcoming recession, not to mention that Mac sales have dramatically slowed like the rest of the PC market," Vena observed.
Cybercrime Target, Security Measures in Place
Cybercriminals tend to pursue attractive targets, including consumers' bank accounts. So Apple customers trying this latest financial offering should keep their eyes on hacking signs as well as dollar signs.
"It is likely that these accounts will make attractive targets," warned King.
However, Vena sees that as less likely as Apple's existing security procedures and apparatus on its credit card are best-in-class.
"I do not see any exposure for Apple or its users any more significant than other banks," he said.
Market Share Win Doubtful
King doubts that this service will significantly impact Apple's overall market share.
"It is, at best, an ancillary business that could improve the stickiness of Apple's relationships with some customers," he said.
Vena somewhat agrees. Apple's new savings account deal will likely protect the company's share. Nonetheless, he is not sure it will help dramatically increase its overall market share given the company's premium price strategy across most of its products and solutions, especially in challenging economic times.
"Having said that, this program could be a major advantage if it elects to get more aggressive with its pricing," he predicted.