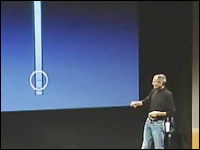 These days Apple reminds me a lot of the inscription found on the James Farley Post Office in New York City: "Neither snow nor rain nor heat nor gloom of night stays these couriers from the swift completion of their appointed rounds."
If Apple had a credo, the aphorism on its Cupertino headquarters might read: "Neither antenna problems or dropped calls, nor irreplaceable batteries, nor lack of a USB port or flash support, nor premium pricing, nor lack of a definitive jailbreak date for the iPhone can keep users from pre-ordering and purchasing Apple devices in record breaking numbers."
No, not even the charges of arrogance that dog Apple CEO Steve Jobs, or intimations by some members of the press and blogger community that Apple possibly knew about the "death grip" antenna problems in advance of shipping the iPhone 4, are enough to blunt the seemingly unstoppable momentum of the Apple juggernaut. Nothing, it seems, will satiate the consumer buying public's fascination with Apple devices except for the chance to queue up, camp out and pre-order more Apple devices.
Even "Antennagate" — the stories that were circulating in the press and blogosphere about the new iPhone 4 dropping calls when users wrapped their hands around the device and the charges that Apple executives may have known there was a problem before the newest smartphone shipped — fizzled as a scandal.
Apple, never known to call a spur-of-the-moment press conference to issue a mea culpa, did address the issue last Friday. CEO Steve Jobs took to the stage to announce, "We're not perfect," noted that the iPhone is not the only such device so affected, said that approximately 0.55 percent of iPhone users had reported dropped calls, and offered free cases and in-store fixes to affected users. And users unhappy with the iPhone performance could return it for a refund within 30 days of purchase.
By the Numbers
Critics who were hoping that Jobs would don a hair shirt and publicly flog himself were sorely disappointed. Granted, Job's initial reaction to a flaw in the design of the iPhone 4 antennas that precipitated dropped calls — "You're holding it wrong" — added fuel to critics' fire and cemented his reputation for arrogance.
Reams of copy have been written about this issue over the past six weeks. During that time, Apple sold 3 million iPhone 4 units; 77 percent of the sales were from users upgrading from older versions of the iPhone. Since April, Apple has also sold over 3 million iPads.
Jobs and Apple have billions of other reasons to smile — and yes, be smug.
In May, Apple surpassed Microsoft as the high technology firm with the highest valuation. As of today, Apple's market capitalization now stands at US$223.46 billion. On the soaring strength of the iPhone, iPod and the newly released iPad, Apple's financials have broken records for each of the last eight successive fiscal quarters — and in spectacular fashion. They beat financial industry analysts' consensus by 35 percent over each of the past several quarters.
On Tuesday, in an earnings call after the stock market closed, Apple managed to best its last record-shattering quarterly report, beating Wall Street estimates once again. Apple's fiscal third-quarter net income increased by 78 percent, thanks to a 61 percent surge in iPhone sales (including the newly released iPhone 4) and strong demand for the iPad. Apple executives disclosed that the company sold 3.3 million iPads in the first 90 days of shipment; if the company sustains this pace, it will easily ship 9 million iPads by year's end.
For the 2010 third fiscal quarter, Apple's net income was $3.25 billion, or $3.51 per share, up from $1.8 billion, or $2.01 per share in the same period a year ago. Apple's third quarter revenue rose by 61 percent to $15.7 billion — a full $1 billion more than Wall Street financial analysts' estimates — a $6 billion increase from the $9.7 billion in sales Apple rang up during the 2009 third fiscal quarter.
Not surprisingly, Apple's stock increased 2.78 percent in after hours trading, rising from $245 to $259.05. The company gets an A-plus for all of its key statistics: Its operating margin is more than 29 percent; its profit margin stands at 21 percent; and its return on equity is just under 40 percent. To top it off, the company has $23.16 billion in cash and no debt.
That said, as one of the top tier smartphone makers and one of the most pivotal high technology brands on the planet, Apple has a responsibility to step up, provide users with transparency, and quickly and decisively respond to any technical flaws in its products, up to and including issuing a voluntary recall if the problem warrants it due to the severity of the technical glitch. Anything less is unacceptable. How much do you want to bet that Apple engineers will come up with a fix (even if they don't call it that) in fairly short order?
Users to Apple Critics: We Don't Care
The most amazing thing about the entire "Antennagate" affair is that the buying public simply doesn't care. I was in New York last week filming a documentary, and the iPad had replaced the usual director's board designating the scene and the take.
During a break in the filming, I asked the various crew members if they were at all concerned about the iPhone 4's reported antenna and dropped-call issues. All six — director, producer, cameramen, lighting and sound men — were nonplussed.
"All mobile phones lose calls," they shrugged.
"So reports of these problems wouldn't put you off buying an iPhone 4," I pressed.
"No" they chorused.
"How about pricing; do you find Apple's prices too expensive?" I asked.
"No, they're worth every penny," said Charlie, one of the cameramen. "I got the iPad 64G WiFi version; it's worth every penny I paid. I upload still pictures and view the daily rushes on it."
Charlie has plenty of company. iPads, iPhones and Macs are everywhere, it seems. Last month, while I was sitting in Logan Airport waiting for my flight, I noticed one of my fellow passengers — a 60-something woman — reading a novel on her iPad.
When I asked her how she liked it and what she used it for, she replied, "I love it. I originally bought it for my daughter so I could tell her it was garbage and then give it to her as a gift. But I'm keeping this one and will buy her another one."
When I inquired what she used it for, the woman, who is a juvenile court judge based in New Orleans, replied, "Everything. I read books, watch movies, and I write up my case notes."
Anecdotal comments such as those are validated by the latest ITIC/Sunbelt Software 2010 Apple Consumer & Enterprise Survey, which polled 600-plus users and IT managers from 21 countries worldwide from April through July. The results clearly reflect the continuing strength and dominance in the consumer arena and burgeoning influence in the enterprise segment for a variety of Apple devices including Mac hardware, Mac OS X 10.x, the iPhone, the iPod and the iPad.
Satisfaction with the performance, reliability and security of Apple devices — particularly Mac hardware, OS X 10.x operating systems and the iPhone 3 and 4 (the antenna problems of the newest iPhone 4 notwithstanding) — was very high. On average, approximately two-thirds of the survey participants rated the performance and reliability of Apple devices as "Excellent" or "Very Good."
The survey responses validate the record-breaking iPad sales statistics. As of June 22, Apple said it had sold over three million iPads in the 80 days since its April release. The figure is presumably much higher today. The ITIC/Sunbelt survey also found that the iPad is off to a very strong start, with 23 percent, or nearly one in four, IT managers stating they'd already purchased or ordered the new Apple tablet. Another 18 percent said they planned to purchase an iPad within the next nine months, while just over half — 51 percent — said they had no definitive timetable. The remaining 8 percent said they planned to wait for Apple's first iPad price cut.
The responses to the question, "How often do you or your business experience technical issues with Apple products/devices?" were very positive and encouraging. Some 12 percent said they never had any problems; 50 percent, or half the respondents, said they "rarely" experienced problems; 20 percent said they "occasionally" encountered technical issues — that is every few months; 5 percent said "once a month"; 6 percent said "two or three times per month"; 5 percent said "regularly or once a week"; and a very small 2 percent minority indicated they/their businesses encountered technical issues on a daily basis.
Eighty-six percent of the respondents who had already bought an iPad said they were using it for both personal and business functions.
Apple in the Enterprise
Among the other survey highlights:
Nearly two-thirds of respondents — 63 percent — indicated they/their organizations used various Apple devices for both personal and business functions.
An overwhelming 82 percent majority of survey participants said they used their iPhones to access corporate email and data.
Twenty-four percent of those who did not currently own an iPhone said they had "already decided" or were "very likely to switch," with an additional 35 percent responding "it's possible we'll switch when the current contract expires."
Eight out of 10 organizations said they were "more likely to allow more users to deploy Macintoshes as their enterprise desktops" in 2010-2011, up from 68 percent in the 2009 survey.
The number of organizations reporting large complements of Macs and OS X 10.x in their organizations continues to climb. Some 7 percent of respondents said they had more than 250 Macs in their enterprise. In the 2008 survey, only 2 percent had more than 250 Macs.
The percentage of mobile/remote users opting for Apple devices is rising quickly and significantly.
The line between Apple consumer and enterprise usage continues to blur: 79 percent of survey respondents said that their firms planned to increase integration with existing Apple consumer products such as the iPhone to allow users to access corporate email and other applications in the 2010-2011 timeframe. This represents an 11 percent increase from the 68 percent of respondents who reported such plans in the ITIC/Sunbelt 2009 Apple Enterprise Usage survey.
Particularly noteworthy is the survey participants' strong interest and enthusiasm for the iPad, a product just a few months old. Also, the already strong iPhone adoption will continue as old wireless contracts expire. One can only project that if the iPhone becomes available on Verizon in the U.S., the numbers of additional enterprise-based units could be staggering.
This raises the question: What, if anything, could impede Apple's influence and momentum? For the foreseeable future the answer — barring a cataclysmic product failure or PR gaffe of Mel Gibson-esque proportions — is very little, if anything. Longer term, there are issues that Apple must address as its enterprise adoption advances.
Apple's enterprise success will bring new challenges and responsibilities. IT managers who participated in the ITIC/Sunbelt survey extolled the features and functions of the Apple Macs, OS X 10.x, iPhone and iPad for consumers. However, as more and more Apple devices make their way into the enterprise, the lack of enterprise-class third-party management and performance-enhancement tools and technical support is becoming a significant barrier and impediment to widespread enterprise adoption.
It is not as problematic though, for organizations that currently have just a few Macs or isolated pockets of Macs and OS X 10.x in specific departments, such as graphics. Still, Apple will have to address these issues if it is to mount a serious challenge to Microsoft's dominance. So far, the company has been silent about its enterprise strategy. In this case, silence is not golden.
---
Laura DiDio
is principal at
ITIC
, a research and consulting firm that covers the high-tech industry.