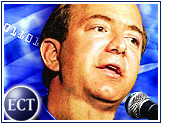 Online retail giant Amazon.com rebounded mightily from a protracted slump Friday, just in time to celebrate its fifth birthday.
The company's stock sank at the end of June after Lehman Brothers analyst Ravi Suria described Amazon's credit as "extremely weak and deteriorating," but a report on Friday from Salomon Smith Barney analyst Tim Albright triggered an upswing.
"We expect the company to finish Q1 2001 with approximately $667 million (US$) in cash and Q1 2002 with $757 million in cash, losing $342 in the March to March time frame of 2000 – 2001," Albright said Friday.
Lehman had said the company was becoming "extremely high risk," and would run out of cash within a year.
Bright Side
Albright also said the third and fourth quarters would be good for Amazon. Upon Albright's research notes being published, the Seattle, Washington-based retailer's stock rose 7 1/2 to close at 42 1/2 Friday, a 21 percent gain on volume that was three times its daily average. Less than one month ago, when Suria's grim predictions were released, Amazon's stock took a nosedive to 32 7/16, a 52-week low.
Even with the current good news, Amazon is down 62 percent from the high of 113 it reached late last year.
Happy Birthday, Mr. President
Amazon chief executive Jeff Bezos has consistently expressed confidence in his company's future, citing annual sales of over $1 billion and a customer base of more than 20 million. As the company celebrates five years in business, the Web site books an estimated 100 orders per minute.
Some analysts point to Bezos' fierce determination to satisfy customers as the single element that will enable Amazon to remain standing after the dust settles on the current dot-com shakeout.
That determination manifests itself in such efforts as the recent one-day delivery of 300,000 copies of the highly anticipated new book in the Harry Potter series. Although 3,800 copies reportedly went undelivered due to a software glitch, the massive undertaking impressed even Amazon's most vocal critics.
Moreover, the company offered customers who received late shipment full refunds of the purchase price — plus shipping and handling — and allowed them to keep their books.
Build It and They Will Come
It is the ongoing development of a strong customer base that Bezos continues to stress.
"No company cares more about long-term profitability than Amazon.com," Bezos said late last month. "But we also think it would be very shortsighted not to invest during this critical time when new customers are coming online every day."
With that concept in mind, Bezos has reached the five-year mark with strategic alliances with other industry heavyweights, including Drugstore.com, luxury e-tailer Ashford.com, and HomeGrocer.com.
Beyond diversifying the product line, Amazon is bolstering fulfillment methods. The company recently entered into a three-year deal with bicycle courier Kozmo.com that will ensure same day delivery in some markets.
"Amazon is going to be a dominant player across all the major verticals of the retail marketplace," said Greg Konezny, a senior research analyst at US Bancorp Piper Jaffray. "With new product launches and strong top-line growth, Amazon should start to close in on profitability."
Cash Still Flowing
As for the present, Albright's report said Amazon.com is "a far cry from running out of money."
According to Albright, Amazon's revenue will total $610 million for Q2 2000, posting a loss of 32 cents per share. Still, based on his optimistic forecast, Albright rated the stock a "buy."