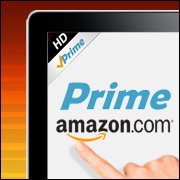 Amazon on Tuesday introduced a Prime membership priced at US$5.99 monthly for people on government assistance who have a valid Electronic Benefits Transfer card. A Prime membership ordinarily costs $10.99 per month, or $99 per year.
The EBT card is used to disburse funds for a variety of government assistance programs, including Temporary Assistance for Needy Families (TANF), the Supplemental Nutrition Assistance Program (SNAP), and the Women, Infants, and Children Nutrition Program (WIC).
Consumers have to qualify for the discount program every 12 months, and may take advantage of it for up to four years. Eligible consumers can sign up for a free 30-day trial.
Amazon is working on ways to expand the program to government assistance recipients who don't use EBT.
Prime offers unlimited fast, free two-day shipping on more than 50 million eligible items. In certain ZIP codes, it also offers free same-day delivery on roughly a million eligible products, and free two-hour delivery on tens of thousands of eligible items.
Prime membership includes access to Prime Video, Prime Music, Prime Reading and Prime Photos, as well as original podcasts, audio series and audiobooks from Audible. Further, members can get a free prerelease Kindle e-book each month, easy access to select Lightning Deals, and discounts on select products.
Walmart's Strategy
Amazon's Prime discount appears to be an attempt to attract lower-income customers from Walmart.
"Walmart pretty much owns this demographic," noted Rob Enderle, principal analyst at the Enderle Group.
The discounted Prime membership program might work out for Amazon, because "cars are expensive luxuries" for many EBT card holders, Enderle told the E-Commerce Times. "Having the default option delivery along with low prices should provide a stronger alternative to discount stores — and particularly, Walmart."
Walmart has been fighting to retain its customers. The company this spring began offering customers a choice when purchasing eligible online-only items: discounts if they picked them up at its stores; or free two-day shipping without membership requirements.
Walmart recently began paying some store associates to deliver customer packages on their way home from work.
Walmart CEO Doug McMillion earlier this month told shareholders the company was leveraging technology to empower associates and improve the customer experience.
Among those improvements:
Digital endless-aisle shopping in stores;
Automated pickup towers in stores for online orders;
Pickup stations in store parking lots;
Grocery pickup;

Delivery from stores; and

Jet Fresh delivery of produce to homes within 1-2 days, available to about half the U.S. population.
Government Pilot Program
The U.S. Department of Agriculture this week named Amazon as one of seven firms selected to participate in a two-year pilot project established under the Obama administration and slated to begin this summer in a number of states.
Amazon's participation in the government pilot will be limited to Maryland, New Jersey and New York. The other retailers are FreshDirect in New York; Safeway in Maryland, Oregon and Washington State; ShopRite in Maryland, New Jersey and Pennsylania; Hy-Vee in Iowa; Hart's Local Grocers in Rochester, New York; and Dash's Market in Buffalo, New York.
The pilot will test both online ordering and payment.
The USDA plans to roll out the program nationwide at a later date. Retailers with locations in multiple states, such as Amazon, may opt to phase in the program state by state over time.
"It looks as though the government trial covers SNAP grocery items with the emphasis on fresh, wholesome food," noted Michael Jude, a research manager at Stratecast/Frost & Sullivan.
"Be interesting to see how that actually goes over," he told the E-Commerce Times. "I remain skeptical about programs like this."