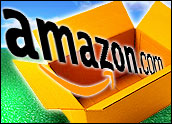 Amazon.com (Nasdaq: AMZN) announced mixed first-quarter results after the market closed on Wednesday, losing somewhat less than what Wall Street analysts had estimated. Amazon's losses reached US$36.4 million, or 23 cents per share in the quarter.
Also notable was Amazon.com's quick growth. Net sales for the first quarter were $293.6 million, an increase of 236 percent over the $87.4 million in sales for the first quarter of 1998, although some analysts had expected the figure to exceed $300 million.
Amazon.com also announced that it had more than 8.4 million customer accounts at the end of March, an increase of more than 250 percent from the 2.3 million customer accounts a year ago. Repeat customers represented more than 66 percent of orders during the first quarter of 1999.
Focusing on Expansion
"We have begun and will continue to build out a significant distribution infrastructure," said Jeff Bezos, founder and CEO of Amazon.com. "This will give customers greater availability, faster shipping times, and even better service. We will also continue to invest in systems, people, and product expansion, each of which helps us better serve customers. For the rest of 1999, we expect to invest more heavily than we have in the past."
That's a significant statement considering the massive expansion and investments the company has recently made.
Major Moves Into Other Categories
In March, Amazon.com launched an auction service in an attempt to grab a piece of eBay's (Nasdaq: EBAY) success. Amazon.com added to its auction presence this month by announcing a deal to acquire LiveBid.com, which runs live online auctions.
Amazon.com also branched out into other categories in the first quarter by making equity investments in the high-profile drugstore.com, which sells drugs and health and beauty products; and Pets.com, which sells pet products and pet food.
Busy Week For Amazon.com
On Monday, Amazon.com expanded its bread-and-butter music and books presence by making a deal to purchase Exchange.com, an online marketplace for hard-to-find and used books, music and memorabilia. Amazon.com also shored up its technology with deals to buy Accept.com, which is developing technology for person-to-person and e-commerce transactions; and Alexa Internet, which has created a Web navigation service that gives users information about sites they're viewing and offers suggestions for related sites to visit.
Then on Tuesday, Amazon.com launched a free electronic greeting-card service with hundreds of pictures, animated cards and messages to choose from. All these moves, of course, are designed to make Amazon.com a one-stop shop for online shopping and a destination site that holds users' attention for long periods of time, a so-called "sticky site."
Stock Impact
Shares of Amazon.com were down 12-3/8 to 193-1/2 on Wednesday leading up to the news, and the stock was really getting pounded in early trading today, falling 20-1/8 to 173-3/8..
This could be a buying opportunity for investors interested in Amazon.com. While revenues were not as high as some expected and there is still concern about the company losing money on transactions, Amazon.com's moves into other categories add strength to its leadership role in the e-commerce industry. Quite simply, Amazon.com is the "e-commerce company that all other e-commerce companies are chasing," and things look to stay that way for a while.