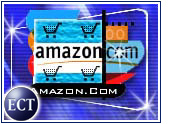 Amazon.com (Nasdaq: AMZN) went on a major shopping spree on Monday, making deals to buy three separate companies for a combined $645 million (US$). The agreements will expand Amazon.com's presence in online book and music sales and also strengthen the company's technology.
The most significant deal was Amazon.com's purchase of Exchange.com, which offers hard-to-find and used books at its Bibliofind.com site and hard-to-find music and musical memorabilia at its MusicFile.com site. Products on Exchange.com will now be offered for sale and auction to Amazon.com's eight million customers.
Amazon.com also agreed to purchase two other privately held companies: Accept.com, a company that is developing solutions to simplify person-to-person and business-to-consumer e-commerce transactions; and Alexa Internet, which has created a free advertising-supported Web navigation service that gives users information about sites they're viewing and offers suggestions for related sites to visit. The deals are expected to close by the end of June.
About Exchange.com
The purchase of Exchange.com gives Amazon.com a much broader library of products. Bibliofind.com's database includes more than nine million hard-to-find book listings. MusicFile.com, meanwhile, bills itself as the Web's premier marketplace and community for collectors of hard-to-find music and memorabilia, with more than three million items for sale by retailers, dealers, and private collectors worldwide. Both Bibliofind.com and MusicFile.com include community-oriented features, including discussion forums and want ads.
"This is a win for Amazon.com customers because it further increases our selection of rare and obscure items," said Jeff Bezos, founder and CEO of Amazon.com, "And it's a win for the thousands of independent dealers on Bibliofind.com and MusicFile.com who will now be able to reach our eight million experienced online shoppers."
Set to Report Earnings
Shares of Amazon.com closed down 2-15/16 to 207-3/16 on Monday. Of course, this is after the stock closed up 20 1/16 to an all-time high of 210 1/8. Wall Street has boosted the stock because of bullishness surrounding Amazon.com's latest earnings report, which is set to be released on Wednesday.
Analysts surveyed by First Call expect Amazon.com to lose 29 cents per share, compared to seven cents for the same quarter last year. But Amazon.com's revenues are also expected to be up sharply from last year, climbing to $264 million, compared to last year's $87.4 million.