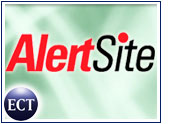 At a time when the Internet represents a notable percentage of many organizations' revenue and market presence, it is becoming increasingly crucial for businesses to ensure their Web sites are performing well. Uptime is no longer enough. Today, organizations must make sure customers enjoy their online experience — or run the risk of them visiting a competitor's site instead.
In fact, Web Services Management, an emerging set of capabilities for handling the runtime requirements of emerging Service-Oriented Architectures (SOAs), is set for rapid growth, according to a recent report by ZapThink, a Waltham, Massachusetts-based IT market intelligence firm. By 2010, the market — which includes Web monitoring, SOA enablement and metadata management — will reach US$30.4 billion, ZapThink estimates.
The E-Commerce Times recently spent time with Mike Lucente, chief technical officer, director, executive vice president and cofounder of AlertSite. The Boca Raton, Florida-based company, founded in 1998, specializes in hosted Web site, server and Web transaction performance monitoring services.
In May, AlertSite began offering ServerAgent, a systems-monitoring service designed to integrate server performance monitoring into AlertSite's monitoring service. In addition, the company has added monitoring locations in several cities — including New York, Frankfurt, Chicago, Sydney and Hong Kong — bringing it to a total of 13 monitoring locations with more to come.
Clients include Cracker Barrel restaurants, Gibson Guitar, Honda, Purina Mills, Oshkosh B'gosh and Blue Martini Software, as well as not-for-profit Goodwill Industries International.
The E-Commerce Times recently had the opportunity to speak with Lucente about Web site performance monitoring and what his company is doing to assist in it.
E-Commerce Times: Why is Web site monitoring so important to businesses?
Lucente: Well, in a nutshell, as the Web grows in importance, it's important to put your best foot forward. Without Web site monitoring, without the view from outside your organization, you're not going to get a good picture, a good read, on how your customers are seeing you and how the site is performing. So, especially given the relatively low cost of site monitoring, it's something that anybody who cares about their site should take a look at.
ECT: Are all companies — from large to small — investing in monitoring solutions?
Lucente: Absolutely. Our customer base ranges from the small mom-and-pop shop all the way up to Fortune 1,000 companies. Certainly anybody who's making money or engaging in e-commerce, but moreover, anybody who wants to paint a good picture and certainly people who have competitors. People have become very impatient on the Internet. If I go to Sears.com and the site is not performing well, I'm very quickly going to go right down to the next site to buy my product if the site's not up to my expectations.
ECT: When you're talking to fellow CTOs, CIOs and CEOs, how high up do they rank Web site performance and monitoring?
Lucente: I think it ranks up there, along with security. Security is Number One. Without a secure site, if somebody does break in, you start to lose your credibility. And it wouldn't be very good for your tenure. So I'd say security is Number One, but right behind that comes the performance of your site.
All companies that are doing business now have a presence on the Web. Everybody has taken their ability to sell their product or service and placed it out on the Web, so it becomes that much more important that it be as stellar as it can be. In order to do that, you have to keep an eye on it. That's where AlertSite comes in.
ECT: Obviously there are other Web site performance software and service providers out there: How does AlertSite differentiate itself from these companies?
Lucente: One thing we pride ourselves on is excellent customer service. If you call us, somebody answers the phone. Our customer service people — we refer to them as performance advisors — truly do and have the capacity to help our customers understand how they can use our products to enhance the performance of their sites.
When you call, you're not speaking to somebody who's just trying to sell you a product and leave you hanging. We've got people who understand our customers' needs and who try to fit them with the right product.
Aside from that, we've been doing this since 1998 so we're very good at it; we think we're very good at it. We have a presence now in 13 monitoring locations around the world, and that's growing steadily. We provide front-to-back transaction monitoring for people who want to monitor their e-commerce applications. Again, we've been at it for a long time so we think we're very good at it.
ECT: And AlertSite recently integrated the server into its monitoring service. Can you tell us a little more about that?
Lucente: It's something we call ServerAgent. It's a software that you install on machines on your server. Now we have an ability to get behind the firewall and to watch from within your network, your servers. It's an initial offering, and we're adding to it. Really, what it is initially is an early warning system so, if things are starting to go south on your machine, we now have an ability to tell you about that before it gets to the point of a server actually crashing.
We watch things like CPU and disk space, and we also allow our customers to write very simple scripts to test anything else that might be running on the server, like their database, for example. They can write a short little script that queries the database regularly and that integrates naturally into our server agent. If your database server goes down we can tell you about it.
ECT: So companies don't need to lose thousands or millions of dollars because of a downed server?
Lucente: Exactly.
ECT: Are companies looking to become more proactive about Web site monitoring?
Lucente: And that's where we're heading. It's not there yet but probably future versions will enable customers to have some remote control capabilities for their server as well.
ECT: Does being CTO of a technology company give you a better perspective on the challenges facing your counterparts at existing or potential clients?
Lucente: I hope so. I've been at this for a while, too. Prior to this I was with a company called Seisint in Boca Raton and spent a few years there. Their gig is big data. Before that, I was with Hiway Technologies, which was eventually bought by Verio. At the time, and this goes back a few years, we were the largest Web hosting company in the world.
At the time, we had 100,000 sites which, in those days, was big. I helped them build that entire infrastructure. I was the seventh employee with Hiway. The experience that I've had with the Internet and with Web site monitoring and hosting give me some keen insight into the problems that are faced by CTOs.
ECT: And what are some of the major things that are facing them?
Lucente: Again, right now I think the biggest challenge is security — from kiddy hackers to potential terrorists. I think organizations have to watch very carefully that they're not compromised. Right behind that is performance.
It's kind of a juggling act. They've got to keep their site open enough that it works well and lets all of their customers in, but they've got to keep the bad guys out as well. CTOs have to be very attuned to all the latest tricks and challenges.
ECT: Are you, then, facing similar challenges as CTO of AlertSite?
Lucente: Well, sure. I have to be constantly vigilant.
ECT: How closely do you work with AlertSite's software developers and engineers?
Lucente: We're a small company so I'm directly involved with developing new products and coming up with those products. I'm also the co-founder of AlertSite so I pretty much have my hands in everything! That includes the development of new products and software development.
ECT: So what prompted you to co-found AlertSite?
Lucente: I was working for someone else and really started looking around for where there was a need, and [I] saw or felt there was a need in the site-monitoring space. With my partner, [CEO] Ken Gross, we decided one day over coffee that we were going to take a run at this. That's really how it started.
ECT: How long did it take to go from a coffee cup to a working business plan?
Lucente: The planning part was just a few months. We probably spent another six months developing the initial product, which wasn't a whole lot to look at back then. We've continued to build it. That's really been our philosophy: to incrementally build this business, to incrementally build our offering.
We're continuously not only enhancing our current monitoring product, but we have aims to continue to offer new products and services. ServerAgent is one of them. We've got some other things on the horizon that we think will help to keep us positioned as a force in the Website monitoring space.
ECT: You're also now offering an outsourced load-testing service. Is that primarily for larger companies?
Lucente: Yes, mostly. Smaller companies aren't going to get the traffic that would warrant a load-test. It's usually not a concern for them. But for any large company that either expects a spike or maybe is trying to certify their systems for another organization, it's good. We've had cases where companies are being purchased, and the purchasing company comes in and says, 'Well, we want to make sure your systems can hold up so let's do a load test.'
ECT: And the ROI is?
Lucente: The ROI can be calculated by how much does it cost you to be down. As long as you can figure out how much it will cost you per minute or per hour for your outage. Honestly, in most cases, there is a breaking point. It's not if we can get to the point where your system breaks, it's where is it going to break?
And that's great information to have. Now you can gauge how much traffic you're getting, you know where your breaking point is and you know when you have to add resources. Big companies with a lot of traffic need to be prepared, and load testing gives them that.
ECT: You mentioned remote server monitoring and a more proactive approach to monitoring. What other directions do you think this technology will take in the coming years?
Lucente: Well, now with our ability to get behind the firewall we can potentially now create a more integrated view of somebody's network. Along with that view, the next logical step is the ability to manage it remotely, potentially, from wireless devices. You could be traveling with your cell phone and need to, let's say, make a change to a server or reboot a server and that might be something we could see on the horizon. I'm not saying we're going to do it.
What we're really trying to do is give organizations the tools to get their hands around their network and give them a comprehensive view of how it's performing and to let them know well in advance of a problem that there might be a problem, and then give them the tools to do something about it — to diagnose it and then to take action.
ECT: How important is it to have monitoring sites in different geographies and cities?
Lucente: We try to get close to our customers or to where our customers' customers are. Some regional operations may not care that they perform well from Seattle. But they might care if I've got somebody located in Texas, a boot company let's say. They probably want to see sites within Texas can get to them. The more points of presence we can have to service customers around the world, the better in that case.
Our customers do ask for that and do want it. They do have customers that are in specific locales that they want to [be] monitored from. The more the better. We have to balance it with our growth. We'll continue to add, probably every month or two, another location if we can. We can't always promise that. It depends on how busy we are. We are a small company, but we move pretty fast as a result.
ECT: How small?
Lucente: In terms of employees, we have 10 employees. Revenue we keep close to the vest.
ECT: So how do you do the monitoring locations?
Lucente: That's entirely colocated. We have ISPs that we partner with around the world that help us with that. We don't physically have people there. We have boxes there that we manage remotely.
ECT: What's the best part of founding a company?
Lucente: That's hard to say. Clearly, running my own business is an exciting thing. We're providing a very valuable service to people. In the beginning it wasn't really clear that this would take off or that people would subscribe to the notion of being monitored, but what we're seeing is it's becoming important for everybody.
It's almost becoming a commodity. That's pretty exciting. Continuing to support that and grow that, and to try to become an industry leader is an exciting prospect for me.