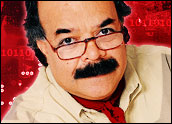 When creative concepts collide unexpectedly, this sudden accident incubates a branding process, which can result in a random selection of a weird strategy. This gives birth to an extreme name identity, whereupon a major advertising process kicks in. All things are combined — shaken, not stirred — and that's how we refer to today's trendy branding. To avoid a catastrophe, we must first learn the secrets of the various branding tricks and become aware of the bigger risks.
Right now, in good old England, they have big corporate brands like EGG, as in ham & eggs, www.egg.com; ORANGE, as in juice, www.orange.com; and THUS, as in "thus far, this Scottish Telco is still having difficulties," www.thus.net.
Wandering Off the MMap
And then there's MMO2, a very big telecom name in the UK, created as a cute play on the then very popular millennium year 2000. It was fashionable to use the Roman numerals for 2000 at the time, and so MMO2 came into being — but it soon became outdated in 2003, 2004 and 2005. Now they've just dropped the MM to be proudly rebranded as O2, as in oxygen, at www.o2.com.
Naturally, you would need oxygen after such a mm-mega surgery. Accidental naming can create a lot of crashes and cause injuries during the long term care of a major brand.
There is also GO, as in go where? And NOW, as in right now. ETC is also supposed to be a gentleman's gentleman-type magazine for very straight-up guys.
The influence of such strange and experimental naming is also spreading outside of England. In Australia, Quantas airlines almost called their no-frill airline Oi or Oz air, but settled on JetStar, a name already used by so many others in aviation. In Asia, there is now a short-lived fad for two-lettered corporate identities. And no, you can't ever find them on search engines.
Dancing in the Air
Here in the U.S. we have TED airlines, as in what's left of United. With only one single peanut per passenger to offer, United Airlines so brilliantly chopped the Uni from their name to come to this unique invention of TED. Like, half the airline with half the things chopped, except the engines, of course. That deserves half an entry in the half-naming hall of fame. Just as Blue, Jazz, Tango and Song airlines are trying to dance in the air, so TED is now attempting its trampoline routine.
It seems that all over the globe there is a rush to find four-letter words for airline brands. Is this the revenge of the disgruntled flier? Maybe. The fact is, airlines are in the fast-chopping mode.
"Cut everything in half and than half again; do it slowly and do it painfully." Of course they all are losing big money. Who could be surprised about their losses? But one could question the old branding fanfare. To frequent fliers it became obvious, way before the 9/11 tragedy; it all started with the peanut packets being replaced by one single peanut. Now all you might get is just a picture of a meal, a great take-home souvenir.
The peanuts and monkey business are almost over — now you even pay for a cracker and dare ask for butter. All you are allowed is simply to dream of demanding an extra satin pillow with silky blankets. Today, the stage is nicely set to get a greyhound bus service in the air. Cut the washrooms, give them a used parachute. The naming of airlines has taken a major turn from country-specific to discount-coupon-specific and from first-class to no-class. While Asian airlines are boosting super luxury classes, here in the U.S., it is time to fly a TOM or a DICK or a HARRY. Thank you, Britannia, we are amused with these yoyo monikers.
The Global Wordplay
Real advertising was invented in England, and let's face it, they are great at it, just like the global branding that came out of Japan while America provided the largest arena to play out the branding games.
Meanwhile, our good old McDonald's in the U.S. is unhappy about McJobs being included as a word in the OED, the Oxford English Dictionary, mother of all the English words and a slap to the French because their Larousse dictionary is poorer by a few thousand French words. Wow, we have more four-letter words than the French — merde.
To Big Mac, the jobs of "Flippin Engineers," "Moppin' Mechanics" and "Latrine Sentries" are not to be laughed at. True, Big Mac does help tens of thousands at entry-level jobs and helps students as well. Somehow they later become very obese and try to sue them — in revenge?
Here is a new twist: the fast-food freedom fry, fatty chow-maker now wants to sell children's clothing and introduce McKids in a big way. Why not go for McSleep: Eat and sleep and complete the life circle — indeed, a million dollar tag line on Madison Avenue. Watch out for the naked kids running around at the golden arches drive-ins exchanging and re-fitting pantaloons — French, that is.
America is better off with business name brands, which give us a clear advantage, provide global identity and a leadership position, rather than just simple English words from the dictionary that can get lost in the crowd. Name wisely, or just go to McSleep.
---
Naseem Javed
, author of
Naming for Power
and also
Domain Wars
, is recognized as a world authority on global nameidentities and domain issues. Javed founded ABC Namebank, aconsultancy he established a quarter century ago, and conducts executiveworkshops on image and name identity issues. Contact him at
[email protected]
.
---