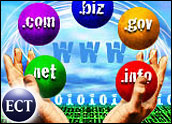 The dot-com crash that saw hundreds of start-up businesses on the Internet close up shop in 1998 and 1999 is not discouraging new Net entrepreneurs. A record number of domain name sales in 2004 shows that business presence on the Internet is stronger than ever.
A domain name that reflects an organization's brand and offerings is vital to driving new business. Last year saw an explosion of growth for the secondary domain marketplace, as more organizations purchased the ideal domain name to drive their brand.
More than 1,400 domain name transactions were reported in 2004. That compares to only 500 domain transactions reported in 2003 and 400 domains sales reported in 2002.
Record Telling
Last year also saw the availability of more extensions like .info and .biz, suggesting that buyers are now open to more options.
The volume of domain name transactions in 2004 was up 300 percent from 2003. Consolidated data from DNJournal, Domain-Spiegel.de and Sedo.com, three leading independent companies tracking the domain name marketplace, shows the average sale price of dot-com domains is more than US$9,700.
The data from these companies revealed that the marketplace where already registered domain names are bought and sold is very healthy. Strong gains were seen both in terms of the volume of sales and the overall sale prices for domains, compared to the previous years.
"A domain name's importance emerged as a valuable element of an organization's brand, and the numbers validate this trend," Matt Bentley, CEO of Sedo.com, told the E-Commerce Times. "Though we'll likely never see the sale prices of 1999, when domains like business.com fetched $7.5 million, valuations for key domains have definitely begun to elevate to demonstrate their importance to business and organizations all over the world."
Domain Names Hot Commodity
A re-emergence of Internet sales traffic is driving the strong interest in buying and selling domain names. "The emergence of traffic is a good objective measurement. It is a good source of evaluation," Bentley said.
Bentley attributes that re-emergence in part to better tracking measures of visitors to Web sites.
For instance, the pay-per-click ads have enabled Web owners to pin down and verify potential customers. Also, more successful marketing strategies on the Internet attract visitors to targeted domain names.
Another cause of the growth in Web site traffic is better search engine strategies. Keyword searches are channeling more visitors to specific Web sites.
"Searches done by dot-com give generic domain names thousands of hits," Bentley said. "Highly targeted traffic based on keyword marketing is making a ton of money."
As a result, domain names are now worth more money to sellers.
Extensions Selling
In 2004, new extensions such as .info, .biz, and .us were more widely adopted by Web site owners. The number of .info sales soared from 27 reported sales and a total volume of $68,571 in 2003, to 149 reported sales and a total volume of $367,045 in 2004.
Only three .biz sales were reported in 2003, compared to 45 reported sales in 2004. The .us extension increased from 22 reported sales in 2003, to 60 reported sales in 2004.
Domain-Spiegel.de, a German publication that closely tracks the sale of domain names, reported strong interest in the new extensions. The publication's editor, Daniel Dingeldey, said in a written statement that since last year, buyers have clearly been open to new extensions.
The new domain name extensions create opportunities for buyers to obtain the right domain name for their businesses' image on the Internet.
No New Crash Expected
Bentley said it is unlikely that the dot-com resurgence will abruptly end as it did at the end of the 1990's. Today's Internet boom is considerably different that the previous growth spurt.
"Much of the e-commerce growth now is based on traditional business models," Bentley told the E-Commerce Times.
He said businesses on the Internet are not breaking new ground. Instead, the business foundation on the Web is stronger than before.
The continuing growth in domain name sales will not end any time soon, Bentley believes. It will, however, slow down rather than crash.
"The strength of our industry is the leading indicator of how e-commerce is growing. When the crash hit previously, domain name sales were the first part of the industry to suffer," Bentley said.
Stable Platform
As the domain name market continues to thrive, buyers and sellers are looking to domain marketplaces that provide a central platform for domain transactions, unifying a previously disparate marketplace. That stability will help to hold the resurgence together.
Domain marketplaces like Sedo.com, an acronym for "Search Engine for Domain Offers," provide a centralized platform to streamline the purchase and sale of domain names through a unified online interface.
This enables businesses to find a great name for their new online business or drive a branding initiative. It also allows domain name sellers to get the optimal price for their domain assets. Sedo currently has 2 million domains listed.
Sedo offers regional versions of its site for the UK (Sedo.co.uk), France (Sedo.fr), Germany (Sedo.de), and Spain (eSedo.com).
Worldwide Market
Bentley said the dot-com resurgence is not localized to one or two areas. The trend is for new domain names being registered around the globe.
According to Bentley, some 67 million new domain names are being registered worldwide. Also, more people are renewing their domain names.
"More people are putting their Web sites to good use," he said.