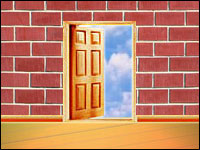 Now that cloud computing has made it economically feasible to capture and collate large volumes of data — that is, "big data" — many organizations are trying to find an equally economical method to analyze and move the data across various business applications.
The rapidly escalating demands for powerful analytic tools to decipher the meaning of old and new data streams are driving many organizations to invest millions of dollars in data scientists and expensive consulting services.
Enter Algorithmia and Bedrock Data, two cloud-based companies offering online marketplaces to remedy these age-old issues.
Crowdsourcing Analytics
Algorithmia is bringing together the best of the open source movement and the Amazon Mechanical Turk crowdsourcing developer marketplace idea to address the data analytics challenges facing organizations of all sizes.
Through its online marketplace, organizations can find proven algorithms that can be acquired on a pay-as-you-go basis and quickly downloaded to satisfy a specific business need.
The idea of data marts where companies can acquire third-party data feeds has been around for a while. Algorithmia now is making it easy to apply analytic tools to the data in order to unlock its business value.
It also has established a bounty system similar to many popular crowdsourcing services to enable app developers to respond to specific requests for particular algorithms.
Easing Integrations
Bedrock Data has established a marketplace that makes it easy for users to acquire and install application program interfaces that permit standardized software packages to trade data.
This isn't a new idea. For example, Dell acquired Boomi, a data integration company that pioneered simple data integration mapping in the cloud, and there are lots of places to buy APIs. However, making the deployment process simple is no small task.
There are many API marketplaces that enable various applications to interoperate, but Bedrock Data is going a step further to make it easier to ensure the data integration between CRM, sales and marketing automation, customer support, e-commerce, financial management and other common applications.
The founders of the company saw firsthand the challenges associated with that task when they worked at Hubspot and tried to integrate their marketing solution with other leading business applications.
They have built a data integration platform and library of standard integrations with plenty of user-friendly "how to" documentation. The platform not only maps the data across various applications, but also continuously synchronizes it.
Every layer of the cloud cake — SaaS, PaaS and IaaS — is making it easier to acquire applications, development tools and computing power. Maximizing the value of those resources also is getting easier as a new generation of solutions takes shape.
Striking While the Iron Is Hot
Algorithmia and Bedrock Data's cloud-based, on-demand services are turning the old-world drudgery of software development and data integration into point-and-click simplicity.
These companies are bringing their services to market at just the right time, as organizations face escalating demands. Their innovations are making it easier to gain real value from a widening array of business applications via the cloud.