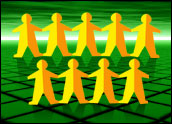 Growing at more than 25 percent per year, e-commerce gives consumers a lot of what they want: broad assortment and convenient shopping any time from anywhere. To successfully compete with the bricks, all e-commerce has to do is stock the "long tail," ensure order accuracy, ensure nearly instant gratification with overnight shipping and keep shipping costs down.
These characteristics of Internet retailing are driving the e-commerce supply chain to be as flexible, fast and low-cost as the Internet itself — but traditional supply chain technologies cannot keep up. The ironic challenge of e-tailing is that the things making it attractive to consumers are exactly the things that make order fulfillment and DC (distribution center) operations difficult.
The problem is that anachronistic material handling approaches are not well suited for the demands of Internet retailing, presenting a bottleneck in the enterprise value chain. Clearly, 21st century e-commerce operations will not succeed when simply duct-taped to 20th century automation.
To compete effectively, e-commerce must figure out how to transform the distribution function from a cost center into a competitive asset. This article takes a look at why fulfillment processes in their current state hold e-commerce back from its full competitive potential, and offers some insights about a new approach.
What's Wrong With This Picture?
Automation and sortation technologies such as conveyors, tilt tray sorters, sliding shoe sorters, carousels and the like simply tinker with Henry Ford's serial assembly line concept. This is a critical observation: The century-old serial process paradigm contains — and will always contain — inherent trade-offs between capital and labor efficiency, and between process speed and quality.
What's worse, these types of hard, bolted-down automation equipment are not flexible enough to handle the broad and rapidly changing SKU assortment expected by e-commerce customers. Traditional wave and batch processes designed to keep fulfillment costs down end up pushing cycle time up. The end result: Internet promises are at odds with conventional fulfillment processes.
The example of Webvan illustrates this point effectively. One of the first e-commerce pure-plays, Webvan came and went in the era where the Web first provided consumers with a tool to order everything online — from DVDs to groceries to furniture — in just a few clicks. However, the advances that sped things up on the customer side of the equation could not be matched on the fulfillment side without driving up costs. Unfortunately, the rigidity and complexity of traditional fulfillment approaches were insurmountable and Webvan threw in the towel, along with a host of other dot-com e-commerce startups.
What Needs to Happen?
While the Internet is already rolling out Web 2.0, e-commerce fulfillment has barely left the starting gate. To catch up with the Internet retailing front-end, distribution centers need to be reorganized with the specific demands of e-commerce in mind. This means implementation of a parallel-processing workflow in which the order fulfillment system stores, moves, and sorts physical inventory similarly to the way that computers process (store, move and sort) data bits.
It is useful here to imagine a warehouse where all the items can walk and talk on their own. This can be achieved with a fleet of small mobile robots that pick up and move a sea of shelving units containing pallets, cases, individual items and order containers. The resulting solution combines store, move and sort functions into one simple system that can now deliver any item to any worker at any time.
Perhaps more importantly, computer algorithms can then enable this mobile inventory to organize and reslot itself, and automatically adapt to changing product velocity and market conditions. The inventory walks, so the warehouse worker doesn't have to.
This approach opens the door for the parallel-process material-handling workflow mentioned earlier. This parallel-process workflow allows random access to any inventory item in the facility, so it isn't subject to either the tyranny of the bottleneck, or the vulnerability of any single point-of-failure. It is simultaneously a higher performance and higher reliability system than traditional, serially organized material handling approaches.
The good news is that advances in wireless communications, sensor miniaturization and image processing have made this kind of system possible. These technological advances have created new possibilities in autonomous vehicle navigation, route and queue optimization, and obstacle avoidance, which are all required to realize a mobile fulfillment system for the warehouse environment.
New Possibilities, New Opportunities
This new approach to warehouse automation fundamentally changes the fulfillment process so it can adapt to the evolving demands of e-commerce. Such a system changes the fulfillment game by increasing labor productivity by three-fold compared to conventional methods — without burdening workers — while simultaneously increasing the speed, accuracy and adaptability of distribution operations as a whole. Here are just a few examples of the kind of progress that is possible:
Simplify. Typically, distribution centers have multiple processes and equipment types to handle different types of items — fast-movers versus slow-movers, large items versus small. To be most efficient, all items need to be handled well by one process and one type of equipment, and reslotting should be continuous and automatic without adding labor.
Increase sortation with fewer touches. Fulfillment operations should not only be fast and efficient in the DC — they should increase speed and efficiency of the downstream distribution process. For example, e-commerce fulfillment operations should be able to palletize orders with delivery truck routes in mind, and orders should "picked to plan-o-gram" of destination stores — without additional capital expense, labor content or cycle time.
Fully integrate quality control function. A fulfillment system should be able to eliminate in-line error, and with it the need for a separate QC function.
No walking, no waiting. The modern distribution center should offer infinite pick face density with zero operator walking.
Just-in-time capacity. E-commerce operators need to be nimble. They must easily handle wide seasonal peak-to-mean throughput variation, and be able to quickly adapt to unpredictable market dynamics.
Now Operational: The Walking, Talking Warehouse
Several top U.S. retailers have shifted their fulfillment approach to a mobile robotic system, and the lessons learned are highly informative to the e-commerce community at-large. For Staples, robots have played a steadily larger and larger role since 2006; in fact, the company recently opened a brand new distribution center in Denver, designed specifically around the robot model. The site opened and ramped in record time, operator training has been streamlined from a couple of weeks to a couple of days, worker productivity has more than doubled and order defects are the lowest in the retailer's entire network: Robots have been a boon to Staples' bottom line.
In addition, Walgreens — the largest split-case picking operator in the world — marched robots into its distribution center in Mt. Vernon, Ill., to help keep its retail stores in-stock. With 550 new stores planned to open in fiscal-year 2008, Walgreens needed a quick and flexible way to add high-speed picking capacity to ensure growth potential while deferring major capital expenditures.
As a final example, Zappos, a fast-growing Internet retailer ran into the inflexibility of conventional automation when it decided to extend its mix of products beyond shoes. Rather than install specialized equipment for each type of product, the company found a perfect solution in the inherent simplicity and storage flexibility of the "walking-and-talking inventory" approach, implemented with robots.
---
Mick Mountz
is founder and CEO of
Kiva Systems
, a developer of mobile robotic solutions for the dynamic storage, movement and sortation of inventory.
---