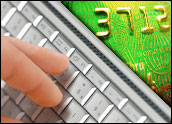 The growth of e-commerce and the continuing expansion of outsourcing and the remote workforce are fueling a new approach to paying for services. Internet-focused companies are replacing traditional online payment transactions with prepaid debit cards.
Payoneer is a startup firm that is pushing this concept of prepaid debit cards to leverage more Web payout services through the use of reloadable debit cards. Its CEO sees a strong demand for a new approach to handling business transactions over the Internet.
Some industry watchers predict that online payment options such as debit cards will take off this year. For example, analyst firm Celent predicts alternative payment methods such as debit cards will more than double by the end of 2008. These new transactions, known as Web payouts, now comprise 26 percent of all transaction volumes, while credit card volumes decline.
"A real need exists for a low-cost, worldwide payment solution with responsive customer support tailored for online businesses," Yuval Tal, CEO of Payoneer, told the E-Commerce Times. "The payment process from Internet companies to individual payees is unique and requires many adjustments compared to the typical check-cutting process."
Tal started Payoneer to provide a new type of payment channel for e-commerce companies and workers. His goal is to solve problems in other payment methods, such as checks and wire transfers for international payroll.
The Need
More traditional payment methods for online transactions and remote per-project workers are costly and cumbersome.
"Paper checks get lost or stolen overseas often, and banks overseas can hold funds for up to 30 days and charge high foreign currency exchange rates," Tal said, adding that wire transfers are costly and lock recipients into costly bank fees.
Traditional money transactions through PayPal often are cumbersome for obtaining cash abroad, or they require a minimum three-day hold, he explained.
The Problem
Take the case of 2Checkout.com, a reseller for thousands of online businesses. That company was drawn to Payoneer's debit card solution to better navigate international banking barriers.
"We are a worldwide company, so some banking services are not easy to work with. We found a huge difference [with Payoneer] to using PayPal," Geno Arce, business development specialist for 2Checkout.com, told the E-Commerce Times.
oDesk, which runs an on-demand global workforce, faced similar payroll issues with its international clients. The company enables buyers of services to hire, manage and pay technology service providers from around the world. oDesk serves as the management arm for hiring remote workers registered in its database on a per-project basis and handles all billing and payment services for firms using its manpower.
"Making payments to our customers in 60 countries, we struggled to pay the workers in their own locales. It was expensive to wire money and use different banks worldwide," Gary Swort, CEO of oDesk, told the E-Commerce Times.
The Solution
Payoneer provides prepaid Visa and MasterCard accounts to its affiliates that choose them. Also, Payoneer handles payment processing/clearance services. The company lets card holders view account balances and transaction histories.
Some customers see the approach to Web payout options that Payoneer provides as better than cash. In 2CheckOut.com's case, Payoneer's prepaid debit card, which carries the 2CO logo, lets that company pay its vendors by depositing the money due directly to the account of the person issued the card.
"The challenge we had was how could we do this internationally. We haven't found any company to do this at this price," Swort said about oDesk's experience with Payoneer. "It's very cost-effective. We don't want a lot of fees."
The Product
Payoneer's approach to solving the Web payout dilemma involves an option to pay revenue shares to their partners by giving them a reloadable prepaid debit card from a major credit card bank instead of sending a paper check or wire transfer handled through existing online payment services from PayPal, Google and others. The new payment methods also make doing recurring business online and paying remote workers more convenient, Tal explained.
Companies can upload payments securely and swiftly. The prepaid cards make funds available to affiliates anywhere in the world that the Debit Visa or MasterCard is accepted. The money is available to the payee in U.S. dollars or is converted to the local money standard using the credit card company's exchange rate. Transactions under US$10,000 are almost always far more favorable than the foreign exchange rates of a bank, according to Payoneer.
Once cards are mailed to affiliates, funds can be accessible within two hours after a quick online verification. Payoneer also has an arrangement with MasterCard so with MC approval, a company can place its logo on the physical plastic Debit MasterCard cards that the affiliate sends to its employees and partners.
The New Challenge
Using debit cards to pay instead of writing checks is nothing new. Neither is the idea of using prepaid cards for transactions in stores and online.
However, the idea of using reloadable branded debit cards as a payment option is. So is the notion of handling recurring employee incentives and payment to international workers by debit card.
Several large credit card vendors are offering similar services. So are a number of Internet banking firms.
"There is definitely competition developing in this space domestically," Tal said. "Developing a market for prepaid debit cards was definitely a strategic move by Visa and MasterCard. It was one of their top five things to do."
High Hurdles
Early on, Tal had to solve regulatory and compliance issues that government banking agencies put in place to prevent abuses in handling online money transactions.
"The prepaid space is very new with e-commerce," he said.
Within the e-commerce industry the goal is to replace the use of paper checks, according to Tim Sloane, director of Mercator Advisory Group's Debit and Prepaid Advisory Service.
"There is multiple opportunity in this space. Online payments in 2006 was $11.6 billion, so it is a well-established segment. It is still growing at 60 percent a year, but I expect it to grow faster now," Sloane told the E-Commerce Times.
New Goals
Now that Payoneer's concept of reloadable prepaid payment cards is established, Tal's next goal is to expand this service internationally. He plans to begin this phase in the second quarter of this year.
"The real challenge we face now is moving into the international payment space," he said. "Educating foreigners is a big task."
U.S. workers and businesses have already carried the use of multiple credit cards and debit cards to the extreme, but for workers in other countries, it is common for many to not have a single card, Tal explained.
"For many, this is the first deal. It is a big deal to get a card," he said.