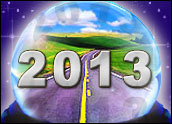 Software as a Service has become an accepted alternative to traditional on-premises enterprise applications, and a broader set of cloud services is becoming a viable option for businesses seeking more flexible and economical computing capabilities.
Despite occasional service disruptions, the adoption of these services is acceleratingrapidly, because they are delivering tangible and measurable business benefits that clearly demonstrate their value.
It is a no-brainer to predict that the cloud movement will continue to grow exponentiallyin the coming years. So, my predictions for 2013 will focus on how the cloudmarketplace will be reshaped as it matures, and the gating factors that will impact itsevolution.
1. The economic effect of the 'fiscal cliff' will increase interest and escalate demandfor cloud services and solutions.
The SaaS and cloud movements would not havegained momentum during the past decade if it weren't for the economic imperativesbrought on by the downturn in the worldwide economy.
Continued economicuncertainty and the threat of higher operating costs caused by the current fiscalcrisis will drive more businesses to adopt cloud-based alternatives.
2. IT/Business decision makers will strive to create the right mix of public and privatecloud services in a hybrid environment.
Sorting through the proliferation ofcloud services to select and deploy those that best fit in their existing operationsand satisfy their specific business requirements will be the top priority.
3. Channel companies will reemerge as key influencers in cloud selection process.
Channel companies have always been a critical component in the distributionof hardware and software in the IT industry. IT and business decision-makerswill turn to these trusted sources again for help with cloud service selection, deployment and management.
4. Hybrid cloud management will become the biggest challenge.
Few organizationsare able to fully manage their legacy systems and applications — adding ona new layer of cloud services threatens to compound their existing mess. Newcloud-based management solutions and a growing number of managed cloud services will help organizations get their arms around this challenge.
5. Cost management takes center-stage in the cloud.
Many businesses arediscovering the hard way that cloud services acquired on demand can quicklybecome surprisingly expensive. A new set of cloud cost management tools will help businesses estimate potential costs and monitor real expenditures.
6. Cloud analytics unlock the hidden value in Big Data.
Infrastructure as a Service alternatives will allow businesses to capture and store today's escalatingdata more economically. Also, SaaS-based business intelligence solutionswill enable businesses to analyze information more easily and share it moreeffectively.
7. Platform as a Service becomes a key component of strategic cloudportfolios.
As businesses become more comfortable with SaaS and IaaSalternatives, they will start to select cloud vendors that can serve as strategicsources.
The PaaS offerings of these cloud providers will become increasinglypivotal in their selection process.
8. Cloud washers fail to satisfy customers' escalating demands and faceoperational strains.
Many legacy hardware and software vendors are rebrandingtheir existing systems and applications as "cloud" solutions by hosting andoffering them as subscription services.
While this alleviates the upfront costs andongoing administrative burdens their customers face, it doesn't deliver all thebenefits of true SaaS/cloud services and won't scale over the long term.
9. New cloud opportunities lie in vertical markets, regional geographies andprofessional services.
While nearly every horizontal application market segmentis becoming saturated, most industries are still ripe for targeted cloud alternativesthat address age-old inefficiencies.
Also, every geographic region outside the U.S.is fertile for greater cloud penetration. Specialized cloud consultancies focusedon these opportunities will have open runways for growth.
10. Enterprise cloud marketplaces emerge.
A growing assortment of businessesand other institutions will launch internal cloud marketplacesto satisfy their end-user SaaS/PaaS/IaaS needs.
This tactic will enable them to better manage theselection process, control procurement costs, and address security and complianceconcerns.