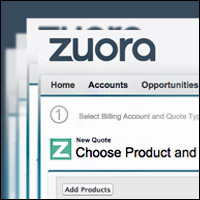 Zuora recently held its annual Subscribed user conference in San Francisco. In general, it was a good first outing since the company's IPO, coming off some impressive first-quarter results. Year-over-year subscription revenues grew 39 percent and total revenue grew an amazing 60 percent, for example.
As good as its present situation is, now that Zuora is a public company, it has to push down the gas pedal to feed the insatiable stock market. It has responded to that need with several interesting introductions that further build out its product line and represent a good attempt at institutionalizing its growth and customer-centricity.
Zuora acknowledged that after 10 years, some of its customers were looking for the next bit of adrenaline to fuel their growth.
"The easy stuff, the low-hanging fruit" had been taken, CEO Tien Tzuo said at one point, and it was time to reach higher.
What he meant was that many successful subscription companies had gotten an initial boost from the fact of their subscription status. However, as with any innovation, commoditization has set in because initial success invited considerable competition.
Hybrid Approach
Because Zuora is a company that collects a great deal of data, Tzuo was able to say with confidence that 70 percent of customer growth was attributable to expanding footprints (upsells, cross-sells, renewals) rather than to the addition of net new customers. Zuora anonymizes customer data to derive such insights, which it publishes as the Subscription Economy Index, or SEI.
Some other interesting information from the SEI is that the more customers change or tweak their subscriptions, the faster they grow — and fewer ultimately churn. Since these numbers are indicators of use and engagement, the results make sense.
If this sounds like customer relationship management, it is — and I think Zuora's big challenge right now is in getting the CRM-finance/billing ratio right. CRM — or as I think of it, putting the customer in the center of what a business does — might be Zuora's highest off-label priority at the moment.
It's easy for the company to demonstrate the value of subscriptions as customer-centricity tools, and it needs to expend more effort doing that.
Consider this: Solving the subscription-billing problem was huge, and it continues to be challenging for businesses adopting the subscription model as an adjunct to their overall business.
However, solving billing is just a way to save money and to make it possible for a business to get on the field. Both are highly important, but they aren't enough.
CRM and customer-centricity are essential to many subscription companies, so much so that they have a hard time teasing the two apart. To the extent that many companies have been adopting a hybrid approach to customers involving new lines of subscription business side by side with conventional models, Zuora continually needs to remind them that the models are different.
In this instance, neither model is necessarily superior, but each has to be given space and neither should be confused for the other. The idea of rapidly getting through the transition phase to an all-subscription world might be a bridge too far for big vendors delivering complex products and services, so advocating that approach ultimately is self-defeating.
Running two business models in parallel is tougher than dealing with pure subscriptions, and this contributes to the sense of plateauing some customers feel. Adding customer-centricity to a business' overall approach (where needed) may be the greatest contribution the subscription model's advocate can offer. Some new product introductions and updates can make all this easier.
New Products
Zuora introduced Zuora Orders and enhancements to Zuora Insights, and it showed, especially with Orders, that it was dealing with the problem of its customers being too successful — a happy problem.
Orders is a product that can be used to file an initial order for renewable and nonrenewable services, like a core offering and training. It also is suitable for maintaining and updating existing customer changes to subscriptions. It thus makes it easier for customers to tweak their instances to get exactly what they need, and the data shows it's a good approach to customer retention.
There's also Zuora CPQ, which has suffered somewhat from an imperfect category assignment. Conventional CPQ — configure, price, quote — is a necessity for traditional sales involving a one-time purchase of a product configuration. In that light, CPQ for subscriptions is at first glance a misnomer, since subscriptions can be updated infinitely with the Orders product.
Zuora CPQ could be called "SPQ" — subscription pricing and quotation — which makes a lot more sense, but then there's the issue of inserting yet another name into the product universe. Definitely above my pay grade.
Finally, Zuora Insights is a continuation of the company's years-long effort to bring analytics to the subscription base. Appropriately, Insights' presence is felt in numerous places throughout the product line — from gathering use stats to informing the revenue-recognition process.
Speaking of which, RevRec might be Zuora's biggest opportunity as companies slowly — and retroactively — adapt the ASC 606 and other regulations. The industry has been slow to do much, according to my sources, and some companies now are spending millions to catch up when they could have spent less before. At any rate, this gives Zuora lots of new opportunities.
My Two Bits
Zuora is off and running and has made great progress in the last decade. This year's Subscribed event was a summation of its history and a chance to point toward the next horizon.
The market has changed significantly, though, and some of that change has been due to Zuora's successes. The big challenge now in subscriptions is rationalizing the hybrid model and giving space to it, as well as to the conventional model, throughout the industry.
That's not a hard thing to do, but it will require rethinking customer-centricity and CRM generally. Great companies rise to such challenges.