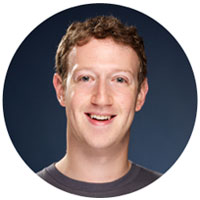 Facebook CEO Mark Zuckerberg invited a group of 15 media executives and right-leaning pundits, including talk show host Glenn Beck, to meet with him Wednesday to discuss accusations that the social media network biased it's trending news topics to omit conservative viewpoints.
In addition to Beck, founder of the multiplatform conservative network The Blaze, Zuckerberg extended invitations to Arthur Brooks, president of the American Enterprise Institute; Dana Perino, Fox News co-host and former George W. Bush press secretary; Barry Bennett, senior advisor to Donald Trump and former Ben Carson campaign manager; and Zack Moffatt, cofounder of Targeted Victory and former digital director for the 2012 Mitt Romney campaign.
Brooks planned to approach the meeting with an open mind, he noted in a Facebook post — but he also referenced a study that claimed 84 percent of Americans considered the national press biased.
"Innovative new companies have a massive opening to change this by disrupting old patterns, empowering citizens to bypass gatekeepers and helping build a newly diverse marketplace of ideas," he wrote. "But to do this, it is vital that new media avoid making old mistakes."
Viewpoints Downplayed?
The uproar began last week after a Gizmodo report alleged that Facebook regularly deemphasized conservative viewpoints in its trending news topics section.
The main source of the story was a former journalist on the project, according to the report.
However, several former news curators also provided input, claiming they were told to inject certain stories into the trending topics feed even if they weren't trending, and to leave out news about Facebook, Gizmodo reported.
Facebook responded to the controversy with a lengthy defense of its curation process and a personal response from Zuckerberg.
The company was launching a full investigation into the allegations, he said — yet in the next sentence claimed there was no evidence to support any accounts of suppression.
"To serve our diverse community we are committed to building a platform for all ideas," Zuckerberg wrote.
The company had rigorous guidelines that did not permit the prioritization of one viewpoint over another or the suppression of political perspectives, he maintained.
Trending Topics launched in 2014. The topics that initially appear are surfaced by an algorithm that identifies items that have a high degree of mentions. The algorithm also utilizes an RSS website crawler that identifies breaking news, explained Justin Osofsky, vice president of operations at Facebook, in a post published several days after the Gizmodo story broke.
The Trending Topics team reviews the items and corroborates the reporting by making sure three major outlets are covering the story, Osofsky said, and applies a category to the story. The Trending Topics items are personalized to individual users based on an algorithm that includes what the individual Facebook user has liked before, the geographic location of a user, feedback from the user about previous trending topics, and other data.
Protect the Shield
The allegations raised in the Gizmodo report are "troubling," noted Facebook Vice President of Global Policy Joel Kaplan, a former senior aide in the Bush White House, in a lengthy response to the controversy last week.
An equal number of conservatives and progressives use the Facebook platform, he said.
"This matters to us because Facebook has always been a place where anyone can share their opinions and engage in discussion," wrote Kaplan.
Independent Journal – America has more than 7.5 million fans on Facebook and has leveraged the network to grow its media business, he pointed out, and Glenn Beck has more than 3.2 million Facebook fans.
There is not a lot of evidence to back up the Gizmodo story's anonymous source allegations that Facebook suppressed conservative ideas, observed Rick Edmonds, media business analyst at the Poynter Institute.
Still, "right or wrong, the Gizmodo expose highlighted that human judgment goes into the trending recommendations," he told the E-Commerce Times, "and that's also true — in my view — if the humans are simply writing the rules for the algorithm."