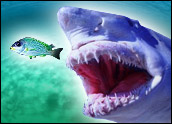 Google on Wednesday announced that it would ban advertising for payday loans in its ad systems.
Starting July 13, the company will prohibit ads for payday loans and related products where funds are due within 60 days of the date of issue, as well as ads for loans with an APR of 36 percent, said David Graff, Google's director of global product policy.
"When reviewing our policies, research has shown that these loans can result in unaffordable payment and high default rates for users, so we will be updating our policies globally to reflect that," he said.
The company has an extensive set of policies to keep bad advertising out of its system, Graff said, adding that it disabled more than 780 million ads in 2015 to keep them off its search engine and other systems.
The change will not impact other financial services, such as mortgages, car loans, student loans, commercial loans and credit cards, he noted.
Questionable Impact
Google is addressing many of the longstanding concerns of the civil rights community regarding predatory lending policies, said Wade Henderson, CEO ofThe Leadership Conference on Civil and Human Rights.
"These companies have long used slick advertising and aggressive marketing to trap consumers into outrageously high interest loans," which many consumers could not afford, he said.
"It does cut off one of the ways that online payday borrowers have targeted borrowers," said Alan Horowitz, senior officer with the small-dollar loan project atThe Pew Charitable Trusts.
However, the overall impact will be modest at best, he told the E-Commerce Times.
About a third of overall payday lending is online, while the remaining two-thirds involve 16,000 payday lenders operating in 36 states, according to Pew's research.
The top five payday advertisers spent US$277 million in ads from June 2012 to May 2013. MoneyMutual, the biggest, spent $212 million during that period, according to data Pew purchased from Nielsen.
In 2015, MoneyMutual agreed to end its payday loan lead-generation activities in New York and pay a $2.1 million penalty, according to the state's Department of Financial Services. Former talk show host Montel Williams agreed to withdraw from TV ads shown in New York.
The company loaned money at rates of up to 1,300 percent, the department said.
Blanket Assessment
The policies are "discriminatory and a form of censorship," theCommunity Financial Services Association said in a statement provided to the E-Commerce Times by spokesperson Amy Cantu.
"Google is making a blanket assessment about the payday lending industry rather than discerning the good actors from the bad actors," the association said. The policy is unfair to those payday lenders that are legal, licensed and uphold best business practices.
TheConsumer Financial Protection Bureau has proposed rule changes and enforcement activities. The bureau shares oversight authority with the Federal Trade Commission.
The proposed sending rules, expected to be completed this spring, would allow banks and credit unions to make short-term loans with a minimum of 45 days and maximum of six months for repayment, the bureau said. The rules would cap interest at 28 percent and fees at $20.
Many-Headed Beast
Online payday lenders use lead generators to bring in about 75 percent of their business, according to a 2015 report byUpturn.
For example, the CFPB in 2014 sued the Hydra Group, accusing it of making more than $97 million in loans through an illegal cash grab scheme in which it used online lead generators to make loans to people without their consent, depositing money into their bank accounts, and falsifying loan documents to make it seem as though the consumer had consented.
Earlier this year, the U.S. Attorney's Office in Manhattan announced an indictment against company owner Richard Moseley Sr.
Affiliates often pay $10 per click to have an ad next to a payday search term, according to Upturn, and the information is later sold for up to $200 at auction to other lead generators or payday lenders.