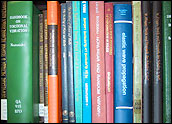 Books and e-books are becoming the No. 1 sales and marketing tool for many small and mid-sized businesses. Large companies have successfully used them for years, but they were much more expensive and took much longer to produce. Now print on demand and e-books are transforming the space, allowing every company the same opportunity.
I recently learned this as a number of CEOs have contacted me to discuss writing books for them and their companies. Apparently, as many executives explore this new book opportunity, they realize they need a co-author to help them with the process of writing and then pulling the book together. Many also want a brand-name co-author to add to their marketing cachet. I'll share my ideas about this e-book marketing phenomenon.
As my Pick of the Week, I'll tell you about some very interesting wireless industry news uncovered at the Rural Cellular Association conference in Orlando last week.
Short and Sweet
Some companies are interested in developing a book as a sales tool, and others to help them with positioning. Whatever the reason, as the marketplace gets louder, companies have to find new ways to break through the noise and reach the customer.
Books help companies present themselves to customers in a very authoritative way. They also help executives position themselves as industry thought leaders. After all, not many executives and companies have written a book — or have a book written about them.
With a book in hand, it is much easier to get in front of prospects or be interviewed by the media, whether that means print, television, radio or the Web.
The process of creating a book has become much easier than it was just a few short years ago.
Then, it took years. You'd have to hire an agent, find a publisher, and write the book. Then you would have to wait for the publisher to edit and publish it. It would take a year or two. Then you would have to purchase thousands of copies at a time to distribute. And you would pray bookstores would be interested as well.
Today, with print-on-demand publishers and e-books, the publishing world has turned completely around.
Within a few short months, you can have a professional book and e-book in the marketplace. That means it can be for sale, and you can also print as many as you want to give away at cost — meaning a few dollars each.
These are becoming the best marketing tools we have seen in decades.
The old publishing model is still in place, but this new model is rapidly transforming the industry. With your own book, you can promote yourself and your company, and position yourself above the competition.
Competitive Differentiator
Many people say that sounds great, but they are not writers. After all, writing takes a unique mindset and talent, right? You have to be able to tell a compelling story.
That's where co-authors and ghostwriters come in. There is a cottage industry of individuals who write on behalf of clients.
Imagine logging onto Amazon, Barnes & Noble, iTunes or many other websites and finding your book there for sale.
Imagine selling your book and e-book to readers. What a great promotional tool.
Now imagine being able to print copies of your book, at a low cost, to give away to your customers, your prospects, your workers, your investors, your partners, and so on.
Your customers can buy a book from many online bookstores and have it delivered in days. Print on demand let's you sell and print one single hard copy at a time.
Or they can download an e-book instantly and begin reading right away on their Kindle or Nook or iPad or computer or any other e-book reading device.
Your own book helps to raise you above your competition. You will become the industry expert.
Once in a Blue Moon
There are so many reasons to have a book. They are prestigious. They position you as a leader. They separate you from your competition. They let you charge more. They help you increase sales.
In fact, over time, you can write several books to expand your reach. Each can focus on a different aspect of your business. This can position you as one of the top thought leaders in your industry. These books can be included as an impressive addition to your bio, introduction and Web page.
Web pages are good, but they change all the time — plus, everyone has a Web page.
A book is forever. It has a lasting quality that people still love and respect.
Your book can discuss you, your company, and the changing industry. It can discuss your thought leadership.
Or it can be about sales — a marketing tool to hand out to customers and prospects as a summary, including several examples of success. You can share a few winning ideas, then deliver a compelling conclusion. And, of course, the last few lines always suggest that the reader or prospect call you if they would like to discuss further.
This simple and less aggressive approach to sales is becoming very successful. You may be the only one of your competitors to take this approach. Or if they are already there, you can join them.
Give your prospects a few good ideas in the pages of your book. Let them try the ideas and see how they work. Then they will call you to buy the other ideas you have to offer by doing business with you.
This is a great approach.
It never made much sense before for small and mid-sized companies, because publishing a book was always much more expensive and difficult.
Today, however, it is much less expensive, much easier and faster — and it can be a great, and unique, marketing tool.
This is one of those incredible marketing ideas that come around once in a blue moon.