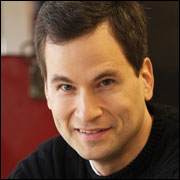 Yahoo on Monday announced the hire of New York Times tech columnist David Pogue to lead "a major expansion of consumer tech coverage."
He will publish columns, blog posts, video stories and more, starting later this year, the company said.
Pogue and his team "have much bigger plans, too, for all kinds of online and real-world creations," he said.
"I wouldn't say any one hire or talent is going to move the needle very much, but it's more of a pattern of investing in premier content," Andrew Frank, a lead analyst at Gartner, told the E-Commerce Times.
"Yahoo is hoping to make itself more attractive to brand advertisers."
Going Where the Money Is
"I think they are just trying to increase the number of eyes viewing their website to garner more revenue," Jim McGregor, principal analyst at Tirias Research, told the E-Commerce Times.
However, "I don't believe this path will lead to a significant increase in revenue, especially in the short term," he continued. Yahoo "needs to find alternative niches to enter and/or alternative business models that generate more revenue from sources other than ads."
The percentage of websites using Yahoo advertising has fallen steadily since last October, according to w3Techs.
Yahoo's overall Q3 revenue fell 1 percent year over year, to US$1.08 billion. Revenue from display ads fell 7 percent to $470 million in the quarter, and the price per ad fell 7 percent year over year.
Various factors contributed to the ad revenue drop, Gartner's Frank said. A trend that affected all sites, including Google, is that both the price and yield of digital display ads have been falling.
Further, Yahoo is being hit by the growth in mobile ads and advertisers going to social networking sites, Frank pointed out.
Pulling In the Ads
Yahoo "wants to raise the value of their ads as more big advertisers look for content that would be complementary to their advertising online," Frank suggested. "Yahoo's strategy is to match that with content these advertisers are seeking."
Pogue's hiring follows Yahoo's recruitment of New York Times deputy news editor Megan Liberman as its editor in chief in September. Her role is to lead a major expansion of Yahoo News, focusing primarily on original reporting, social news gathering, video and live events coverage.
Yahoo CEO Marissa Meyer has been on a buying spree, purchasing companies to bolster her media strategy.
This year, she picked up Bread, a URL shortener that lets users make and insert ads through a shortened link; social media Web browser Rockmelt; Tumblr; and the Summly news aggregator site.
No Love From the Ad Industry
Yahoo also relaunched its main Yahoo app and several of its sites across the desktop and mobile platforms to provide a cross-platform ad capability.
However, ad agencies have held back, reportedly because the upgrades on the ad side lag those on the content side.
Advertisers apparently want additional innovation and better ad products from Yahoo, and it's not clear that the company can deliver.
"Mayer doesn't know advertising. She is an engineer, so she thinks of things in very physical terms," Rob Enderle, principal analyst of the Enderle Group, told the E-Commerce Times.
Mayer may be equating more and better content with more revenue, "but advertising often doesn't work that way," Enderle pointed out. "Ad experts are more focused on manipulating people."
To fix an ad revenue problem, "you need the best ad revenue experts, and they then should point you to the content specialists they need," Enderle continued. "In effect, Mayer is working backwards. That won't assure failure, but it will make success more difficult."