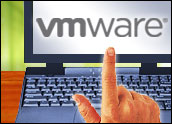 VMware on Wednesday announced it is acquiring enterprise mobile management and security solutions provider AirWatch.
The deal, which is expected to close later this quarter subject to the usual regulatory approvals and closing conditions, will expand VMware's reach into the mobile space.
AirWatch has more than 10,000 customers worldwide and more than 1,600 employees across nine offices globally. It counts major companies such as United Airlines, Delta Airlines, the Intercontinental Hotels Group, Lowe's,Walgreen's Royal Caribbean, the United States Army Corps of Engineers and France's Manitou Group among its customers.
"VMware has been under pressure by its customers to do something with mobile devices," Attila Kiss, an IT security executive with BalaBit, told the E-Commerce Times.
That's because virtualization is key to cloud computing, which is growing at a phenomenal pace.
Global cloud traffic will grow at a 35 percent combined annual growth rate through 2017, according to Cisco.
From VMware's perspective, "the point is that iOS and Android applications are almost always connected to a cloud," Kiss said.
Terms of the Deal
The purchase will cost VMware US$1.175 billion in cash and about $365 million in installment payments and assumed unvested equity. The company's other billion-dollar deal was its purchase of network virtualization software vendor Nicira in 2012.
AirWatch staff will continue to report to company cofounder and CEO John Marshall as part of VMware's end-user computing group.
Meanwhile Alan Dabbiere, AirWatch's chairman and other cofounder, will oversee a new AirWatch operating board, which will report to VMware CEO Pat Gelsinger.
AirWatch's mobile solutions will complement VMware's portfolio.
The Impact on VMware
"With mobile devices outgrowing traditional desktops and laptops, it's important for VMware to stay relevant with mobile management and leverage AirWatch technology to help improve its virtual desktop delivery to these devices as well," opined Brett Waldman, a research manager at IDC.
It's important for VMware to develop a solid mobile enterprise security strategy because it "has relationships with some of the largest companies in the world, and they all have mobility challenges," Mark Bowker, an analyst at the Enterprise Strategy Group, told the E-Commerce Times.
"VMware has the opportunity to deliver today's applications and data in a secure manner with the acquisition of AirWatch and will ultimately be able to deliver the platform as a service for modern applications," Bowker continued.
The market reacted positively to the news, sending VMware's share prices up by $1.56 to $98.92 at the time of writing.
Hurry and Catch Up
Virtualization competitors Microsoft, Dell, HP and IBM all have mobile enterprise application management software they built themselves, IDC's Waldman told the E-Commerce Times.
By 2017, mobile apps will be downloaded more than 268 billion times, generating revenue of more than $77 billion and making apps one of the most popular computing tools worldwide, Gartner predicted.
What Will Happen to AirWatch's Partners?
It's not yet clear how VMware's acquisition might impact AirWatch's partners.
In January of 2013, South Africa-based global IT services provider Dimension Data, a $5.8 billion company, announced a partnership in which it would leverage AirWatch technologies.
Another AirWatch partner, Perimeter E-Security, now owned by SilverSky, uses AirWatch's technology in its cloud-based mobile device management service.
"Typically, partners that are competitive with the parent company are terminated, and other partners that are complementary are not initially affected but may be rationalized over time with the parent company," Eric Chiu, president and cofounder of HyTrust, told the E-Commerce Times. VMware is among the companies that have invested in HyTrust.
"This will be an operations decision," remarked ESG's Bowker.