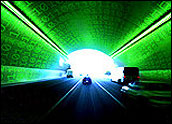 We used to choose our next car based on brand, previous experience or recommendations. However, the automotive industry is reinventing itself — and new reasons to buy have little to do with the car itself. Now decision making revolves around new technologies and innovations, especially wireless. While this could indeed strengthen automakers' relationships with many customers, it also could weaken them with many others if the auto industry is not careful.
At the Consumer Electronics Show in Las Vegas earlier this month, we could see how the wireless industry was helping the automotive industry transform. A similar transformation is occurring in several other industries as well, like healthcare and retail, but for this piece I'll focus on automotive. The auto industry has an incredible opportunity ahead of it, but there is also risk.
The opportunity is real — and it's huge, if the industry gets it right. Automakers are now introducing new features that will both wow customers and provide a competitive advantage. They are all rushing into the marketplace with the next big new idea. That's the good part. The bad part is the risk having to do with meeting customer expectations and personal preferences.
Double-Edged Sword
Look at how quickly the wireless industry continues to grow and change. That is good. There's something for everyone. Some people love Apple's iPhone, while others prefer an Android like Samsung's Galaxy. However, that's also the crux of the problem I am getting at here.
It is not a problem for the wireless industry in general, since you have a choice of devices when you walk into a wireless store. No matter which you choose, companies like AT&T Mobility, Verizon Wireless, Sprint, T-Mobile, U.S. Cellular and C Spire will win.
However, the automotive industry is handling this same issue very differently. Automakers are not offering customers any choice. They either take the single tech package or they don't. Period.
Some customers will like the package offered and will take it. However, many others will want a different tech package — and they are not given that choice.
So, those customers may now be tempted by competitor's offerings. The auto brand that has been built and crafted over the years is simply being cut to shreds for many customers, and I don't think the automakers even realize it yet. Brands that customers have loved for many years simply may not cut it any longer.
This is the double-edged sword of the technology and wireless revolution. On one hand it's a very innovative and fast-growing area , which should attract customers. On the other hand, if customers can't get the new tech want, automakers risk losing a segment of their currently loyal customer base.
Opportunity and Risk
When you are in an automotive showroom looking at the different vehicles and the wireless and technology packages, you don't have choices. You select the car you like, but then you don't have a choice of technology. Your choice is either yes or no — not one from column A or two from column B.
Names like "Ford Sync," "Toyota Entune" and "Lexus Enform" are just a few examples of these automotive technology packages. Mercedes, Honda, Acura, GM brands and many more offer other packages.
At the Consumer Electronics Show, AT&T Drive was announced by AT&T Mobility. It lets carmakers use the AT&T 4G LTE network to connect wirelessly. AT&T also announced that it won a contract with GM — beating out Verizon Wireless — to provide 10 Chevrolet cars by this summer.
AT&T cut similar deals with Audi of America and Tesla.
Verizon Wireless was also at the show and is also an important player in this space, but it was not as high-profile this year. It took a quieter approach.
As you can see, this area is rapidly growing and changing — and that means both huge opportunity and risk. Leadership can change quickly, both among wireless carriers and among carmakers, for different reasons.
This is all very exciting and positive. However, for the industry to be as successful as possible, it is important to give customers what they want. Think about the choice between iPhone and Android.
I recently stopped into a Lexus, Toyota and Ford dealership to look around, and I was surprised. Going forward, autos will require the driver to use a smartphone to operate traffic, weather and other features. XM Radio is no longer available.
Let the Customer Choose
The idea of using my smartphone works for me, but it's an issue many car buyers don't yet want to confront.
Today, roughly 60 percent of potential buyers have a smartphone — but that means 40 percent don't. They would not be able to use this new technology. Are automakers really willing to turn their backs on 40 percent of their customers?
Further, customers who have smartphones must have a heavy-duty wireless data plan so they don't incur extra usage charges from their wireless carrier. This can increase costs.
Another problem is having to take your phone off your belt or out of your purse and connect it to the car so it doesn't suck the life out of the phone battery. It's easy to forget the phone when you exit the car.
So even though I'm aware of the advanced technology this new system offers, there are still plenty of people who would prefer the older system — at least for now. This group of roughly 40 percent of the market is being totally ignored.
Why are carmakers turning their back on this entire segment? That's what it looks like. That is a big mistake for both their own market share and for the customers who love their brand but are being forced out.
That's why giving customers choice makes sense. Let them choose between the new smartphone model or the existing satellite radio model. The best solution for each customer can only be determined by the customer.
Letting customers choose what they want will build strength into the brand. Taking the decision away from customers will chase them away. That will cost the carmaker sales and weaken the brand.
This problem seems clear as day. Either way, wireless will be a very big winner in the auto industry going forward. It's just a matter of taking care of all customers and giving them the choice of the technologies they want in their car, since different people want different things. Change is good — but don't cut off your customers to innovate.