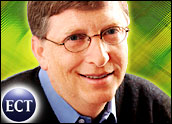 Despite a low-key product release and lackluster reviews, the newest computer operating system from Microsoft Corp. (Nasdaq: MSFT) has sold a quarter million copies in its first four days on the market, according to market research firm PC Data.
The Windows Millennium Edition, dubbed "Windows Me," sold 75,000 units on the first day it was available to the public, and is on a projected path to sell 400,000 during its first month. At the current sales rate, the new operating system will likely surpass one million units sold at retail before the end of the year.
"Windows Me has a way to go before it becomes the top selling product of the year," said PC Data's Roger Lanctot. "But, the title is likely to have a huge impact on how home PCs are used now and in the future."
Microsofts two previous upgrades, Windows 95 and Windows 98, sold 600,000 in their first month on the market. Each title went on to sell two million units in their first six months.
Holiday Hopes
Called a "timely upgrade" by Microsoft rather than a major new release, Windows Me is supposed to be the software giant's last operating system based on its 20-year old DOS programming technology.
It is the first Windows operating system designed exclusively for the home user, Microsoft officials said, and its new features, including a media player that can record, store and play songs, and an automated video editor, are expected to attract both new users and users who want to upgrade.
According to analysts, retailers are hoping Windows Me will breathe life into software sales during the holiday season.
"Its integration of video, audio, photo editing and recording capabilities will bring this functionality to a wider audience and create new opportunities for both publishers and peripheral manufacturers," PC Data's Lanctot said. "The product arrival has already given a boost to lagging retail software sales."
PC Data tracks the sales of every software, hardware, and video game on the market. The company collects sales data directly from retail chains, mail-order firms and resellers. The firm then combines the numbers into industry totals on a product-by-product basis.
Waiting on "Whistler"
Some retailers began selling Windows Me at discount prices right off the bat: CompUSA and CDW sold it the first day at $10 (US$) less than the official $59.95 price. However, most of Microsoft's operating system sales come directly from the manufacturers who bundle it into their computers.
Microsoft co-founder Bill Gates and CEO Steve Ballmer are on record as saying the company does not intend to make a promotional splash until the release of the much-anticipated "Whistler," the operating system based on its new NT technology.
The company's strategy has been to steer business users toward the more profitable Windows 2000, the NT-based operating system normally pre-loaded into more expensive PCs.
Mac's New OS
Earlier this month, Apple Computer (Nasdaq: AAPL) released to the public the test version of its new Macintosh computer operating system, the biggest change in the Mac operating system in 16 years. The new operating system is a complete overhaul, according to Mac officials, and represents nearly 10 years of work.
The Mac OS X is available at Apple's online store on a $29.95 CD. No sales figures have been released for the Mac OS X.