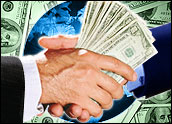 Goldman Sachs is in talks with wealthy investors in a quest to raise US$1.5 billion for Facebook, and the deal could take Facebook very close to the line dividing public and private enterprises.
Goldman first teamed up with Russian investment firm Digital Sky Technologies, which has already invested $500 million in Facebook, to pump more money into the social network giant. Goldman reportedly put in $450 million and Digital Sky another $450 million.
Then, Goldman set Facebook's value at $50 billion and began soliciting money from the wealthier side of its client base. Each would have to put in $2 million a pop.
Now comes the interesting part: Goldman wants to put the monies raised into a special-purpose vehicle and manage the funds on behalf of its clients. The funds won't be subject to audit and Goldman won't have them on its books.
SPVs were used by Enron in its financial double-dealings in the late 1980s.
"The whole thing just looks sketchy to me," Addison Wiggin, the executive publisher of financial publishers Agora Financial told the E-Commerce Times.
Goldman Sachs did not respond to requests for comment by press time.
The Outer Limits
An SPV can be considered a single shareholder even though it consists of several investors, according to the Securities and Exchange Commission's rules.
Those rules also essentially require a company to publicly list its stock if it has at least 500 holders of that stock on record and its assets exceed $10 million on the last day of its fiscal year.
If the issuer knows that the form of holding securities of record was used to circumvent the provisions of Section 12(g) or 15(d) of the Securities and Exchange Act, the ownership of the stock would devolve to the owner on record.
In other words, if Goldman Sachs knows, or has reason to know, that the SPV was set up to get around the SEC rules, the whole thing goes kablooey.
Scrabbling for a Grip
Prospective investors reportedly won't have access to the notoriously secretive Facebook's accounts, although Goldman Sachs, which will manage the SPV, will. In other words, investors won't know if they're buying a pig in a poke.
Goldman will have access to Facebook's accounts but it has $450 million worth of interests bound up with those of Facebook. That's a cause of worry for some investors.
"It looks to me like that's typical of what the investment banks have been doing for the past decade, which is trading paper for profits instead of investing in revenue streams," Agora Financial's Wiggin remarked.
There are also questions surrounding claims that Facebook made $2 billion in revenues off online ads last year because these can't be substantiated.
"The $2 billion is speculation," Barry Schnitt, a Facebook spokesperson, told the E-Commerce Times. "We haven't disclosed any revenue figures," he added.
Some investors are also concerned because Facebook, as a private company, doesn't need to have its accounts audited by an independent third party.
"Somehow, Facebook's skirted SEC requirements up to this point, and the SEC doesn't seem to be too interested right now," Wiggin said.
"We have not confirmed or denied whether we're launching any investigations," Kevin Callaghan, an SEC attorney, told the E-Commerce Times when asked whether the commission might be looking into the Goldman-Facebook deal.
"We have not been offering interpretations either, because such things are very dependent on circumstances and facts, and that would make broad statements by us potentially misleading," Callaghan pointed out.
The Horror! The Horror!
Goldman's past has also been giving observers concern.
In April of last year, the SEC charged Goldman Sachs and one of its vice presidents, Fabrice Tourre, with fraud in connection to the subprime mortgage crisis.
In essence, the SEC said Goldman structured and marketed a synthetic collateralized debt obligation (CDO) that depended on the performance of subprime residential mortgage-backed securities, then didn't disclose vital information about the CDO.
That CDO was structured for Paulson & Co., one of the world's largest hedge funds, which then bet against the mortgage securities, making a bundle when the housing market collapsed.
In July, Goldman paid a record $550 million in fines and agreed to reform its business practices to settle those charges.
However, that doesn't settle any other past, current or future SEC investigations into Goldman. The case against Tourre is still proceeding, the SEC's Callaghan said.
With regard to the Facebook deal, Goldman reportedly retains the option to sell up to $75 million worth of its stake to Digital Sky at Facebook's $50 billion valuation.
"It looks like there's an easy out for Goldman," Agora Financial's Wiggin stated. "Our interest is in keeping our readers away from investing in these kinds of things."
The Other Side of the Issue
It's possible that fears about the Goldman Sachs-Facebook deal are misplaced.
"Goldman's putting its reputation on the line for this," Rob Enderle, principal analyst at the Enderle Group, told the E-Commerce Times. "It would be liable should there be any misrepresentation, not to mention the possibility of its facing criminal action."
Wealthy investors who take up Goldman's offer will probably be safe, Enderle suggested.
"We're not talking about inexperienced investors who don't have the resources to hire attorneys if this goes south," Enderle remarked. "Investors at this level generally got the money they have by knowing how to analyze risk effectively and protecting their assets well. There are Madoff moments, but this doesn't look like one of them."