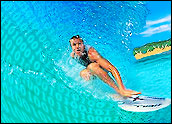 Every company faces the same challenges. Some successfully transition themselves inside the changing industry. They update their brand and continue ride the Wave. Others struggle. Some even die. Why the difference? Look at companies like Verizon, AT&T, Qwest, Kodak and Yahoo, among many others. Why do some succeed while others fail?
There are three catagories of companies: companies that successfully transition; companies that have tried, but fail; companies that missed the entire transition class in schoool and simply don't participate. Only one of these is the winner.
I have helped many companies and their executives understand this important issue. Execs are talented people who won big time with their great ideas. However they don't know everything. Many don't have a clue about the natural evolution of the marketplace and how to transition themselves to continue winning long term.
You would be surprised how many of these companies that make this basic mistake are big, brand name firms that should know better. Does Research In Motion come to mind?
A good way to understand this is to think about this natural phenomenon as the waves in the ocean. If you catch the wave, you take advantage of the power of nature to propel you.
Staying with that wave is key. If you stay with the wave, you keep moving. Keep growing. If you don't, the wave passes you by. It's your job to continue to transition your company to stay with the power of the wave. It's as simple as that.
Ongoing success has to do with both successfully updating the master brand and understanding the Wave theory I have talked about many times before. Doing both well can create the secret sauce of success your company needs to keep up with the changing industry. Getting this wrong is nothing less than disaster for your firm.
As the industry continues to grow and mature, customer needs and wants change. What it takes to stay successful changes. How to stay tuned in so you can ride the Wave of success changes all the time.
Matching your brand identity to that changing Wave is key. If you don't, your brand will eventually become tired. Failure is next. We have seen this time and time again. It is still happening today.
The Wave theory I talk about is clear. Opportunities have a lifespan. Think of this lifespan as a Wave, going up then down the other side. Companies can be very strong riding their Wave up, but if they are not careful they can simply ride the Wave down the other side as well.
If you have not created the next Wave to grow on, your company will struggle when the current Wave crests then falls. And it always does.
There are plenty of examples to examine in the marketplace today. Here are a few.
AT&T, Verizon and Qwest
Verizon and SBC were both growing in the 1990s. Local phone lines were growing — they had strong brand recognition, and they were climbing the Wave. Then about 10 years ago, local phone lines crested and started falling as others — like VoIP, cable television and wireless companies — started offering competitive phone service.
If they didn't update their brand and switch to the next Wave, they would continue to struggle and shrink.
SBC acquired AT&T and took its name. Today, both Verizon and AT&T are very healthy growing companies, but they are very different from 10 years ago. They are no longer local phone companies. They have expanded. Now they focus on wireless and television and Internet as their local phone business shrinks.
Verizon and AT&T have successfully transitioned to date. And that is the point I want to make here. You must continue to transition yourself and stay with the growth Wave.
In contrast, companies like Qwest — also a local phone company — never followed the same path. It struggled. No wireless. No television. It lost business, and it had a hard time growing in other areas.
It was recently acquired by CenturyLink. This is a company on the growth side of the Wave because of acquisitions. We'll have to keep our eyes on Qwest and CenturyLink and how well they do now. Will they grow organically, or just through acquisitions?
Qwest could have been as successful as Verizon and AT&T. It is the same type of company. But it missed the transition and the Wave passed it by.
It is that simple and that complex.
Kodak, Motorola and Yahoo
Eastman Kodak is the latest company that is failing. Why? It is one of America's best known and most loved brands. The reason is simple: Its execs never worried this could ever happen to them. By the time they realized they were in trouble, it was too late. The Wave passed them by. Sound familiar? Motorola perhaps.
When the first digital cameras came out, Kodak should have sensed the industry was changing. It should have lead that charge. It didn't.
When digital cameras started showing up on wireless phones 10 years ago, Kodak should have captured that Wave. It didn't.
As loved as Kodak is, it never updated its brand, and it never jumped on the next Wave. Its leaders must have thought the company's brand name would see them through. It didn't. It never does.
You have to update the brand and ride a new Wave to success.
Motorola was a leader for decades. Can you spell bulletproof? Then, in the mid 1990s, the world it once led changed. Its execs thought their company was too important to fail. They were wrong. The industry moved right past it, and it was dragged along in the dust.
Motorola finally had a second chance with the Razr in the early 2000s. Unfortunately, that was also when the Wave rose, peaked and fell again. Its leaders didn't understand the process. They didn't understand they had to keep feeding the fire. They didn't understand they had to catch the next Wave.
So Motorola struggled once again until the last couple years when it partnered with Google and Verizon Wireless. Its Droid phones have been successful. However, it still faces new threats. Will it handle things better this time? Is it ready this time? Will it catch the next Wave?
Of course, if Google manages to close its acquisition deal, a lot will change for Motorola.
Yahoo once led the search space, but in recent years it has lost to Google. Google won early on with the speed of its search results. It was the quickest in the market.
Yahoo's execs have been trying everything they can think of, but they have not been able to rejuvenate the company. They have not updated the brand, however. They have not changed the Wave they ride. These are the basics. The keys.
Companies like Google and Apple are riding the Wave and focusing on their brand and succeeding. These are the untouchables to many. Will they continue?
Google faces new pressures from the U.S. government that will only increase. Microsoft had a similar struggle and suffered for quite a long time. Apple faces its own transition.
These two are strong today, but will that continue?
Nokia and RIM
Nokia had a very successful decade and a half riding its single Wave. It took the lead from Motorola in the 1990s and never looked back.
A few years ago, the handset business suddenly shifted to smartphones, and new companies like Apple and Google led that space. Nokia was left behind in that revolution.
Nokia realized its winning streak was over. It has tried to become important in the smartphone space and compete with Google and Apple. It has failed so far.
Why? Its brand name in the U.S. is for regular wireless phones, not smartphones.
It has not been able to expand the meaning of its brand. It still has a strong brand in handsets, however. Before the Wave totally passes it by, Nokia must get back on track.
The rumor is it will now start to focus on what it does best — handsets and basic smartphones. It will no longer directly compete against Apple and Google. That is a good idea. It may lead in its segment once again.
RIM is similar. BlackBerry ruled until the last four years when the super smartphones from Apple and Google came into play. It has since struggled with updating its brand and technology. Its new PlayBook tablet computer has not caught on.
It is seen as yesterday's brand. It has not successfully transitioned to the new Wave. It's not too late, but its leaders have to understand the problem and the solution. They don't so far.
RIM never had to worry about brand success. With the BlackBerry, it was just always there. So its execs never understood it, or got good at it. Now that the company's survival depends on it, they don't have a clue what comes next. That is the sad part.
Perhaps RIM should consider a similar path to Nokia. Perhaps it should focus on what it does best with the marketplace that knows and likes and uses its products.
It has to update its brand and technology. Its Web browser really is lacking. But if it updates, it could succeed in its existing space. If it does this before it's too late, that is.
Think Like a Surfer
As you can see, some companies make transitions and continue to succeed, while others don't. Why? The answer is obvious to me. They simply don't understand branding and the Wave of the business.
They should all have the same goal. Update the brand and transition to the next Wave and lead, before it's too late. So why don't companies get it?
Some executives get it and some don't. Some built their successful company without really understanding the brand and the Wave and the constant transition they need to keep up with.
They just don't think of this whole thing like a surfer thinks. Sticking with the power of the Wave is key. You don't have to create your own new Wave like Google and Apple. Instead you can simply ride the power of the Wave that surrounds you, like AT&T and Verizon.
Linking the changing master brand concept and the Wave is the secret sauce that can make all the difference between whether a company will successfully transition into a new butterfly or just stay an old caterpillar.
The choice between success and failure is always yours.