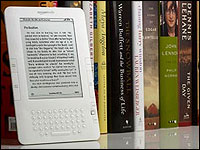 Amazon says the latest version of its Kindle e-reader — which began shipping to customers on Tuesday — is outselling all of its predecessors. The company also says the Kindle has been the hottest-selling item on the Amazon site for the past two years.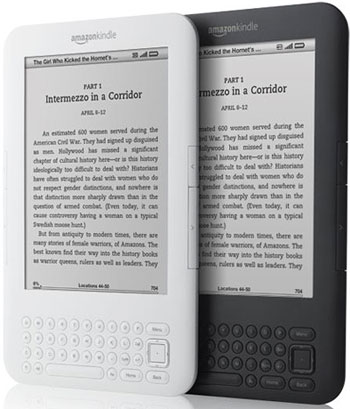 Amazon says its new Kindles are flying off the shelves.
It's difficult to put those statements into any meaningful context, however, since Amazon has never said exactly how many Kindles it has sold. It continued that practice when announcing how sales of the Kindle 3G have been trending since it began taking orders for that particular device roughly four weeks ago.
"For competitive reasons, we don't disclose unit sales figures, but we have stated that we have sold millions of Kindles overall," Stephanie Mantello, Amazon's senior public relations manager for the Kindle, told the E-Commerce Times. "Kindle device unit sales accelerated each month in the second quarter — month-over-month, and year-over-year — and that's just counting online sales."
Why No Numbers?
There are indeed competitive reasons why Amazon would choose not reveal the exact number of Kindles sold.
"Hype is certainly one reason," said Dmitriy Molchanov, a Yankee Group analyst, who has conducted his own market research and estimates that Amazon will sell 2.58 million e-readers in the U.S. alone this year.
"That number pales next to the 3 million iPad sales in three months," Molchanov added. "By keeping tight-lipped about its sales, Amazon is likely hoping to discourage other players from entering the market, though that hasn't proven to be the most successful strategy."
Indeed, a number of companies — from consumer electronics giant Sony to bookseller Barnes & Noble and several smaller players — have launched e-reader devices since Amazon unveiled the first-generation Kindle in November 2007. The Apple iPad — classified as a tablet PC — also has e-reader capabilities, and competes with the Kindle in that regard.
It's also possible that the Kindle — while attracting lots of media attention — is such a small part of Amazon's overall business that the company doesn't feel the need to disclose how many it sells, suggested Harry Wang, director of mobile research with Parks Associates.
"Kindle is a small portion of the revenues earned by Amazon, and the company has no obligation to disclose non-material financial information," Wang told the E-Commerce Times. "It doesn't mean the Kindle isn't selling well; it's just Amazon's practice."
Crowded E-Reader Market
Amazon had sold a total of nearly 3 million Kindles by the end of 2009, Wang said, citing his own market analysis.
"The latest version — being priced much lower than previous ones — should show a faster uptake," Wang opined, "but the reality is the Kindle is competing with a host of new e-reader devices, as well as the iPad. So, I believe the current version is selling better than its predecessors, though not significantly better."
The Kindle 3G has several features that Amazon claims are attracting readers in record numbers. The new device is 15 percent lighter, while offering more battery life than its predecessor. It also boasts 50 percent better lighting contrast and turns pages 20 percent faster, the company contends. The Kindle 3G is priced at US$139; the previous version carried a $189 price tag.
There May Be a Bigger Picture
While Amazon certainly would like to sell as many Kindles as possible, that's not its sole focus when it comes to the e-reader market, according to Michael Gartenberg, a partner with the Altimeter Group.
"Without Amazon releasing numbers, it's difficult to determine how well the Kindle is doing, but the larger picture for Amazon revolves around the Kindle [software] platform, which is compatible with Apple's operating system, the Android operating system and other mobile device platforms," Gartenberg told the E-Commerce Times.
"The Kindle 3G looks appealing as Amazon continues to refine the features and lower the price. Consumers looking for a dedicated e-book reader will appreciate Amazon's efforts — although over the long-term, more consumers will use e-reader software on devices they already own."
With Amazon's software able to operate on other devices, the company — which is after all primarily a bookseller — stands to remain a major player in the e-book market no matter how it evolves, Gartenberg suggested.