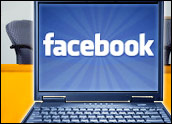 While much of the tech world was fixated on the news of Apple's new cloud strategy this week, Facebook users were discovering a new facial recognition feature on their network.
This feature, which makes it easier to tag photos by spitting out names of people whose images it recognizes from previously posted photos, will probably be a welcome upgrade for many Facebook users. But others may see it another social-media-related invasion of privacy.
The latter group will consist primarily of people who will be outraged to learn that their faces are being automatically recognized — and their names displayed — to multiple people across the Facebook universe, and they never had the chance to stop it from happening.
We're Easing the Users' Burden
The assumption, given that Facebook is a network for connecting friends, is that anyone tagging and posting your photo can be trusted not to misuse that power. As we all know, however, all Facebook "friends" are not created equal, and there is the potential for someone to have some fun — or engage in real mischief — by mislabeling a person's photo and launching that erroneous label into cyberspace.
Facebook has downplayed the potential for harm to any of its users. "Every day, people add more than 100 million tags to photos on Facebook," Justin Mitchell, a Facebook engineer, wrote in a blog post explaining the new feature. "They do it because it's an easy way to share photos and memories."
Tags make photos one of the most popular features on Facebook, Mitchell proclaimed, while also saying users have called the process of tagging photos a chore. Tag Suggestions is meant to be a way of easing that burden.
I can buy that Facebook wants to make it easier for its users to share photos, but I have to question the way this feature was rolled out. It was simply turned on with no advance warning to the user base. In fact, the blog entry explaining the feature wasn't posted to the Facebook site until reporters from Europe started asking about it in response to queries they were getting from surprised Facebook users.
The Mysterious Rollout
It's still not clear exactly when — or where — Tag Suggestions was first activated.
"We've been rolling out Tag Suggestions over the past several months and this feature is available in most countries . . . The feature is set to debut in the U.S. over the next several weeks," Mitchell wrote in the Facebook blog.
This seems to be a pattern for Facebook — adding features or changing settings that potentially impact user privacy without giving users a heads up. Of course, they always say users can opt out of these features, but it's somewhat difficult to opt out of something if you don't know that it exists.
Facebook also has a way of making it tough for users to change privacy settings, even when they discover there might be a good reason for doing so. The process for opting out of Tag Suggestions is a case in point.
You can tell Facebook not to display your name when someone calls up a photo of you. To do that, however, you first have to know that the feature exists. Then you have to know how to navigate Facebook's privacy settings, which requires what I would describe as power user credentials.
Preserving the User Experience
Even if you manage to successfully opt out of Tag Suggestions, any Facebook user who has a photo of you can still tag that photo manually and post it to the site. What opting out does accomplish, from a privacy standpoint, is prevent people who are not in your immediate network from getting an automatic readout of your name if one of their friends passes them a photo that contains your image.
The rollout of Tag Suggestions highlights what I see as the extreme irony in how Facebook manages user privacy issues.
On more than one occasion, Facebook CEO Mark Zuckerberg has said the company makes new features a default setting because it wants users to enjoy the full Facebook experience.
He used the same argument to explain why users are not allowed to set privacy settings on which applications or third-party sites they link to from Facebook. For instance, if a user doesn't want people to track their movements into and out of the Facebook platform, they also are blocked from playing popular games like "FarmVille."
Zuckerberg calls this preserving the full Facebook experience. I call it blackmail.
Clueless About User Behavior
Facebook makes it difficult to invoke privacy settings because it wants to collect as much information about users as possible so it can sell that information to advertisers. It's how Facebook makes money; it's just business. I get that.
What I don't get is how a company as technically sophisticated as Facebook can appear to be so clueless about the behavior of the average Internet user. Most users don't bother to read website terms of service or opt-out policies. So, why not just give users the right to opt out of these potentially controversial features and services up front?
The majority will never do so, which means there would be no harm to Facebook's business. They would only be making it easy for the minority of people who pay attention to privacy policies and want to opt out of having information collected.
Those are, after all, the people who are most likely to bring these issues to the media's attention. It seems to me that an upfront opt-out policy that placates the vocal minority would be a good public relations move for Facebook, which ultimately would be good for business.