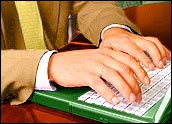 During this time of economic recovery, it seems that the Internet has remained fairly immune. E-commerce is on track to account for 53 percent of all purchases by 2014, according to recent Forrester Research predictions. This represents positive growth, but when you put it into perspective based on the Internet's overall growth potential, it's only a 10 percent annual increase.
E-commerce has made great strides in providing a convenient, fast and secure shopping experience for consumers, but the fact of the matter is there is still a significant portion of shoppers with security fears, which impacts how they spend their money online. Billions of dollars in sales are lost by e-commerce retailers each year because of online security fears. Many shoppers with access to personal computers, credit cards and debit cards — all potential customers for retailers — are not engaging in online commerce because of security concerns.
Defining the Fear
Consumers have changed their spending habits to adapt to this new economy. Shoppers are more selective and cautious about how they spend their money, and security apprehension still remains a hindrance to e-commerce. Consumers' security fears can be categorized in three ways: the fear of identity theft and fraud; a negative perception of the merchant's security practices; and hesitation during the checkout process.
The threat of fraud. For a majority of consumers, the fear of falling prey to identity theft or fraud outweighs even the best advantages to shopping online. The "promise of security" holds more value than other perks or guarantees offered by retailers. Consumers are more motivated to shop online at a Web site that offers the assurance that their transaction will be safely processed.
In fact, shoppers believe it is the merchant's responsibility to prevent identity theft or fraud during the online shopping experience, and the merchant should be responsible for creating a safe online environment. If any security issues occur while on the site, blame will fall on the merchant and impact future sales.
Online security perception. Shoppers become loyal once they build up a level of trust and confidence in a Web site, the quality of the product, and the online shopping experience delivered. Customers share their personal — and many times financial — information at the checkout page. If they are nervous about the handling of this private information, it will dissuade them from completing an online purchase. For some, the thought that their information could be sold or that they will start receiving junk mail and spam in their inboxes is enough to keep them from shopping with a particular merchant. It's the threat of these occurrences that make shoppers less inclined to make an online purchase.
Delivering a smooth checkout. Consumers have become very restrictive about the amount of information they are willing to share. Requirements to provide private details like date of birth, bank or card numbers, or social security numbers deter sales. Requests such as these make the shopper feel vulnerable and question the security of their transaction.
Protecting the Customer
The good news for online retailers is that even consumers concerned about falling victim to fraud can still be captured at the checkout. Security fears tend to make shoppers restrict their online interactions to sites that are well known, and they take extra precautions to protect themselves during the online shopping experience. When it comes to paying for online purchases, the more security and guarantees afforded to these customers, the more likely they are to complete the checkout.
So how can online retailers ease the fears of consumers?
First, clearly display the site's security features in an accessible way. A logo, a symbol or a picture can greatly enhance a customer's sense of safety online. Moreover, if this security policy contains a visible zero-liability clause for the buyer, customers will feel even more encouraged to make a purchase.
Though unrelated to security, it is important to mention that the promise of a bargain is still an effective way of increasing sales. Easily available price comparisons and the promise of price matching can go a long way when coupled with the guarantee of Web site security and coverage for any purchase defects or dissatisfaction. Consumers associate trust with retailers that are transparent about price comparisons and price guarantees.
Shoppers sometimes hesitate to check out because they are unsure about return policies, restocking fees associated with the return, or time limitations/restrictions for returning an item. Presenting a clear and simple return policy will enhance the customer's experience.
Finally, because customers are more likely to contact a third party on matters that arise concerning payment, merchants can increase their sales by allying themselves with a reputable third-party payment option.
Consumers have come to expect more payment selections at the checkout. Times have changed, and more shoppers now look for a mix between secure credit-based and cash-based checkout options.
As e-commerce continues to grow, it is essential for retailers to deliver an overall sense of security throughout the shopping experience and at the checkout. A correct balance needs to be maintained between reliable service and a reliable checkout for e-tailers to tap the market of people with Internet fears.
---
Sheila James
is cofounder and vice president of products and operations for
eBillme
, a secure online payment option that lets consumers pay with cash using online banking and walk-in locations.