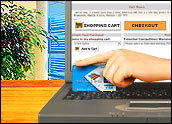 Shoppers are increasingly turning to e-retailers for their product needs instead of wandering through the mall, hoping that they find the right product, and that it is the right size, color, price, etc. Recent figures from the Department of Commerce show that online stores' sales were up 12.4 percent in January, compared with a year ago.
Ensuring that your e-store has a good range of products in stock at all times, as well as marketing your store to the right target audience can make all the difference in the world when launching an e-store in this volatile economy. Listed below are five of the most important factors to consider when starting an e-commerce store in tough times.
Great Web Content and Design
First and most important is to have a unique and branded Web design to attract potential customers. A Web design that looks like it hasn't been updated since 2002 will not give your customers the feeling of security that they need to purchase merchandise online.
While e-retailing has been around for a decade, it has finally become fully saturated throughout the mainstream population — growing in an economic recession while brick-and-mortar stores stumbled — and consumers expect a level of professionalism in the Web design they see from their e-retailers.
The site doesn't have to be complex, but having a sleek and well-maintained Web site is the first step to ensuring that customers do more than just glance at your home page before moving on to the next link advertising pink bunny slippers for under US$20 with free shipping.
Detailed Product Information, Quality Images
As customers rely more and more on descriptions and pictures to purchase their products rather than walking into the store to look at it person, e-retailers must ensure that they are giving the consumer as many details about the product as possible.
Especially in these cash-strapped times, when customers are very careful about what items they are going to spend their hard-earned dollars on, giving them as many details as possible will help ensure they spend those dollars at your store — not your competition's store.
Savvy shoppers want to know the exact details of the product, especially since they are not able to hold it and examine it before purchase. Providing more than just the basic details of a product can really make your e-store stand out from the others.
Customer Feedback and Reviews
Customer reviews and feedback are the greatest ways to build your brand loyalty and establish a trusting customer base. Customers who can't see a product in person depend on the reviews of others who have purchased it before them.
Economic conditions have led consumers to become very engaged, thoughtful shoppers, it is important that they trust the products displayed in your store, and having other reviews boosts that trust.
These reviews can help extend the data that you've already provided about your products, and cement in your customers' minds that purchasing items from you is the safe route to great finds.
Search Engine Optimization
An additional benefit of detailed product information and reviews is that they help improve your ranking on search engines. Creating keyword-rich content on your site that matches what prospective customers are looking for on search engines like Google and Bing can help ensure your store is found on the first search page.
As a result, more consumers will be directed to your store and products. In addition to creating keyword rich content, you should also populate your site's meta-tags (hidden text on a Web site's pages that tell search engines what type of content is on the page), submit your store's site map to search engines, create page URLs that are search-engine-friendly, and get other popular sites to link to yours.
One of the main reasons that consumers shop online is the ease and convenience of finding products and services, so ensuring that your e-store is at the beginning of their search gives you a much better chance of hooking them with your great store and prices.
Email Marketing Spurs Repeat Business
The final step to successfully starting and growing an e-commerce store in a down economy: Once you have your customer base, the trick is to keep them coming back again and again.
Set up email marketing lists so you can reach out to your customers, giving them promotions, reminding them when sales are going to be occurring, and letting them know when new stock has arrived.
By keeping your best-selling items in stock and reminding customers that you have them available for shipping at any time, you become their go-to shop for whatever particular item you sell.
Additionally, repeat customers are more likely to recommend your store to friends or family, in turn growing your customer base through grassroots means. Keeping a customer is less expensive than trying to gain new customers, so to save your e-store some much needed capital as the economy slowly bounces back, it's best to retain your satisfied customers.
Even with the growth of e-commerce consumption, successfully launching an online store in a volatile economy is tough, so it is key to have these five components firmly established. Consumers are going to continue purchasing online due to the ease and simplicity of e-shopping, and having great content and design, as well as improving your site's SEO, can turn your site into a repeat experience for customers.
---
Alexis van de Wyer
is director of
eBay AdCommerce
and
ProStores
.