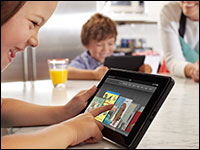 If you're young, male and well-heeled, you're more likely to purchase an iPad than an Android tablet or a Kindle Fire, according to comScore research.
If you make less than US$100,000 a year and you're female, you're more likely to prefer a Kindle Fire. For the purposes of this research, comScore separated general Android tablets from Kindle Fire tablets.
Overall, the quantity of apps available and the price were the most important factors influencing the purchase of a tablet, comScore found. Brand name and the tablet OS followed.
"People who want to go after style, image and fashion, and those of a more creative mind would pick an Apple product because of its brand and the capabilities that go with it," Jeff Orr, a senior practice director at ABI Research, told the E-Commerce Times. "Those with a more technical bent who want a more customizable product will be likely to pick an Android device."
More on comScore's Findings
For iPads, ownership was 53 percent male and 47 percent female. For Android tablets, the figures were 51 percent and 49 percent, respectively. Women made up nearly 57 percent of Kindle Fire owners and men 43 percent.
Age was a factor affecting tablet purchases, with 24 percent in the 25-34 age bracket purchasing tablets overall, and nearly 21 percent of those aged 34-44.
There were two levels of income registering high levels of tablet purchases. Consumers with a household income of $100,000 a year or higher accounted for more than 38 percent of tablet purchases overall and more than 46 percent of iPads. Consumers in the $50-$75,000 a year bracket accounted for just over 19 percent of overall tablet purchases.
The selection of apps available and the tablet's price both scored 7.7 on a 10-point scale, making them the most important factors overall. Brand name and the tablet's OS tied for second place with 7.5 points each.
Owners of iPads placed their heaviest emphasis on the selection of apps available, followed by the brand name. Kindle Fire owners focused most heavily on price followed by app selection.
Consumers didn't consider it important to have their tablets and smartphones running the same OS. This highlights the potential for third-party brands such as Microsoft, which plans to launch its Surface Tablet in October, comScore suggested.
comScore did not respond to our request for further details.
What the Findings Mean
Although Kindle Fires run Android, they shouldn't be classified with other Android tablets because they are "geared towards addressing the needs of audiences that are looking to consume different types of media, primarily audio and video," Jeff Orr, a senior practice director at ABI Research, told the E-Commerce Times.
Kindle Fires may not be better consumption devices for audio and video than other tablets, but "the general attraction of that platform is that Amazon has good publishing rights, not only for the traditional Kindle market — magazines and books — but also video, TV content, movies, audio and music," Orr said. "The Kindle Fire's designed around having a good experience by using Amazon's hardware with the Kindle Store."
Entertainment figures largely in tablet use. The Interactive Advertising Bureau (IAB) has found that nearly 70 percent of tablet users employ these as entertainment devices
Engagement on tablets surpasses engagement on smartphones because it's easier to engage tablet users across key dimensions, IAB said. These dimensions are use and consumption, receptivity and response to advertising, and shopping.
The Burgeoning Tablet Market
Tablet purchases will continue to grow strongly, and will exceed 780 million units in 2016, according to Strategy Analytics. Demand will be driven by price erosion in the higher-tier segments and the availability of smaller, lower-cost devices such as the Kindle Fire and Google Nexus 7.
That strong demand is spurring tablet makers to get creative. For example, Samsung has announced that its Galaxy Note 10.1 tablet, which uses a stylus for input, will be released later this month.
"Whether the stylus is a gimmick or will create a new sub-segment in the tablet market, it will sell well for Samsung, who are holding off all newcomers to retain second place in the global and U.S. markets," Peter King, a research director at ABI Research, told the E-Commerce Times.
Overall, demand in the tablet market has less to do with the device than with people wanting to be associated with the brand, ABI's Orr suggested.
For example, the iPad is the most popular tablet in China, but "people don't have connectivity so it's essentially a standalone device. So it's being driven by image and fashion," Orr explained. In more mature markets, however, "budget comes more into play."