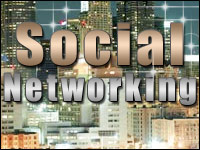 I have a love-hate relationship with social media. I love platforms like Twitter and LinkedIn that let me keep up with people I truly value as friends and colleagues, even as we move on to new stages in our lives.
I hate social media's potential for baring intimate details of your life with people you never really cared for, or never even met. That's why I remain one of the few people on the planet without a Facebook profile.
My mixed feelings about social media influenced my initial thoughts about the products software vendors are marketing as social business applications. These applications are supposed to move social media beyond marketing departments and into the operational centers of corporations, improving the work lives of people who build and deliver products.
When I first heard about these applications, I thought they might very well have the potential to improve communication and collaboration across the enterprise, thus improving business performance. Then I started doing research. I discovered that most of these social business applications are merely trying to mimic Facebook and/or Twitter and are likely to do little to advance the state of business collaboration.
Thinking About Social Supply Chains
Since I consider myself an open-minded person, however, I couldn't just completely reject the possibility that social networking technology would never be of any value beyond the marketing and sales channels. I had to keep my eyes and ears open for new information that might cause me to think otherwise.
That sentiment prompted me to tune in to a recent Altimeter Group webninar entitled "The Social Supply Chain." In addition to the title, I was drawn to this event because of the speaker. Lora Cecere, an Altimeter Group partner, is a longtime and well-respected supply chain management analyst. So I was confident of getting an intelligent, well-informed and, most importantly, objective point of view on the topic.
As I expected, the webinar gave me some things to think about, but it didn't really alter my position on the viability of social business applications. I still believe these applications have the potential to deliver business value, but it will take time — and some design improvements — before the applications are ready to deliver that value.
"We're still 5 to 10 years away from a true social supply chain," Cecere said in the webinar. She based that judgment on the relative immaturity of the current crop of social business applications, as well as current mindset of most supply chain professionals.
Linking Social Media and Enterprise Systems
When it comes to supply chain professionals, Cecere noted that very few of them are tuned in to the world of social networking, so they can't be expected to know how to apply the technology to their business operations. "A lot of supply chain professionals have asked me if they should just connect customers and suppliers to their personal Facebook pages," she noted. "The answer to that is no."
It makes no sense to connect business partners to your personal Facebook page, Cecere argued, because Facebook is not a business-oriented platform, at least when it comes to things like moving goods through a supply chain. It's also a mistake, she added, to believe supply chains can benefit from plopping social media functionality on top of ERP or supply chain planning systems, which in essence is what some of the vendors hawking social business applications are advocating.
Cecere does believe some vendors are on the right track in creating applications that can support social networks that ultimately can improve supply chain performance. She cited applications called u201cStreamworksu201d from SAP and u201cRollstreamu201d from GSX as examples. She also cautioned, however, that even these applications will not deliver business value by themselves.
Getting value from social media applications will, in Cecere's opinion, require a complete redesign of the contemporary supply chain. "We have to design supply chains from the outside in," she declared.
A Few Years From Seeing Value
Because that's a new concept, it will take some time to catch on — if it ever does. But it wouldn't be that difficult to design a supply chain from the outside, providing an organization was committed to doing so. In fact, this is one place where those existing corporate Facebook pages and Twitter accounts could prove useful.
As Cecere pointed out in her webninar, when a company establishes social media presence, it's creating a conduit for near real-time information about its products and services. In most cases, however, companies are using social media channels to push information out to customers. Information coming back from customers, while easily accessible to the marketing department or whoever manages social media for the company, is rarely even looked at, much less put to any real use. And that's a major mistake.
Cecere mentioned the case of Newell Rubbermaid, which learned from its Twitter feed that a lot of customers were unhappy about a product it had recently introduced. By monitoring the conversation, the company learned that the customers actually were using the product improperly. It was then able to spread information about the proper way to use the product and alleviate a potential customer backlash.
Mining Real-Time Data
A key point to remember here is that Newell Rubbermaid got this information and diffused the situation within a matter of days. If it had relied on normal communications channels to get that information, the situation would have dragged on for weeks, and it probably would have hurt sales of this new product.
Now, let's think of what would have happened if the problem with the product would have been the result of a design flaw. The information could have gotten to Newell Rubbermaid's engineering department in time to develop a fix before product sales starting dropping.
That would be the result of a social supply chain. To create a supply chain like that, Cecere suggests talking to your marketing department or your social media managers to find out exactly what type of information is flowing through your social media channels, and then asking how that information can be used in various parts of the supply chain.
Once that's accomplished, it's time to find the right tools — those social business applications — to support moving information to the right places and the right people in the supply chain.
As I think about this, it all comes back to what I believe should be the philosophy of anyone in the position of purchasing business applications. That is: First, figure out what you want to accomplish, and develop a process for doing that. Then look for the tool that will best support your efforts.
That tenet will serve business people, even in the age of social media.