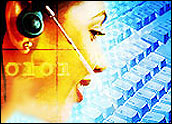 Aberdeen surveyed 240 users and managers of IT support to find out how organizations in this new world can ensure that workers are productive and customers enjoy their products. The 107 support managers who responded to Aberdeen's survey ranked the metrics they use to evaluate their IT support staff on a scale from one to five, where 1 was the highest priority and 5 the lowest.
The functional tie between first-call resolution, customer satisfaction, priority of issues resolved, and speed of issue resolution reflects the number of competing mandates technical support must balance. If first-call resolution percentage is weighted too heavily over customer satisfaction, support personnel will be discouraged from transferring calls to experts; if only high-priority issues are ever addressed, customers with small but nevertheless bothersome issues will become disgruntled.
Notably, call duration is rarely recognized as a top-priority metric by technical support managers. Short calls are not necessarily successful calls, and many users bridle at being hustled off the phone. Support must be available at the user's pace as well as on the user's terms.
Aberdeen's Analysis
One hundred fifteen of our survey respondents use technical support at work, and 75 respondents use technical support at home. We asked them how long technical support took to fix their most recent technical problem, and how swiftly they needed technical support to fix this problem. We then used these two questions to differentiate between clients whose issues were resolved on time and those whose issues were not resolved on time.
This is the heart of most technical support concerns: Will my computer, Internet connection, phone or television be fixed to my satisfaction before I need it next?
The first, "on-time," group had issues which were, on average, less urgent, and they got them resolved around three times faster than the "not-on-time" group. By contrast, the not-on-time group had much more urgent issues, and resolved them more slowly. Even if we assume that survey respondents in the not-on-time group over-reported the urgency of their technical problems by a considerable margin, we still see that members of this group had to wait around three times longer on average for their technical problems to be solved than did members of the on-time group.
A few hypothetical numbers can illuminate the significance of this difference in unplanned down time. Consider a professional workforce of 100 people, working around 40 hours a week for 50 weeks out of the year and earning an average annual salary of US$50,000 per person. Using the conservative estimate that each individual has one tech support problem per year, and the liberal estimate that the employee is not productive at all while waiting for her problem to be fixed, this company would save $17,750 per year by moving from the not-on-time to the on-time group.
The distinction between on-time and not-on-time groups was even more marked for individuals who contacted technical support for products and services they used at home.
Case in Point
AppMix is a Boston- and Mumbai-based IT consulting services provider specializing in application development reengineering and support for the education, airline and banking industries. Because IT consultants comprise AppMix's main workforce, most employees can resolve simple software issues on their own; AppMix's internal help desk handles mostly hardware and network problems. AppMix's CEO / CIO Kini Shah believes that focus on internal support gives AppMix a unique perspective on the challenges of providing application support services for its clients.
AppMix uses its internal help desk as an incubator for new approaches to technical support: Any changes to technical support are first carried out within the organization, where they can be monitored and revised before being offered to clients. As such, AppMix devotes considerable resources to monitoring the success of its own help desk, continually surveying its employees to determine which strategies work and which do not. While AppMix encourages employees to provide feedback on support services by offering them lunch or dinner as a reward for completing experience surveys, participation is rarely a problem, according to Shah. "People are very intrigued to … be asked the question 'Are you happy with our service or not happy?' Most of the time nobody asks."
Shah has found that keeping up to date the knowledge management system is important for successful help desk management. "If you don't keep upgrading your IT help desk with new features, new applications as you role them out, it can become obsolete." AppMix has deployed a portal application for the help desk that provides centralized ticket management. A knowledge management system also helps resolve simple support questions early. Because tech support is deployed within an integrated portal, IT technicians do not need to move between applications to help the user. This makes the IT technician's job easier and enhances service quality.
Shah believes that sustainable support begins with a sustainable staff. "[Keeping] operators happy and retaining your support staff longer … can help supportability … If an organization retains their support staff, it doesn't have to keep training new employees." AppMix measures and monitors personnel to ensure they provide top-level support. New support hires at AppMix undergo extensive training, and their early calls are monitored by floor supervisors. All calls are recorded, and each day some calls are randomly selected by supervisors for detailed analysis that could lead to further training for support staff.
Given an infinite budget and complete organizational control, Shah would prefer to hire more operators and more technically qualified people for support roles, as well as building out the company's knowledge management system to assist support technicians.
---
Gaurav Patil
is a research associate in technology markets at the Aberdeen Group.
Max Gladstone
is a research associate in technology markets at Aberdeen.
Nathaniel Rowe
is a research associate in information lifecycle management at Aberdeen.