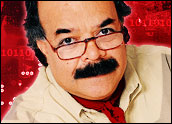 There is absolutely nothing wrong with the newLondon 2012 Olympics logo, but there is something seriously wrong with the logo-driven branding industry at large.
This new logo clearly proves that as we approach 2012, global society will not respond to conventional logos or graphics, but only to these kinds of insignificant, dysfunctional and obscure design works, which will eventually become branding norms throughout the world. This clearly points to the slow demise of the logo-branding industry.
There is an increased numbness among today's global consumers to heavy, noisy advertising. Prolonged, twisted hype — often labeled "logo-driven branding exercises" — will eventually switch off the minds of future customers.
Can You Think of 10 Great Logos?
The release of the London logo half a decade prior to the 2012 games themselves is a strong case in point. Perhaps better than anything it intends to convey, it portrays a future in which the value of a logo will be reduced to a minuscule amount.
Let's face it, logos are almost dead in this hyper-accelerated society. Fifty years ago, customers remembered the logos of IBM or Chevrolet, which presented uniquely mind-grabbing graphical ideas by compressing their images into extremely sharp messages emulating simple vibes via powerful symbols.
Not today. Pick your top ten companies, try to remember their logos, and ask yourself if they really create an impact. The computer-savvy are inventing a million new logos each month for the small business armies of ever-growing nations like India and China. However, only the ad industry — and the very nave — continue to dream in Technicolor, convinced that customers will differentiate among nearly identical circles and lines.
These fly-by-night logos change by the day. This overly zealous creativity needs to be harnessed, as the cut-and-paste culture, with its libraries of millions of logos available for free, has shifted the goal posts. This is one of the main reasons advertising consistently and tragically fails over real marketing of real concepts.
Five Rings
Luckily, the Olympics is the modern world's icon extraordinaire, and having personally marketed the 1976 Summer Olympics held in Montreal, I can attest to the power of its name and its awesome global presence. The London 2012 games are not at all at the mercy of the new logo, as the ever-unique, powerful and recognizable image of the five rings will provide longevity to the Olympics' ever-growing brand.
In reality, it's graphic overload and out-of-control logo treatments that push a brand name identity to the point of no value. What are the logos of Microsoft, Sony or Panasonic? What graphical techniques do they employ?
Most smart corporations prefer powerful word marks, as their powerful, recognizable names stand alone in the rough marketplace and are not at the mercy of overblown graphics going through repeated treatments that are commonly labeled as "brand positioning."
Clearly, there are two schools of thought: logo driven and name-identity driven.
Skating on E-Commerce
The principal belief of major global logo-branding agencies that any name can become a superbrand is based entirely on bottomless budgets — and if for any reason it doesn't work, then so what? Is this why agencies are so often changed? Doubt about the ultimate power of a global 5 Star Standard of Naming will continue to hurt the global ad industry.
The other school of thought prophesies the new name-economy, in which name brands, as mature identities, skate on e-commerce from one region to another. In this highly mobile society, there will be a strong understanding of the potential power behind the successful branding of a powerful name.
As we approach the future, big logo-branding is dying fast, as a new cyber-geared culture and name-driven economy emerges.
---
Naseem Javed
is recognized as a world authority on Corporate Image and Global Cyber-Branding. Author of
Naming for Power
, he introduced The Laws of Corporate Naming in the 80s and also foundedABC Namebank, a consultancy established in New York and Toronto a quarter century ago. Currently, he is on a lecture tour in Asia and can be reached at
[email protected]
.
---