Despite being hit by a lawsuit from T-Mobile over its use of the color magenta in its marketing materials, AT&T subsidiary Aio Wireless has announced plans for a nationwide online rollout starting mid-September.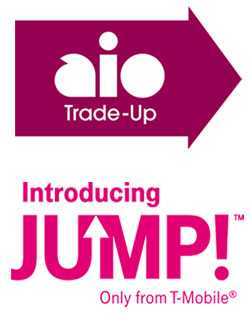 T-Mobile argues AT&T's Aio ads (e.g., top) rip off its trademarked magenta color (e.g., bottom).
The Aio no-contract mobile device service is currently available to customers in Florida, Texas and the Metro Atlanta area in Georgia, as well as in Chicago.
Aio will add brick-and-mortar stores in other markets, company spokesperson Kathy Van Buskirk told the E-Commerce Times.
AT&T has for some time offered no-contract plans under the "Go" brand, but Aio takes a leaf out of T-Mobile's book, letting customers bring in their own unlocked devices for use on the network as an alternative to the carrier's own no-contract offerings.
Other carriers also offer no-contract plans, and at some point, they are likely to let customers bring in unlocked devices as well. "This is a way to retain their existing user base," said Larry Chiagouris, a professor of marketing at Pace University.
"The size of the user base is one of the most critical metrics in the mobile phone business," Chiagouris continued.
Don't Fence Me In
No-contract services have been poaching subscribers from wireless carriers because "there are many consumers who do not want to commit long term," Chiagouris told the E-Commerce Times.
However, whether other carriers follow T-Mobile's approach of going whole hog with the no-contract approach remains to be seen.
"We have both prepaid and postpaid plans, but all of our services are no contract," said T-Mobile spokesperson Glenn Zaccara.
Both T-Mobile and Aio offer unlimited talk, text and data with their plans, but there are some differences.
Aio charges US$40 or $55 or $70 a month for high-speed access with data caps of 250 MB, 2 GB and 7GB respectively.
T-Mobile charges $50 for the first 500 MB of data accessed at up to 4G speed; $60 for the first 2.5 GB accessed at up to 4G speed; or $70 a month for unlimited nationwide 4G data.
Aio is running a limited promotion for a reconditioned iPhone 4 offered for $200 whether it has 8 GB or 16 GB of memory. [*Editor's Note – Sept. 25, 2013]
Carriers Red in Tooth and Claw
"Generally and historically, T-Mobile is less expensive and AT&T has a better selection of devices and better coverage," Rob Enderle, principal analyst at the Enderle Group, told the E-Commerce Times. "T-Mobile is also often substantially cheaper internationally."
Nonetheless, the pricing and perks carriers will offer to no-contract customers "will likely be in flux as the various companies try to one-up each other," Enderle speculated. The mobile market, which has always been volatile, will "become vastly more volatile" as people move to the no-contract model.
Purple Haze
An indication of the market's volatility is the lawsuit T-Mobile has filed against Aio for its use of the color magenta in its marketing materials. The two companies use different shades of the color.
Following is T-Mobile's statement regarding the color problem, provided to the E-Commerce Times by Zaccara:"When consumers see magenta in the wireless world, they think T-Mobile, but AT&T, through its subsidiary Aio Wireless, has been trying to get a free ride from T-Mobile's success as America's un-carrier by using magenta in its marketing. We filed this lawsuit to stop them and to protect T-Mobile's powerful magenta trademark."
T-Mobile parent company Deutsche Telekom in 2008 sent Engadget a letter demanding it discontinue the use of the color magenta.
However, the latest lawsuit "is a sideshow," said Enderle, "and win or lose, I doubt this litigation will have any lasting impact on either company or the market."
---
*ECT News Network editor's note – Sept. 25, 2013:
Our original published version of this story stated that "Aio has a better selection of smartphones in that its lineup includes iPhones." In fact, T-Mobile began offering iPhones in April.