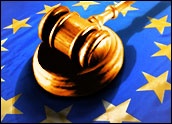 United States Internet businesses have spent much time and energy avoiding regulation by other countries — and in particular, the European Union. One way companies protect themselves is to include a provision in their Terms of Service making the U.S. the jurisdiction and controlling law for use of their sites, as well as for Click Agreements.
However, some recent disputes in the EU have changed the playing field regarding jurisdiction, and these cases may impact the use of a website there.
Which Laws Apply?
In order for a court to control a case and decide its outcome, that court must have jurisdiction. Various legal principles apply to determine whether a court has jurisdiction, including the location of the parties, the type of matter, the amount in controversy, and the location of dispute.
In the U.S., the parties can contractually agree to where a matter can be brought (venue) and which state's laws apply to the matter at hand (choice of law). Even if the agreement does not specify jurisdiction, parties can consent to the jurisdiction of the court.
In the absence of an agreement, determining which state or country's laws apply is not always very simple. For instance, if you live in Texas and agree with your Texas neighbor to build a lake house in California, and there is no written contract, which law applies if a dispute arises relating to the lake house? Maybe Texas, or maybe California.
In the Internet era, virtually every website has ToS, and most often the jurisdiction, venue and choice of laws for activity on the website are clearly defined. Rarely do click agreement terms omit jurisdiction. Of course, since most people do not read the ToS, they may not be aware of how they handle these topics.
Google's website, for instance, says the following about choice of laws:
The laws of California, U.S.A., excluding California's conflict of laws rules, will apply to any disputes arising out of or relating to these terms or the Services. Venue, or location of where a suit may be brought if a court has jurisdiction is frequently, but not always included in ToS. Here are Google's terms for venue, which includes consent to jurisdiction of the court, just in case the parties would not otherwise be subject to a court's jurisdiction: All claims arising out of or relating to these terms or the Services will be litigated exclusively in the federal or state courts of Santa Clara County, California, USA, and you and Google consent to personal jurisdiction in those courts.
Twitter includes similar terms for jurisdiction, choice of law and venue provisions:
These Terms and any action related thereto will be governed by the laws of the State of California without regard to or application of its conflict of law provisions or your state or country of residence. All claims, legal proceedings or litigation arising in connection with the Services will be brought solely in the federal or state courts located in San Francisco County, California, United States, and you consent to the jurisdiction of and venue in such courts and waive any objection as to inconvenient forum. If you are a federal, state, or local government entity in the United States using the Services in your official capacity and legally unable to accept the controlling law, jurisdiction or venue clauses above, then those clauses do not apply to you. For such U.S. federal government entities, these Terms and any action related thereto will be governed by the laws of the United States of America (without reference to conflict of laws) and, in the absence of federal law and to the extent permitted under federal law, the laws of the State of California (excluding choice of law).
EU Asserts Jurisdiction Over Google's Servers
In a bold move in response to the scandal regarding Google's providing personal information of individuals to governments in the U.S. and EU, the EU recently asserted that Google's servers outside the EU that hold data about EU citizens are subject to EU law, enforceable by EU Courts.
On June 25, 2013, Niilo Jaaskinen, the independent Advocate General of the European Court of Justice, issued an Opinion that the EU Data Protective Directive applies to search engines that contain data about EU citizens. That is, regardless of the location of the servers, the EU claims it has jurisdiction over Google and other search engines and that "Google or other companies cannot argue they are not subject to local data regulators' authority because their servers are physically located in another country."
The 1995 EU Data Protective Directive allows EU citizens to correct data on computers if it is incorrect, but previous to this Opinion, the jurisdiction was thought to apply to servers only in the EU. Now it applies to any servers wherever they are located.
This Opinion had an additional statement that was in the best interest of Google on a different legal issue — the "right to be forgotten." That is, that the EU "cannot require an Internet search engine service provider to withdraw information" since "the Directive does not establish a general 'right to be forgotten.' Such a right cannot therefore be invoked against search engine service providers on the basis of the Directive, even when it is interpreted in accordance with the Charter of Fundamental Rights of the European Union."
Before this Opinion is binding, the Court of Justice must affirm the Opinion, and if it is affirmed by the Court of Justice, international Internet jurisdiction will be forever changed.
Twitter Accepts Jurisdiction of French Court
Rather than fight French jurisdiction, Twitter provided information regarding the identity of posters who allegedly violated French law by posting hate speech. After the French court issued an Order in January 2013 requiring information about the identity of the posters, Twitter considered what course of action to take since Twitter's ToS specifically state that California has exclusive jurisdiction. The New York Times reported the following:…[I]n response to a valid legal request, Twitter has provided the prosecutor of Paris, Presse et Liberts Publiques section of the Paris Tribunal de Grande Instance, with data that may enable the identification of certain users that the Vice-Prosecutor believes have violated French law. Since the EU has recently asserted jurisdiction over Google's servers, Twitter's acquiesce to French jurisdiction will likely strengthen the EU's jurisdiction claims overs Internet businesses in the U.S.