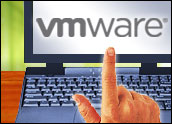 VMware made a number of announcements at VMworld 2011 in Las Vegas on Monday. Among its new projects is a global cloud offering.
This is, so to speak, a network of clouds from multiple services in various countries. Customers will work with their local vCloud Datacenter service provider to get into the global cloud.
Other interesting product announcements from VMware were vCloud Connector 1.5, which provides data transfer between public and private clouds; and vCenter Site Recovery Manager, which will let enterprises failover their applications to a service provider's site.
Whether or not global cloud access a good thing remains to be seen. Security in the cloud is not necessarily ironclad, and there's the possibility of data leaks, among other risks.
VMware did not respond to requests for comment by press time.
Cosmic Consciousness?
The idea behind Global Connect is to provide multinational enterprises highly available cloud computing services locally in the various countries where they operate.
The enterprises will go through their local vCloud Datacenter service provider, who will orchestrate service delivery internationally with Global Connect.
VMware's vCloud Datacenter services are built on VMware secure cloud infrastructure, including VMware vSphere, vCloud Director and VMware vShield. They provide globally consistent cloud infrastructure, management and security, and are offered by VMware certified providers.
Global Connect customers will only have to sign a single contract and will get a unified management console across the clouds they use with vCloud Connector.
Enterprises can find a local vCloud services provider by going here.
The Cloud Connection
VMware announced vCloud Connector in February. This is a free plugin that lets VMware vSphere administrators immediately begin deploying and managing virtual machines across VMware vCloud services from within the VMware vSphere client,
Version 1.5 of vCloud Connector was announced at VMworld 2011.
VMware vCloud Connector 1.5 will automatically retry and resume transfers interrupted by network problems. It will be accessible from any compatible Web browser and will also be available as a plugin for the vCenter Console.
Picking Up the Pieces
Disaster recovery has always been an issue for IT, and four VMware service provider partners Monday announced plans to introduce cloud-based disaster recovery services built on vCenter Site Recovery Manager 5.
They are FusionStorm, Hosting.com, Iland and VeriStor. The four will offer their services on a pay-per-use model.
Site Recovery Manager 5 includes built-in hypervisor-based replication for VMware vSphere environments and lets customers use heterogeneous storage across sites, cutting their storage costs.
Further, vCenter Site Recovery Manager 5 automates the entire site recovery and migration process. It also includes an automatic fallback capability that can automatically reverse replication and execute recovery plans so data is sent back automatically to the production site.
The Cloud and Safety
The security and reliability of the cloud has been called into question repeatedly, what with the hacking of Google's infrastructure last year, a recent failure involving Amazon.com's servers, and the Anonymous hacks into Sony's PlayStation cloud network.
Can enterprises feel safe putting their data in the cloud? And what about government mandates that certain data can't be stored in servers outside the borders of the data's country of origin?
Security "is more an issue around how the VMware infrastructure is implemented in a company's IT infrastructure than a weakness in the technology itself," Charles King, principal at Pund-IT, told the E-Commerce Times.
"You can have the most expensive and high-security locks in the world in your house, but if you forget to lock the door, somebody can walk right in," King added.
As corporations move toward the internal/external hybrid cloud, they are "going to have to start thinking about these issues in a way they never thought of before," King pointed out.
However, some businesses, such as companies in the defense industry, may not be able to use VMware's global cloud because the risk of a mistake would be too high, Rob Enderle, principal analyst at the Enderle Group, warned.
It's likely to be safe to use the cloud for disaster recovery and failover, Enderle said.
"It's unlikely that both a local and an international cloud service would fail as a result of the same disaster," Enderle told the E-Commerce Times. "If they did, you might argue the disaster would be of global proportions and that would be the bigger issue anyway."