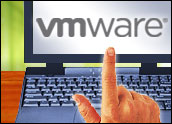 VMware on Tuesday announced two purchases aimed at furthering its vision of the future of IT.
One is Integrien, which offers software that -performs real=time application and infrastructure performance analysis.
The other is TriCipher, which offers secure access management and enterprise identity federation for Software as a Service (SaaS) applications.
The purchases were announced by Stephen Herrod, VMware's chief technology officer, during a keynote speech at VMWorld 2010, running at San Francisco's Moscone Center through Thursday.
About VMware's Purchases
Integrien offers "Alive," a real-time performance analytics solution that analyzes and correlates data across IT infrastructures it monitors. It detects abnormalities in the enterprise, isolates the root cause and delivers early warnings when performance gets degraded.
"Integrien is about abstraction, automated analysis and visibility," Herrod told his audience.
VMware bought Integrien because the increasing adoption of virtualization will require a new infrastructure in which a set of common resources such as compute, storage and networking will be aggregated by virtual servers and delivered to the enterprise. Herrod calls this infrastructure a "virtual giant."
The core tenets of the virtual giant are efficient pooling and bringing value to enterprises' existing applications.
"The virtual giant needs to fully use your hardware, be thrifty on power consumption, needs elastic resource scheduling, offer automation through policy and be open and interoperable," Herrod said.
"When you run a virtual giant, you have a lot of things to look at, and Integrien abstracts them all into a dashboard," Herrod added. "Behind the scenes, it analyzes all the data. Lastly, it's about visibility — it gives an abstracted view of all the VMware virtual machines that are running on your ESX servers and lets you drill down into problems when they occur."
Adding Things Up With TriCipher
TriCipher provides a unified authentication infrastructure that's available on demand as the "myOneLogin" service, or on premise — the TriCipher Armored Credential System.
"TriCipher offers single sign-on," Herrod said.
That single sign-on capability will be useful to VMware as it pursues various initiatives.
These include the hybrid cloud, which consists of customer-owned and SaaS applications, internal and external infrastructure clouds.
"We believe hybrid cloud computing will be the model for this decade of computing," said said Rick Jackson, chief marketing officer at VMWare.
The Bigger Security Picture
VMware's purchase of TriCipher will also fold into its vision of the future for security.
Security will undergo two big changes, Herrod said. It will move into software, and it will be put into the application.
"We're going to virtualize the security infrastructure," Herrod said.
Currently, security protection is provided at the edge of the application's field, but as we move to the world of Web applications, the boundaries of the field will change on the fly, and security must adapt to that, Herrod pointed out.
"Security has to follow the virtual machines, and it has to follow the cloud, not the physical infrastructure," Herrod added.
VMware is partnering with Cisco, McAfee, RSA, Symantec and Trend Micro to offer security in its vShield product.
The User Is King
VMware is pursuing a user-centric view of the world in which users can get apps on any device anywhere at any time. To enable this, it is working on a project code-named "Project Horizon" that is building the next generation of end-user computing, Herrod announced. It has SaaS and thin app applications.
"We can offer the user a catalog of applications he wants to use so he can use them as needed and on any device," Herrod said.
All those apps will have a single sign-on that will be good from any device, and here is where the purchase of TriCipher fits in.
Herrod also announced the VMware View Client — a set of touch gestures specific to the iPad so owners of that device can access all apps that were provisioned on their corporate desktops.
Further, VMware is working on "Project Horizon," which focuses on the ergonomics of different devices, including the iPad, Herrod said. It will incorporate SaaS and native apps.
"Project Horizon is what IT as a service is about," Herrod remarked. "It's clearly where IT is headed — IT as a service with happy end users and safe IT."