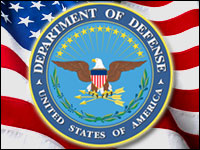 The U.S. Defense Department is seeking vendors to participate in a multiyear information technology support program with a total contract value of US$12 billion. DoD has indicated it will release a Request for Proposals for the Encore III program, which covers a wide range of IT services, by the end of this month.
The amount of the tech support contract is a reminder that DoD spends more money on information technology — by far — than any other U.S. government department or agency. The Defense Department presents a perpetual prime marketing target for IT vendors. However, the "always there" element of DoD's IT investments should not be taken as "always the same," in terms of how vendors should approach the department.
For one thing, the department's plans for IT investments could face changes before the fiscal year starts on Oct. 1, noted Shawn McCarthy, a research director at IDC Government Insights, in a mid-year review of DoD's proposed 2016 budget.
"We have seen such last-minute fluctuations nearly every year for the past 10 years," he said.
Given the size of the DoD's annual IT budget, a fluctuation can translate into a lot of money.
The DoD's IT spending pattern is clear, based on the most recent estimates. There will be flat to declining levels of investment for the next five years.
DoD spending for IT will grow at a slight, .5 percent compound annual growth rate between 2014 and 2019, the IDC report forecasts. Spending actually will decline from $31.2 billion in 2014 to about $29.9 billion in fiscal 2015, and then grow modestly to reach $32 billion in 2019.
Constrained Budgets on the Horizon
In roughly the same ballpark, DoD spending for 2016 will reach $30.5 billion and then jump slightly to $30.8 billion in 2017, according to immixGroup Senior Analyst Tim Larkin.
However, IT spending at DoD will show a downward trend for each year through 2019, according to another recent outlook — this time from Deltek's GovWin.
Starting at $47.4 billion in 2015, DoD spending for IT will decline to about $43.8 billion in 2020, averaging about $45.4 billion each year, according to a June 2015 estimate.
Note that Deltek's methodology differs from the other two and includes IT spending within other areas.
"We refer to it as embedded within non-IT-centric programs and budgets. This is essentially IT integrated into ships, aircraft, vehicles and so forth," said Deniece Peterson, director of federal industry analysis at Deltek.
"Those investments are typically not included in the IT budgets reported to the Office of Management and Budget. They are involved in other places including research, development, test and evaluation, and equipment budgets," she told the E-Commerce Times.
The declining rates of IT spending are due to a government-wide push to do more with less, initiated by the Obama administration.
In addition, investments in some major IT projects have been declining, IDC pointed out. Spending for the Navy's next-generation network peaked at $1.86 billion in 2012, and is budgeted for $1.34 billion in 2016. The Army spent $1.2 billion on its next-generation network in 2012 but allocated $548 million for the project in 2016.
The push for productivity within the Defense Department is driving the types of future investments, including attempts to reduce operation and maintenance spending, according to Deltek.
Most services are expected to take a 10 percent cut that will impact IT associated with base operations, facilities maintenance, training, and procurement efficiency. Defense agencies are taking their own cost-control measures such as cuts to services contracting, limits on hardware purchases for data centers, use of joint IT capabilities, and adoption of streamlined strategies such as enterprise software licensing.
Policy Trends Bear Watching
Policy changes that bubble up during the year also are important in shaping IT markets. The latest IT investment trend at the Defense Department involves a commitment to the Joint Information Environment initiative that launched in late 2013.
The JIE is designed to simplify DoD IT support structures, especially networks and systems, through a department-wide modernization and consolidation program that minimizes separate silo IT structures within the department and the service branches.
That effort is becoming more visible. Defense Department Chief Information Officer Terry Halvorsen in March conducted a briefing geared largely toward describing the effort.
"We have too many barriers and firewalls between our partners, and we are limited by capacity and diversity," said Army Chief Information Officer Lt. Gen. Robert Ferrell, at an Association of the United States Army event in July.
The "bottom line is that today we do not have a joint network, and that makes JIE an operational imperative," he pointed out.
"The Defense Department will be focusing in the next two years on technology investments that emphasize interoperability," said Lloyd McCoy, a market intelligence consultant at the immixGroup.
"As the Joint Information Environment takes shape and becomes something more than just a concept, we will continue to see investments — and messaging — focused on establishing or increasing communication pathways and data flows within and among the military agencies," he told the E-Commerce Times.
Other policy issues that will impact IT vendors who market to the Department of Defense:
Systems Integrators: The DoD has shown a preference for purchasing integrated systems as opposed to separate hardware and software solutions, according to IDC. That has meant extra business for systems integrators, as several of the top 10 government contractors are in that business.

"A higher percentage of spending is going to systems integrators and into IT services such as cloud. It's becoming more important for all IT vendors to learn to work within this ecosystem," IDC's McCarthy said.

Blanket contracts: Federal agencies are encouraged to utilize blanket purchase agreements and similar, multiple vendor vehicles, such as the DoD Encore III program and the Army's IT Enterprise Services contract vehicle, Deltek has noted.

"IT vendors and DoD services and agencies alike should focus on learning more about the DoD-wide services for common enterprise solutions," advised IDC's McCarthy.

As military bases and defense programs get more of their services from these DoD-wide contracts, they will free up money for the special IT programs and development that they wish to expand, he said. In most cases, any new spending will be specific to the mission of the individual bases or programs."
Such contract vehicles are more familiar to — and to some degree favor — large vendors, although some programs have included small business components.
"I think it really depends on the contract, the type of work, the scope of the work, and the number of awards," said Deltek's Peterson.
"Some small and mid-sized firms may pursue teaming arrangements with larger primes to sustain revenues — but in general, this route is not as profitable as winning a prime contract position," she explained.
Smaller companies and mid-sized businesses may fare better on product-focused contracts, because the requirements and pricing are less complex, Peterson suggested, "but the general preference of major task order contracts — and the consolidation among them — is challenging for small and mid-sized businesses."
Still, "smart small contractors learn to also work as subcontractors to the big primes," IDC's McCarthy told the E-Commerce Times. "This should always be part of their sales effort."