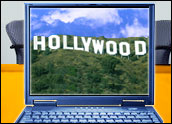 The Hollywood trade newspaper Variety is putting its Web site behind a "pay wall" starting Thursday — reserving its online content for paid subscribers and hoping its advertisers will stick around despite the smaller Internet audience.
Variety plans to shut off free access gradually, asking one in 10 visitors for a user name and password that will be sent to paying subscribers.
After about two months, the newspaper plans to block free access — except for five free page views a month — ending an experiment with entirely free online content that Variety began in October 2006.
'Readers Should Pay'
"We fundamentally believe that the readers should pay one price and get all or any of our content," said Neil Stiles, president of Variety Group, a unit of London and Amsterdam-based Reed Elsevier Group. "If you don't pay, you don't get anything."
While the 104-year-old newspaper expects to lose many of its roughly 2.5 million monthly online visitors, it values more highly the 25,000 subscribers of its daily printed version and 30,000 subscribers of its weekly printed version.
Variety plans to initially charge a promotional rate of US$248 a year for access to any of its content, including daily and weekly print offerings, the Web site and iPhone application. That's roughly the average of what current subscribers pay for the print version, although some pay as much as $330.
Seeking High-Value Readers
The vast majority of Variety's subscribers are in the entertainment industry, and so are the advertisers. Because these agents, studios and other companies in the trade seek readers in the industry, they care less about the general audiences that had read the site for free, Stiles said. About 95 percent of Variety's advertisers buy spots on the Web site and in print.
Stiles estimates the company will lose a minimal amount of online ad revenue but may gain subscribers among people who had put off paying because the online version was free.
Magazine and newspaper publishers are wrestling with whether to charge for access to their Web sites, and so far those with specialized content — such as The Wall Street Journal and Financial Times — have tended to find the most success.