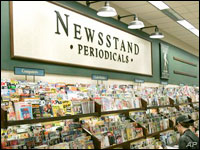 Major magazine publishers are about to launch a new attempt to digitize their content, according to a recent article in the New York Observer.
The publishers reportedly include Conde Nast, Hearst and Time. It's said they're getting ready to form a new company that will prepare digital versions of their products that can work across multiple platforms, including mobile devices like the iPhone and BlackBerry devices.
Time's executive vice president John Squires will reportedly leave his post to become the interim head of the new company for six months until a permanent chief is appointed.
The Bits and Bytes of the Effort
The new digital publishing company will prepare magazines that will run across multiple digital platforms, according to the report. It will create something similar to Apple's iTunes store, providing a virtual storefront where customers can buy new issues of magazines in a digital format. Each publisher will have to figure out how to build digital versions of its magazines.
Device neutrality will be critical to the venture's success, Rob Enderle, principal analyst at the Enderle Group, told the E-Commerce Times. "A service like this needs to be hardware-independent because there's no certainty as to which hardware platform will win out, and there's every likelihood that we'll end up with several formats," he pointed out.
Creating a device-neutral format won't be as difficult as it sounds, Frank Dickson, a vice president of research at In-Stat, told the E-Commerce Times. "This is something that Adobe has already done with Acrobat," he explained.
How long it will be before the publishers come up with a cross-platform digital format will depend on whether they start from scratch or leverage existing software, Dickson said. He expects the new format to be out within a year.
Magazine publishers will have to make major changes as they move content to a digital format that can be read on smaller screens. "This will be similar to the transition from print publications to the Internet," In-Stat's Dickson said. "Full-page, half-page and quarter-page sales had to be migrated to banner and skyscraper ads.
"Simply replicating the magazine on a smartphone will not work," he added. "The entire structure of the publication will need to be reorganized and re-rendered to provide maximum usage of the form factor. When you have a four-inch screen, you need to have an optimal presentation."
Riding the E-Reader Tide
E-readers and the Internet have hit the publishing industry hard; now parts of that industry are looking to digital content for salvation. For example, several newspapers, including the Detroit Free Press and the Detroit News, are conducting trials using e-readers from Amazon and Plastic Logic.
Meanwhile, Forrester Research has predicted that e-reader sales will surge during this holiday season.
"As more people move to digital readers, they are giving up paper," Enderle pointed out.
Why would customers be willing to read magazine articles, which tend to be fairly long, on their devices?
"Convenience," explained In-Stat's Dickson. "How many times did you get stuck in a long line that you did not anticipate and the only device you had is your smartphone? Since you already have the smartphone, why not use it for other purposes?" This type of casual use will suit smartphone owners, Dickson said.
The Times They Are a-Changin'
In the brave, new, small e-reader world, color will not be too much of an issue, according to In-Stat's Dickson. "Animations, ad placement and ad timing will be increasingly important," he pointed out.
That could give a boost to geolocation and geotagging features and services. "As the technology advances, there will be new opportunities for targeted ads, interactive ads and instant fulfillment," Enderle said.
Geolocation features are becoming commonplace in the mobile online services world — for example, Twitter recently added a geolocation capability to its microblogging service in a move that could help it monetize ( ).
However, color ads will eventually make a comeback, Enderle said. "Initially, the ads will be black and white, but color will emerge in the next five years," he said.