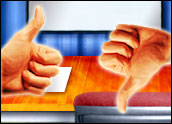 It's just before 3 p.m. on a Friday afternoon and the last meeting of the week is about to start. With nothing to do for a few minutes, you remember that the new complete DVD box set of "The Addams Family" just became available — so you hop onto Amazon.
Naturally, neither you nor I would ever waste company time doing something like this, but since we're in the e-commerce business, it's research. Voila, you're guilt-free. Unfortunately, you only have time to look at either the beautifully written producer's notes provided by Amazon or the online user reviews to determine whether you'd really like to give up the US$80 for the set. So, which do you read?
If you choose the producer's description, you're about as common as the group of people who opt for apple slices instead of french fries with your value meal. That is to say: There are a few of you out there who read the producer's few paragraphs, but you're definitely not going to be winning any tug-of-war competitions against the other side anytime soon.
Trusting Consumers
In fact, based on the research we've done at Goldstar, the most desired kind of information for consumers when considering a purchase is online user reviews from a site they trust, and there's not even a close second choice.
Here are a couple of tidbits that came out of a survey we did earlier this year:
If consumers saw positive user reviews of a show on a site they trusted but saw negative reviews from a major critic, consumers would trust user reviews 30 times as often as they would trust a critic.
This isn't only the response from just the Web-happy younger generation, either. In every age cohort, user reviews were deemed more valuable than critics' opinions, and only in the over-60 cohort was it close.
The only kind of info that has as much power to influence buying choices, according to our research, is the personal recommendation (or antirecommendation) of a close friend. Of course, if you're up at midnight trying to decide whether to go to a Cirque du Soleil show on Saturday night or spend an evening at the Improv comedy club, that's not a great solution. A late night journey through your Rolodex of close friends one person at a time to find someone who's been to both can turn close friends into not-so-close friends pretty fast.
For professional e-commerce sites, the question of whether or not to create a system for user feedback should be completely uncontroversial by now. (You should also brush and floss regularly to keep your teeth and gums healthy. I'm sure you're not reaching for your smelling salts to prevent fainting after hearing that.) To paraphrase Eddie Murphy, tell me something I don't know, Internet marketer.
Some Theories
So why — more than a decade after Amazon invented (or at least popularized) the online user review for e-commerce — have they not become commonplace in live entertainment until recently? Here are a few of my theories:
A show is not a show is not a show. If you want to see "Jersey Boys" on Broadway, user reviews of a production at your local community college don't help much. By contrast, the Adventures of Huckleberry Finn reads just as well whether you're buying a hardcover from 10 years ago or the paperback that came out this week.
Performance is personal. Don't get me wrong — I know that the folks at companies like Palm and Apple put their heart and soul into the products they make, but live entertainment is different. The people in this industry go on stage in front of hundreds or thousands of people and risk making fools of themselves. If you don't like the computer you just bought, you don't say Joe Smith, the engineer in charge of the project, is lousy and shouldn't be allowed near CAD (computer-aided design) software ever again. In fact, you never even knew old Joe existed.
Who are you going to trust? Until recently, live entertainment didn't have aggregators who could represent a fairly neutral point of view and channel a lot of user reviews. That's changed with sites like Goldstar, TicketsNow and, in a different way (and less focused on live entertainment), Yelp and Yahoo Local.
What Are You Trying to Hide?
When we launched our user review program, we made sure to explain our thinking and logic to our 2,000 venue and producer partners, setting aside time to soothe concerns and show them the research that backed us up. We felt — as I'm sure others who've launched this feature do — that the live entertainment industry would be at a permanent disadvantage against electronic entertainment forms like movies, video games and at-home DVD rentals if you couldn't see what other buyers thought. For today's buyer, a lack of user reviews prompts a very unflattering question: What are you trying to hide?
In fact, the live entertainment business doesn't need to hide anything. It's on the rise and fast becoming the part of the entertainment industry where real value is being added. If you don't believe me, ask the guys in record sales whether they're going to be taking their residuals checks and upgrading to the big Mercedes when their current lease is up. Not likely.
Instead, the business should be inspired by the spirit of a man named Marc Katz, the CEO of a company called "Custom Ink." He and his company were profiled a couple of years ago on the extremely useful MarketingSherpa Web site.
The company is a custom printer of T-shirts and other items, and their claim to fame comes from the completely unedited real-time feedback that it features on the top of its site's front page. Gutsy? Sure, but Marc's point is that a little bad feedback just validates the authenticity of the good feedback. Only people with a lousy product should fear that. By and large, the live entertainment business, from sports to comedy to theater to music and other "unique" events, puts out a product that, as you can see on sites like Goldstar and others, delights and captivates millions of people each day.
So thank you, Marc Katz. If we ever meet, dinner and the frosty beverage of your choice are on me. Then, maybe we can take in a show, which — naturally — we'll want to review online the next day.
---
Jim McCarthy
is CEO of
Goldstar
, an online seller of half-price tickets.
---