During the first two years of the global pandemic, U.S. consumers spent US$1.7 trillion online, $609 billion more than the previous two years, according to an economic report released Tuesday by Adobe.
More spending is to come in 2022, with Adobe forecasting shoppers will spend more than $1 trillion online for the first time.
The report is based on the Adobe Digital Economy Index and measures direct transactions online and covers over one trillion visits to U.S. retail sites, over 100 million SKUs, and 18 product categories.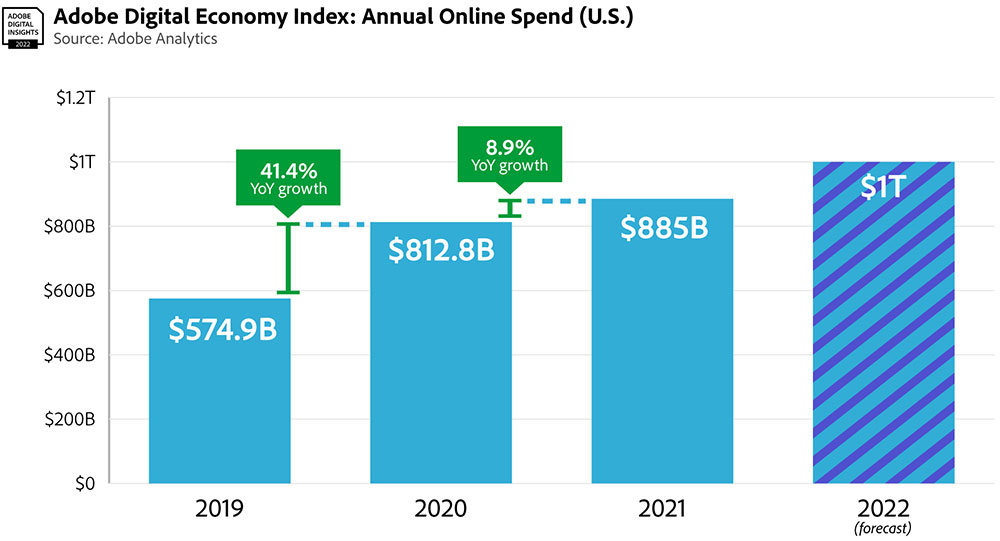 Adobe's findings were echoed by the National Federation of Retailers, a trade association. In its 2022 forecast released Tuesday, it predicted non-store and online retail sales would increase between 11 and 13 percent, reaching between $1.17 and $1.19 trillion during the annum.
Overall, the association forecasted retail sales for 2022 — excluding automobile, gasoline, and restaurant sales — will grow between six and eight percent, to more than $4.86 trillion. That compares to a pre-pandemic, 10-year growth rate of 3.7 percent.
"NRF expects retail sales to increase in 2022, as consumers are ready to spend and have the resources to do so," NRF President and CEO Matthew Shay said in a statement. "We should see durable growth this year given consumer confidence to continue this expansion, notwithstanding risks related to inflation, Covid-19 and geopolitical threats."
Inflation Fueled Growth
Adobe noted that part of the growth during the pandemic years was fueled by inflation. Of the $1.7 trillion spent online by consumers, $32 billion was driven by higher prices. In other words, consumers paid $32 billion more for the same amount of goods.
Since June 2020, inflation has persisted for 21 straight months, Adobe reported. The biggest impact was in 2021, when $22 billion in e-commerce growth was driven by higher prices, compared to $4.7 billion in 2020. During the first two months of 2022, price hikes contributed $3.8 billion to online spending growth.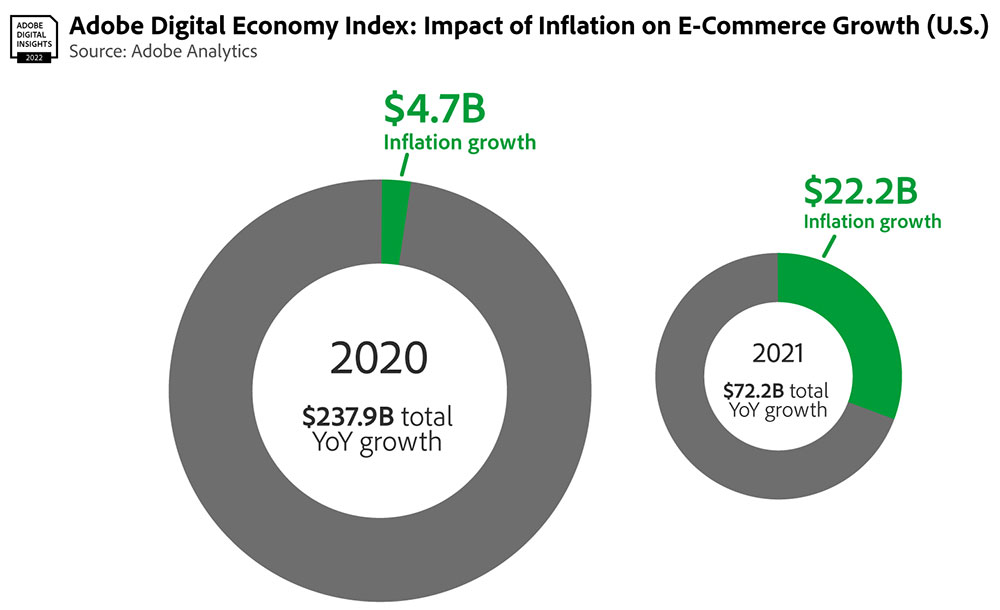 Inflation doesn't seem to be curbing online shopping yet, however. Adobe pointed out that during the same two-month period, $138 billion was spent online, a year-over-year increase of 13.8 percent.
David Swartz, an equity analyst who covers the apparel industry for Morningstar Research Services, noted inflation hasn't caused a lot of problems with the companies he covers.
"People have still been buying," he told the E-Commerce Times. "Last year, we saw some of the best operating margins in apparel retail in years, if not decades, because retailers pushed through price increases that worked. There were very limited mark-downs last year."
Constrained Budgets
Ant Duffin, a senior director analyst with Gartner, predicted that as inflation continues, consumers will scrutinize their purchases more carefully. "They will want to make sure they're getting the best deal," he told the E-Commerce Times.
"Consumers may start to trade down in terms of brand and product as inflation starts to hit," he said. "This means brands and trailers are going to work twice as hard to avoid a race to the bottom on price."
Rob Enderle, president and principal analyst with the Enderle Group, an advisory services firm in Bend, Ore. predicted that inflation will eventually have an impact on consumer spending.
"That is what typically happens," he told the E-Commerce Times. "Budgets get constrained and the number and amount of things people buy tend to drop off."
Camron Collard, chief growth officer at MicroPerfumes, an online beauty and fragrance retailer, believes inflation could benefit websites like his.
"For an industry like beauty and fragrance, consumers don't want to sacrifice their daily rituals of getting ready and smelling nice, so MicroPerfumes.com will be a perfect outlet to buy smaller sizes of their favorite fragrances for 80 percent less than a full-size bottle," he told the E-Commerce Times.
Groceries Reshape E-Commerce
One retail category that benefited mightily from the pandemic was groceries. Adobe reported that 2020 was a breakout year for the category, with $73.7 billion spent online, surging 103 percent year-over-year.
It added that many who tried online grocery shopping for the first time are continuing to do so, with $79.2 billion spent on the category in 2021, up 7.2 percent year-over-year.
Groceries is now 8.9 percent of the e-commerce share overall, up from 6.3 percent in 2019 and down 9.1 percent slightly from 2020, when demand surged early in the pandemic, Adobe reported.
Consumers now spend an average of $6.7 billion each month for groceries, up from $3.1 billion pre-pandemic, Adobe continued, and predicted the category will top $85 billion in 2022.
"E-commerce is being reshaped by grocery shopping, a category with minimal discounting compared to legacy categories like electronics and apparel," Adobe Vice President of Growth Marketing and Insights Patrick Brown said in a statement.
"It highlights a shift in the digital economy, where speed and convenience are becoming just as important as cost savings," he added.
Driven by Pandemic
The pandemic was a major factor in shifting consumer attitudes toward online grocery shopping, Duffin maintained.
"This dovetails into the major consumer trends of them wanting convenience and getting the gift of time back," he said. "They experienced the service by force, loved it because of the benefits so much so the adoption has continued."
Swartz agreed. "Many people bought groceries online for the first time during the pandemic," he explained. "The pandemic pushed them into trying it. It made the market much bigger than it would have been."
"Traditional grocery stores are making online a big part of their business," he added. "It may have been seen as secondary in the past, but it's not seen that way anymore. Now they realize it's here to stay."
The grocery category also benefited from several improvements in user experience, platform options and faster delivery times, explained Adhish Luitel, supply chain management and logistics principal analyst at ABI Research.
What's more, he continued, with inflation, consumers are eating out less. "I believe inflation will continue to adversely impact prices which will result in inflated online spending," he told the E-Commerce Times.
"I don't think consumers will cut back on spending, as one of the reasons e-grocery became popular is because it was a cheaper alternative," he said. "This will continue to be so in the coming years as e-grocery takes a bigger chunk of the market."
Enderle, though, believes consumers will eventually cool to online grocery shopping. "I think this is tied to the pandemic and the desire to avoid other people," he said.
"People like to see and often touch the food they buy, and delivery of groceries has been iffy in terms of reliability," he observed. "My expectation is that as the pandemic eases some of the move to online buying of groceries will reverse."