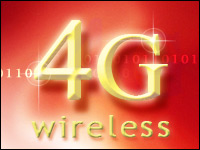 Perhaps the United States was not the first to get into the 4G LTE wireless data game, but today it may be the most aggressive in rolling it out. The U.S. has more miles of network, more devices, and more subscribers than any other place on Earth.
If you listen to the advertising, it seems every carrier offers 4G, and every customer uses it. Do you? If so, great. If not, when? You may be surprised.
My Pick of the Week is all of the wireless carriers and communications services affected by Hurricane Sandy. I want to thank every one of them for working as fast as possible to bring service back to their customers.
The Race to 4G
U.S. wireless players include companies like Verizon Wireless, AT&T Mobility, Sprint Nextel, C Spire Wireless, MetroPCS, U.S. Cellular and Leap Wireless. They have been installing LTE so quickly that the U.S. now has roughly 55 percent of the worldwide market. That's amazing.
Verizon Wireless has the largest strictly 4G LTE footprint. AT&T Mobility is rushing to catch up on the 4G LTE side, but also has HSPA+, which provides a fast signal.
Sprint Nextel is much farther behind. And where is T-Mobile? It got a very late start, leaving it even farther behind.
Carriers like C Spire Wireless are also rapidly rolling out 4G LTE within their regions.
In fact, smartphones have overtaken laptops in terms of WiFi hotspot connections — globally — for the first time, according to the recently published global WiFi hotspot report from the Wireless Broadband Alliance (WBA).
The rush to 4G is on.
Dry With Plenty of Juice, Please
Speedy wireless data networks are not new. Wireless data has been getting faster with each new generation. It started with the first generation, then a couple years later 2G, then 3G, and now we are rapidly building out 4G. Then comes 5G, 6G and beyond. This is the nature of constantly improving wireless data technology, both in the United States and worldwide.
That said, these fast networks aren't bulletproof — or waterproof, either. They need a dry environment, and they need power.Just look at the northeast with Hurricane Sandy last week, and you will see examples. Towers under water. Even the ones above the water level still need power to operate. When the power is out, many have batteries that can last a day or two. Unless the batteries are replaced or recharged, though, the signal then dies — and not every tower has batteries.
So, as amazing as this technology is, and as much as it has changed our lives, we have to realize this chain is only as strong as its weakest link.
The Next Blazing-Fast Thing
Even though we are ahead of the rest of the world on 4G LTE, we still have a long way to go. Installing new technology takes several years — it's not just flipping a switch. Networks are updated area by area. First, the carriers open up a market area, like the center of a city. Then they expand the fast network from there. They do this in city after city, large to small.
That's why you may have a fast 4G LTE connection at work and a slower 3G connection at home a few miles away. Different locations within a market area like a city are often on different parts of the network. If we look at any network, we see multiple stages of evolution. Parts are on the newest 4G technology. Other parts are 3G, and other parts are still using 2G technology.
So this updating and speeding up of a network takes years and is always occurring.
Sorry to pop your bubble, but don't think that just because you are bombarded by all the 4G advertising and marketing that if you sign up with one carrier or another, you will get 4G speeds everywhere. You won't. That's just advertising. It will actually take years to get 4G everywhere, and by that time you will be all excited about the next generation of 5G that will be advertised and marketed.
New technology being rolled out in major cities is the first wave. Then that wave expands coverage within each major market. Next are secondary cities, and then come smaller towns. All that takes several years. So, congratulations to the U.S. for being the farthest along in the 4G LTE rollout.
High-speed wireless data networks power our smartphones, tablet computers and wireless laptops, but we still have a long way to go. By the time we get to 4G, we'll already be changing the subject and focusing on 5G.
Welcome to our wireless world.