UPS this week announced the first two revenue-generating residential deliveries of prescribed medicines to consumers. Its drone delivered the prescription medications from a CVS pharmacy in Cary, North Carolina, to a consumer's home, and to a customer in a retirement community, both on Nov. 1.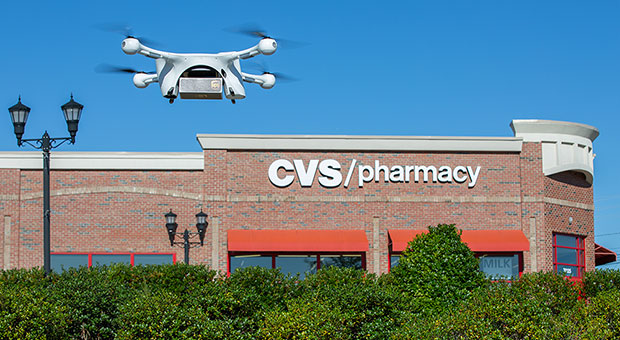 An M2 drone developed by UPS partner Matternet made the deliveries.
The drone flew autonomously but was monitored by a remote operator who could intervene if needed.
In each case, it hovered about 20 feet above the delivery destination and lowered its package to the ground using a winch and cable.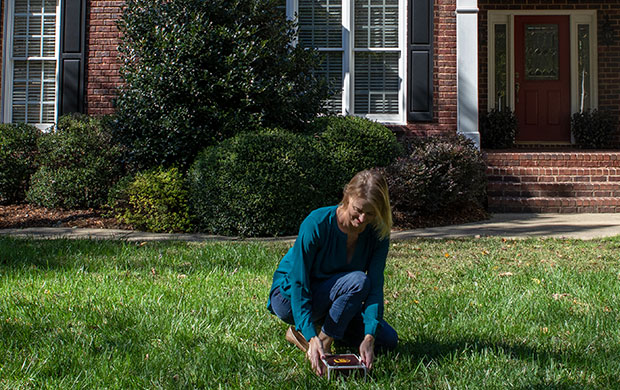 The deliveries mark an expansion of UPS' partnership with Matternet, established in March to deliver medical samples using unmanned drones at WakeMed's flagship hospital and campus in Raleigh, North Carolina.
The partnership has logged more than 1,500 drone deliveries at WakeMed so far.
UPS subsidiary UPS Flight Forward (UPSFF) plans to build out its ground infrastructure to expand to other industries.
"UPS is exploring and developing drone delivery in various industries, including some that need drone delivery to homes," said company spokesperson Kyle Peterson.
The residential deliveries also represent an expansion of UPS' partnership with CVS. UPS began setting up package pickup and return locations in CVS stores nationwide this summer.
The two are collaborating to develop drone delivery options, and UPS plans to expand drone deliveries beyond healthcare facilities.
Expanding Drone Flight Services
"UPS is scaling its UPS Flight Forward business for healthcare campus settings and other applications," Peterson told TechNewsWorld.
It is working with technology vendors on new drones and drone infrastructure technology "to ensure we are able to meet a variety of customer needs safely and effectively," he said. "As regulations and technology mature together, and as public acceptance of drone delivery grows, we will see new drone delivery applications emerge."
UPSFF has obtained the United States Federal Aviation Administration's Standard Part 135 certification, which is a requirement for small drones to carry the property of another for compensation beyond visual line of sight.
UPSFF is the first company to receive the full Standard Part 135 certification. Alphabet's Wing Aviation was awarded a Part 135 single pilot air carrier certificate for drones, and the FAA is working on another seven Part 135 air carrier certificate applications in all.
The Air Delivery Battle
UPS and FedEx are battling to be first in the drone delivery space.
Both are taking part in the U.S. Department of Transportation's Unmanned Aircraft Systems Integration Pilot Program (IPP), scheduled for completion around the end of 2020.
FedEx, which is partnering with Alphabet's Wing Aviation, last month announced that a drone had completed the first scheduled e-commerce delivery to a residential address, in Christiansburg, Virginia.
Wing's drones will continue to deliver select FedEx packages — consisting of prescription medicines from CVS rival Walgreens, as well as treats, gifts, stationery and paper goods from Southwest Virginia retailer Sugar Magnolia — to qualifying homes in Christiansburg to demonstrate drone delivery benefits for last-mile service.
Amazon, which pioneered the idea of a drone delivery service, has been shut out of the IPP. The company submitted a petition for exemption to the Department of Transportation this summer.
"I find it difficult to believe that the FAA would hold some operators to the existing standards and not others," said Nicole France, principal analyst at Constellation Research.
Drone Delivery Pros and Cons
Drone delivery "may be useful in rural residential areas where deliveries occur very far apart," UPS' Peterson said, "but it may not be a good fit or even necessary in congested urban areas where a ground delivery vehicle can make multiple stops in a short distance."
The main drawbacks of drones are noise and their presence in the skies, France told TechNewsWorld.
"Drone delivery has huge potential to get urgent or high-value items to exact locations quickly," she said. "This is a potentially huge advantage in "last mile" delivery — it certainly won't be viable for long-range deliveries. In the near term, most of the focus is on delivering high-value, urgent cargo, like prescriptions or even transplant organs, faster and — eventually — for lower cost."
It's unlikely that FAA-certified drone flights will impact air safety.
"I do not expect Part 135 drone deliveries to pose any risks to commercial airline traffic or even small planes," France remarked. "The flights and the operators both meet professional standards. Interference with commercial or other flights typically result from either amateurs who don't realize they're violating FAA regulations or those who do so maliciously."
That said, "I don't think there ever will be general acceptance of drone deliveries everywhere," said Mike Jude, research manager, digital health, at Frost & Sullivan.
"Just wait until one of these things comes down and does significant damage," he told TechNewsWorld. "It will happen, just like the Uber autonomous car that ran over a woman, which set the entire concept of autonomous vehicles back years."