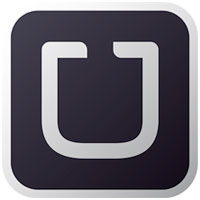 Uber on Wednesday made its UberRush merchant delivery service a full-fledged division of the company, officially rolling it out in New York City, Chicago and San Francisco. The announcement followed a soft launch earlier this year in NYC.
Americans waste too much time and productivity by transporting things from one point to another, Uber reasoned. An established ride-sharing network, with a presence in hundreds of U.S. cities, could leverage its freelancers and moonlighters to provide every small business with a delivery option.
To use the UberRush service, merchants can submit requests for deliveries right from the same Uber app that they might use to hail a ride. Both merchants and consumers can track the progress of the delivery driver, whose location is shared via the app.
UberRush stands to benefit from Uber's partnership with the m-commerce companies behind such platforms as Shopify, ChowNow and BloomNet. Those partnerships and others are critical for UberRush, as the core app won't facilitate financial transactions for the products being delivered.
Uber also touts UberRush's potential to allow businesses to expand their delivery zones.
That means small business will have an easier time scaling without having to hire more help, pointed out Justin Hamel, CEO of MastaMinds.
"Uber is gunning for the throats of standard shipping companies with this well-planned move," he told the E-Commerce Times. "If a business is swamped at lunch, it can have UberRush pick up the slack and use their resources to make timely deliveries, keeping customers happy with super-fast deliveries and making businesses happy!"
New Day for Same Day
The field for same-day delivery services has been filling fast, with players such as Amazon expanding their local grocery services, and startups like Jet building out core businesses around the format.
That said, Uber's might and reputation make it potentially disruptive in any game it chooses to play, said Charles King, principal analyst at Pund-IT.
"This effort will place pressure on Sidecar and other services that are attempting to break into the courier market," he told the E-Commerce Times. "It's also a challenge to major etailers, like Amazon, which have been experimenting with same day delivery."
Still, it won't be a cakewalk for Uber, particularly given the signs of its financial bleeding.
"It's also worth asking how and how well products are insured against damage and how well delivery people are being remunerated — both of which are sore spots in Uber's ride-sharing service," said King.
Delivery jobs have just a few basic requirements — access to a car, or even just a bike, to use when picking up a company's products. Drivers essentially will represent the businesses' brands in their face-to-face dealings with customers.
Delivery people are required to have a valid driver's license, a year of driving experience, insurance, vehicle registration, and the ability to lift 50 pounds. They must be at least 19 years old. Biker must be able to lift 30 pounds.
Long-Term Implications
Uber hasn't made clear just how widely available it would like to make UberRush, but it's pilot program in NYC apparently worked well enough to warrant an expansion.
"If the model succeeds, it could provide a lifeline for smaller businesses that are being pressured or crushed by online retailers," said King.
Regardless of the reach and ultimate success of UberRush, the "startup" label is starting to peel off the ride-sharing network.
"Uber just solidified it's position as a leader with this strategic move," said Hamel. "About five years from now, we will all be looking back in the rear view and asking, 'how did we live without instant delivery!?'"