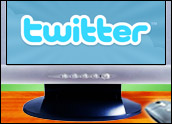 Twitter on Wednesday launched its @earlybird service, aimed at providing its some 75 million members with daily deals and creating a revenue stream for itself.
The first offering from the service was a discount on tickets to see the critically panned movie "The Sorcerer's Apprentice" from Disney and producer Jerry Bruckheimer.
"We're just getting started — we've got an amazing lineup of deals to share in the coming days and weeks with people following @earlybird," self-proclaimed Twitter "PR Guy" Matt Graves wrote yesterday in company blog.
"Several times a week, @earlybird will help consumers discover Twitter-exclusive deals in entertainment, fashion, technology, beauty, travel and more," he continued. "These deals will come directly from our advertising partners and from other companies (including Groupon and Gilt Groupe) that already deliver valuable deals to consumers via Twitter."
Lots of Potential
Twitter's entry into the deal-a-day field, pioneered in 2004 by eccentric online retailer Woot, is an extension of its efforts to monetize its user base, according to Paul Verna, a senior analyst with EMarketer in New York City.
"They have turned their focus in the past few months to revenue-generating strategies," he told the E-Commerce Times.
"It's a natural extension of what they already do well, which is connect people via time-sensitive information," he said.
"It has a lot of potential, he added.
He noted that Twitter's decision to join the deal-a-day fray may have been influenced by other companies that have successfully used the service to drum up business. "Dell and JetBlue have used Twitter as a vehicle for time-sensitive offers," he explained. "I think that was probably the germ of the idea for Twitter to roll this out," he opined.
Amazing Deals
Joining Earlybird as partners will be Groupon, a Chicago-based company that runs deal-a-day websites in 40 markets nationwide, and New York City-based Gilt Groupe, which aims at upscale deal-a-dayers.
For Groupon, its linkup with Earlybird is seen as a way to expand its reach. Now its focus is on local merchants and markets. "We have amazing deals on Groupon.com," Vice President for Business Development Sean Smyth told the E-Commerce Times. "This is just another way to get greater weight and distribution for those amazing deals."
Those deals, coupled with a tight deadline, appear to be a very profitable approach for an Internet business. "Groupon has proven that the idea can turn into a great business," Smyth asserted. "We saved consumers over (US)$300 million in the year and a half that we've been doing business."
Will the business model be profitable for Twitter, too? Only time will tell.