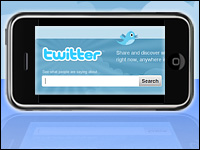 Twitter on Tuesday announced two new offerings that could bolster its efforts to compete with Facebook. The new tools will let users create private groups of up to 20 members; they also will be able to shoot, edit and share video from within Twitter's mobile app.
Twitter members already can conduct one-on-one private conversations using its direct message feature. The new group functionality will let them direct message up to 20 members of a group simultaneously.
Twitter's existing functionality limits users to sending direct messages to individuals they are following on Twitter; recipients can respond to those direct messages only if they are following the sender. That won't be the case with group messaging.
To set up a group, a user can send invitations to followers. Those who join the group will see tweets from other group members, even if they're not following those members.
With the new video component in Twitter's mobile app, users will be able to shoot and post videos of up to 30 seconds to their Twitter timeline without leaving the app. Some basic editing also can be performed within the app. Users can rearrange and combine clips on their timeline, as well as delete them.
Power User Play
Twitter will be rolling out the new features in the coming weeks, according to product director Jinen Kamdar.
With the introduction of private groups, Twitter is seeking to expand its presence in the hot messaging space, noted Jan Dawson, chief analyst with Jackdaw Research.
"Twitter has wanted for some time now to be more directly in the messaging space, so this is an evolution of their offering in that area," he told the E-Commerce Times.
The feature likely will appeal to Twitter's power users.
"Power users often like to take a conversation that starts in the public sphere on Twitter and take that private," Dawson explained. "Today, they have to do that by shifting it to email, Facebook or some other private channel, because Twitter hasn't allowed groups to participate on it privately."
Private groups are a logical extension to Twitter's existing direct messaging feature, observed Greg Sterling, vice president of strategy and insight at the Local Search Association.
"It's an opportunity to create new and different kinds of engagement," he told the E-Commerce Times. "It has a raw broad appeal, potentially, and it could be used in more specific contexts, like collaboration among coworkers."
All About Ad Revenue
With the new video features in its mobile app, Twitter is betting it can get more members to post video to the service. If they do, then Twitter may be able to leverage that development to boost advertising revenue.
"Video is an effort to attract more advertisers and more advertising dollars," said LSA's Sterling.
"In-stream video ads have been a big money spinner for Facebook, so I think Twitter is saying it has to get on the video bandwagon," remarked Jackdaw's Dawson.
Member-created video can be used to reduce the ostentatiousness of in-line video advertising.
"Video ads are less obtrusive if you have lots of native video shared by people you follow, so the two go hand in hand," Dawson noted.
Hedging Its Bets
With its new features, Twitter is following the lead of Facebook, suggested John Carroll, a mass communications professor at Boston University.
"Twitter is looking for ways to get people more involved, more immersed in it," he told the E-Commerce Times. "From that standpoint, they're chasing Facebook."
These latest additions to Twitter are a sign of the service "hedging its bets" in the social space, said Julie sk, vice president and principal analyst for e-business at Forrester Research.
"A lot of things in mobile are trial and error," she told the E-Commerce Times. "These days, it's all about failing fast, learning fast — pushing out the next iteration."