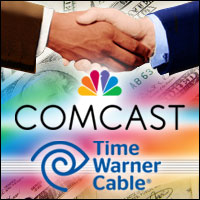 Time Warner Cable suffered a massive service outage in the wee hours of Wednesday morning, leaving an unknown number of its nearly 12 million customers nationwide without service for hours.
"As of 6 a.m. ET, services were largely restored … . As of 8 a.m., all services were back to normal," TWC spokesperson Eric Mangan told the E-Commerce Times.
Well, not quite all — Downdetector's statistics showed outages continued, peaking at 455 reports shortly before 11 a.m.
That was "most likely unrelated to the event [Wednesday] morning," Bobby Amirshahi, a vice president at TWC, told the E-Commerce Times. It's "always possible a node serving a street, or several, could be damaged for any given reason on any day."
A Little Bit of This, A Little Bit of That
Tweets about the issue listed on Downdetector's page seemed to contradict Amirshahi's contention.
"All services down in central Ohio," Chris McKee, who works at Nationwide Children's Hospital, tweeted at about 6:30 pm ET.
"No Internet all day in Raleigh, NC.," tweeted Jernee Lieberum Reynolds at Belleville Senior High School at about the same time.
"Internet service out for the past 3 hours, any network issues for Milwaukee area or is it maybe just me?" @Ders_One tweeted.
These were among the thousands of tweets listed on Downdetector's page. The site monitors "any service that its users consider vital to their everyday lives" by collecting status reports from various sources, including Twitter, and conducting real-time analyses, plotting the number of complaints received every 15 minutes.
Visitors can post comments on Downdetector's pages through their Facebook accounts.
What Happened and Other Stuff
It seems TWC was the author of its own problem.
The outage was due to "an erroneous IP configuration propagated through our backbone during an overnight network maintenance activity," Mangan confirmed Thursday morning.
TWC characterized the failure as "very serious" in a statement posted online Wednesday evening, saying it was "taking the necessary steps" to improve its processes to ensure the problem won't recur.
The carrier has about 12 million Internet customers in 29 states.
Will the Deal with Comcast Go Through?
It remains to be seen whether the outage might lead regulators to view Comcast's proposed purchase of TWC differently. The deal had sparked strong opposition prior to Wednesday's event.
Regulators in New York will investigate the cause of the outage as they review the deal, but no other states appear to have followed suit as yet.
Consumer opposition to the deal centers mainly on fears that it will result in higher prices, reduced access, and worse customer service, as exemplified by this recent recording of a Comcast customer service representative gone wild.
Comcast was ranked last in the 2014 Temkin Customer Service Ratings, which looked at 233 companies.
On the business front, Netflix and Dish have filed complaints with the U.S. Federal Communications Commission, objecting to the deal on various counts.
TWC did not respond to questions about the impact the service outage might have on the deal with Comcast.
Dish spokesperson Courtney Culpepper declined to provide further information.
The outage "has nothing to do with the merger," Dan Rayburn, a principal analyst at Frost & Sullivan, told the E-Commerce Times. "All Internet services have outages at times, including Google and Apple. That's simply reality."
Netflix spokesperson Anne Marie Squeo declined to comment on the issue.
"We provided our thoughts on the deal in our lengthy filing," she told the E-Commerce Times.
Comcast spokesperson Sena Fitzmaurice also declined comment on the TWC outage and its possible impact on the deal.