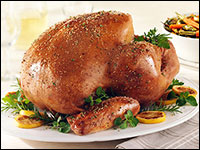 Turkey hotlines revolutionized the way home cooks dealt with kitchen emergencies during Thanksgiving. Now, hotlines are being joined by social media, videos, apps and other twenty-first century ways of solving bird problems.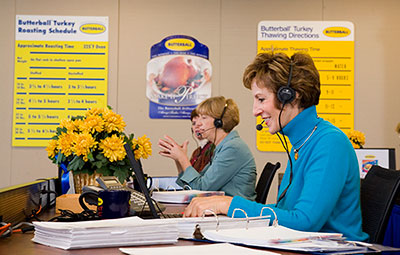 The Butterball Turkey Talk-Line women — and they are all women — have been helping people cook their turkeys for years, and they're there again this year, Nov. 1 through Dec. 25, ready to answer calls about frozen birds and cooking temperatures. Now, though, they're also ready to respond to questions via Facebook, Twitter and online chat.
When the helpline began back in 1981, however, even starting an 800 number was a bit of a stretch.
"Back then, 800 numbers were a new concept," Mary Clingman, director at the Butterball Turkey Talk-Line, told the E-Commerce Times. "We wondered, would anyone ever get over the fear of calling a toll-free number?"
That first year was an overwhelming success, however, bringing in 11,000 calls to the six home economists on staff. Since then, it has grown in popularity, and it now gets 100,000 calls a year to 51 specially-trained home economists.
"They all have a background in food," said Clingman. "It's just a wonderful group of people."
Social Media Feast
And now, in addition to answering the phone, these turkey specialists are taking inquiries via social media and chat, as well. Some of them focus just on the phone, but many are also answering Facebook, Twitter and chat questions.
"They kind of multi-task," said Clingman. "There are a few women who do email and live chat, and there are other women who do Facebook and Twitter. They sit there with a laptop and a phone."
Clingman emphasizes that the new forms that turkey help is taking simply mirror the culture. Thanksgiving cooks, after all, are checking Twitter on their smartphones, posting pictures of their preparations on Facebook and using apps like TurkeyTimer to judge the right cooking time for their turkey. It's only natural, therefore, that Butterball home economists need to be wherever the cooks are.
"It's a sign of the times," explained Clingman. "People are there. A lot of time the cooks are the moms and grandmas, and they're getting into it too."
On Facebook and Twitter, consumers can post questions, but Butterball staffers can also post queries about favorite recipes or other discussion items for fans.
"Sometimes we'll throw questions out there — like 'What's your favorite side dish?'" said Clingman. "We get ideas that way, too."
The most common type of question the Butterball home economists get, whether by phone, social media or chat, is about thawing.
"Here you've got this huge object — how are you going to get it ready?" said Clingman. "It takes a long time — one day for every four pounds. And once a turkey is thawed, you must cook it up in four days."
Clingman explained that people take their Thanksgiving and other holiday feasts seriously, and it's up to the Butterball staff to help make these meals the best that they can be.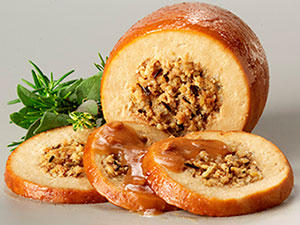 Butterball's vision blends old and new methodologies. This year, for instance, Clingman added an old recipe for cornbread stuffing to Butterball's website, the staff has created turkey-cooking videos, and the company's economists rely on a thick binder full of turkey advice dating back decades but updated every year to include newer cooking methods, including microwaving, deep frying, grilling and roasting in convection ovens. The turn to social media, then, is part of Butterball's longstanding ability to adapt with the times.
"It's such a fun holiday," said Clingman. "It's the most fun of the year. However we can make it better, we're happy to help."
The Turkey That Isn't
Another way that turkey is changing with the times is that it's not always turkey anymore. Sometimes, it's a Tofurky Roast, a soy-based vegetarian alternative produced by Turtle Island Foods.
Like Butterball, Turtle Island Foods has a helpline for advice regarding its Tofurky Roast, and it also has Facebook and Twitter accounts to communicate with fans who have questions.
"We post and tweet daily, and have a growing social media fan base where we keep our Tofurky fans educated, entertained and engaged," Seth Tibbott, founder and president of Turtle Island Foods, told the E-Commerce Times.
The company's Facebook marketing this fall includes a Tofurky Feast Sweepstakes that will give away one feast per week in November leading up to Thanksgiving. Fans can also send a "Happy Tofurky Day" e-card that features an original song about Tofurky to their friends and family.
Tibbott says that Tofurky fans are, almost by definition, open to trying new things, so it's no surprise that they would take to social media marketing, as well.
"Many people are becoming aware of the powerful and documented effects our food choices have on the environment, our health and all life on earth," said Tibbott. "Tofurky is proud to be a leading pioneer in making delicious and healthful plant-based meat options to meet the growing consumer demand for more plant-friendly proteins. Some of our loyal customers are vegetarians or vegans, but we also have many omnivorous customers who eat Tofurky often — for health reasons or simply because a veggie friend got them to try it. Often they enjoy it more than the real thing."
Mystery Doodle
For those who like to wait until the last minute to get their turkey help and advice, Google's Thanksgiving doodle is also something to watch for. Clicking on last year's doodle, for instance, led to chef Ina Garten's Thanksgiving page.
"From time to time our Google doodles link to a landing page that has fun and useful information for our users," Google spokesperson Anne Espiritu told the E-Commerce Times. "Last year, we celebrated the Thanksgiving holiday a little early and collaborated with Ina Garten, who brings a sense of warmth and style to her cooking. We hope it enabled our users to enjoy her culinary advice and helped them get a head start on their dinner preparations."
Espiritu wouldn't say whether there would be a Thanksgiving doodle this year, or if it would lead to a site offering cooking help. One thing's for sure, though: People looking for advice and information about preparing their holiday meals this season won't have to look far.