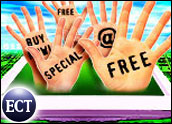 Recently, while replying to e-mails from readers of my book, The Design of Sites, I came across a comment from a designer who claimed that my recommendation to use pop-ups was hopelessly out of date.
Did this reader not understand me, my recommendation — to use pop-ups primarily in situations when people are asking for more information or when trying to better serve customer needs by asking survey questions? Or had I lost touch with reality and slept through a transformation of the industry?
To answer these important questions, I set about re-examining the best practices around the use of pop-ups on the Web.
Aggressive Use
First, a little history: The genesis of criticism around pop-ups stems from sites that use them to barrage visitors with advertising. Aggressive advertisers believe people are more likely to see pop-up ads, justifying their annoying intrusion with claims of high click-through rates.
Automatic pop-ups happen not by the choice of the user — they happen to the user. However, these cascades of advertising windows are so irritating to Web surfers that a technology solution was invented.
Pop-up blockers were created by companies like Google, Yahoo and, most recently, Microsoft to combat the proliferation of these unwanted popping windows. Although pop-up blockers come in many flavors, the best ones, these popular ones, do the right thing by only blocking pop-ups that appear to be automatically generated, and not those that a customer actually asks for by clicking a link.
"Well behaved" pop-up blockers are designed to understand there are customer-friendly pop-ups and automatic pop-ups. Customer-friendly, link-based pop-ups answer a pertinent question without taking the site visitor out of context. Well behaved pop-up blockers only kill the automatic pop-ups, not the link-based ones, and there are easy ways for these programs to tell the difference.
Customer Questions
I keep most of the major pop-up blockers running on my computer, from Windows XP Service Pack 2's pop-up blocker, as well as Google's and Yahoo's blockers. Today, when I go to Dell's Web site, for example, it uses about 25 link-based pop-ups on each computer configuration page. My pop-up blockers are all well-behaved, and I can use the site just as well as someone without a pop-up blocker.
Are managers at Dell crazy to use pop-ups on their site? Quite the contrary. Dell uses pop-ups very well to address questions customers have in the middle of the product configuration and checkout process. They use link-based pop-ups to answer customer questions without taking them away from their current page.
In fact, according to a recent syndicated research study that had 2,100 consumers evaluate 10 computer hardware e-tailers, Keynote's Computer Hardware Customer Experience Rankings, Dell scored No. 1 overall. Dell is not alone in using pop-ups; Amazon, which was No. 1 in the Keynote Retail Customer Experience Rankings, also uses link-based pop-ups.
Customers have spoken! They want additional information, but they like it in context and when they need it.
So, here are my recommendations:
An over-abundance of pop-up advertising can be distracting and annoying. However, link-based pop-ups can provide additional information while keeping the Web browser on its current page.
Use link-based pop-up windows to show related information in a new window, while maintaining context. A link-based pop-up appears when customers click on a link designed to open a new window.
Use link-based pop-ups with embedded links, external links and process funnels to display information related to the current page. Clicking on the link opens a new window to the specified information, letting customers see and explore related information without having to leave the original Web page.
Pop-up windows are especially useful for process funnels, like checkout processes and new account creation processes. Pop-up windows let customers see extra information, such as context-sensitive help or an answer to frequently asked questions, while keeping them in the funnel.
Don't Overwhelm Customers
Not all automatic pop-ups are bad, either. In fact, when Keynote runs research for our clients so we can understand their customers' attitudes, intent, behavior and satisfaction, we sometimes decide it is appropriate to use automatic pop-ups. We might, for example, use site intercept pop-ups to engage with a random sampling of customers.
In a recent Keynote study of 2,000-plus customers randomly intercepted exiting a client's e-commerce site, out of 3,000-plus comments from customers, fewer than 10 comments mentioned being annoyed with the survey pop-up. That's 0.33 percent!
In fact, an equal number of comments complimented the site for engaging customers in a dialog. The remaining 2,980-plus comments were very valuable, detailed comments and suggestions for site improvements, information the site couldn't get through server logs or other research methods. Prudently used, automatic pop-ups are powerful tools to intercept customers and understand their experience.
Bottom line, it's still a good idea to use link-based pop-ups to answer customer questions without taking them out of their current account management, product configuration, shopping cart or checkout process, and automatic pop-ups to intercept a random sampling of customers to understand their experience. Just avoid overwhelming customers with pop-up advertising.
---
Douglas K. van Duyne
is senior director of Customer Experience Products and Design at Keynote Systems. He was the co-founder, president and CEO of NetRaker, which was involved in customer experience management solutions, prior to NetRaker's acquisition by Keynote in April 2004.
---